Swihart regaining comfort behind plate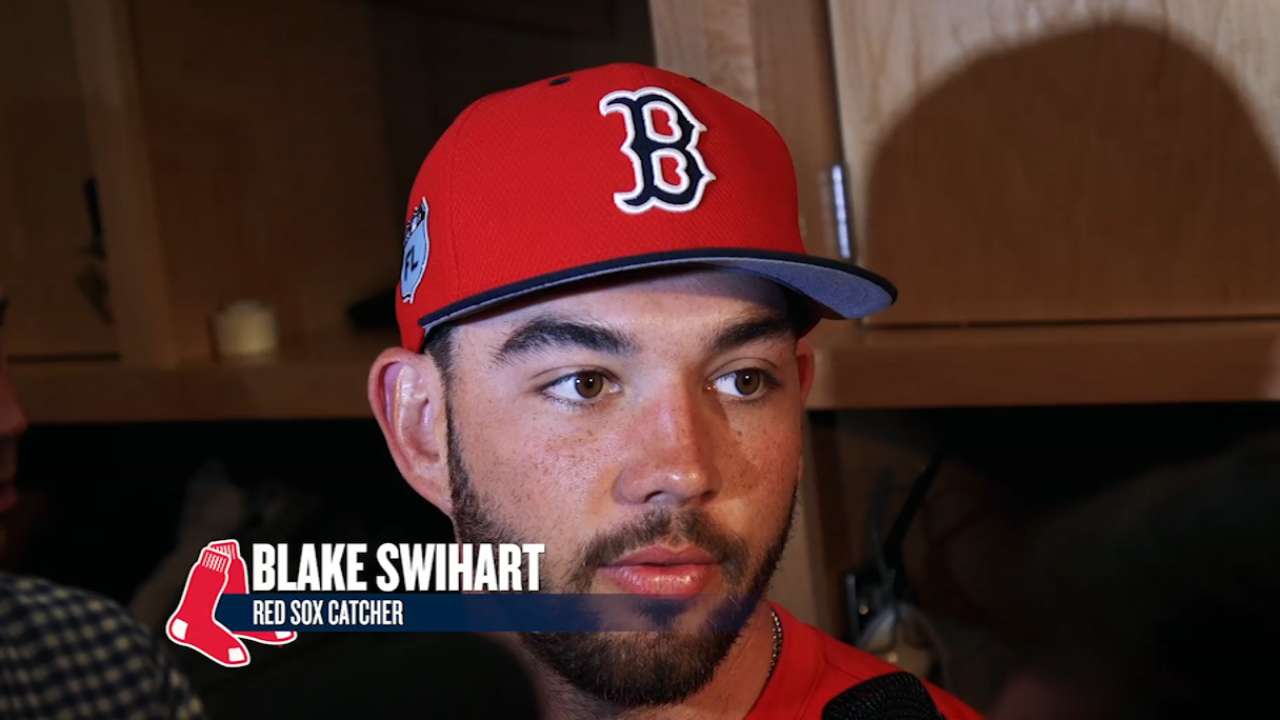 PORT CHARLOTTE, Fla. -- Blake Swihart enjoyed another solid outing behind the plate and with the bat in Sunday's 7-3 loss to the Rays. The Red Sox catcher caught five innings and went 1-for-2 with a walk before being replaced by Jake DePew.
"It's been a long time since I played," Swihart said. "Early in the count, I'm just trying to see pitches and get my timing down. I'm seeing them pretty well."
• Spring: Tickets | Ballpark | 40-man roster | NRIs
While Swihart's offense is something manager John Farrell likes to see from his catchers, the biggest concern is his defense. Farrell believes that Swihart will be able to make adjustments and improvements defensively this spring now that he can focus on one position.
Last season, after starting the season at catcher and being sent down to the Minors, Swihart played left field in his return to the Red Sox and injured his left ankle running into the Green Monster on June 4. The injury forced him to miss the rest of the season.
"The priority for any catcher is defense," Farrell said. "He's been able to focus on that in the early drills. There's been some minor adjustment with his setup behind the plate, and it's paid immediate dividends."
Swihart also had some throwing issues pop up early in the spring, but Farrell said he has worked through it for the most part and things will continue to improve with repetition.
"I feel really good back there, I'm getting more and more comfortable every day," Swihart said. "I just need to keep working in the bullpen, keep doing my drill work and take it in to the game."
Worth noting
• Rafael Devers entered the game in the sixth inning, replacing Sam Travis at first base. He was 0-for-1 with a hard-hit lineout to right field. Farrell said Devers will be with the team every day until Minor League games begin.
"He can be around the environment and see some of the veterans and how they go about their work," Farrell said. "Hopefully that, in his mind, shortens down the timeline in which he could potentially arrive. I'm not trying to get too far ahead. He's a good-looking young hitter, but at 20 years of age there's a lot to be learned by being in a big league camp. "
• Farrell also said that recovering pitchers Drew Pomeranz and Steven Wright both had 45-pitch bullpen sessions and "came out of it fine."
Corey Long is a contributor to MLB.com. This story was not subject to the approval of Major League Baseball or its clubs.