MLB.com Columnist
Jonathan Mayo
Breaking down the D-backs' Top 30 list
Void of Top 100 Prospects, D-backs' system needs a couple more years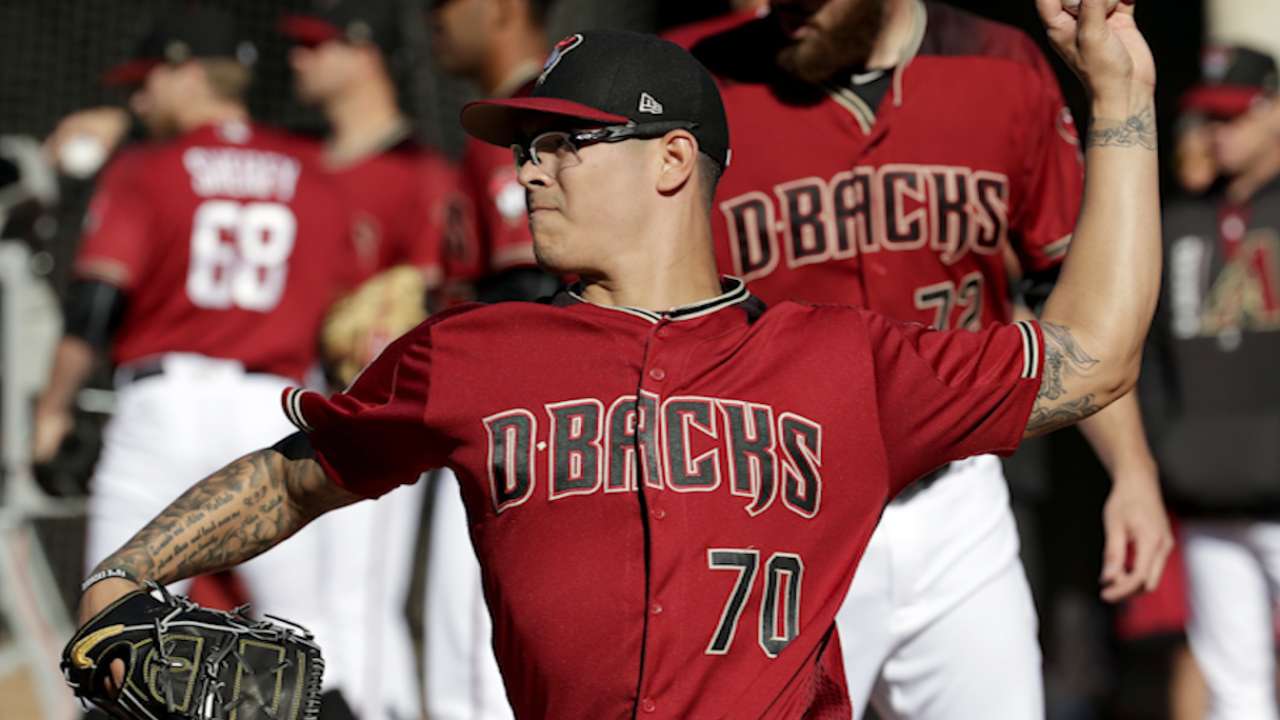 New general manager Mike Hazen and his staff have some work to do.
Not long ago, the D-backs had a solid, albeit not elite-level, farm system. It usually had a nice smattering of Top 100 prospects to help lead it. A year ago, top prospect Dansby Swanson and Aaron Blair were sent to the Braves and then Braden Shipley and Archie Bradley graduated off of the list. With no one stepping up to fill in the void, Arizona has no Top 100 prospects for the first time in the seven years Prospect Watch rankings started appearing (2011).
• D-backs' Top 30 Prospects list
Top 30 Prospects lists
| Division | Release date |
| --- | --- |
| AL East | BAL, BOS, NYY, TB, TOR |
| NL East | ATL, MIA, NYM, PHI, WSH |
| AL Central | CLE, CWS, DET, KC, MIN |
| NL Central | CHC, CIN, MIL, PIT, STL |
| AL West | HOU, LAA, OAK, SEA, TEX |
| NL West | ARI, COL, LAD, SD, SF |
One thing has remained consistent: It's a pitcher in the top spot on the organization's Top 30. Left-hander Anthony Banda continues a stretch that began with Tyler Skaggs back in 2011. And while he didn't quite rate on the Top 100, he does have the makings of a future starter in the big leagues.
The amateur scouting staff has tried to fill the talent coffers as much as possible, with nine of the Top 30 coming from the last two Drafts, and that without the benefit of a first-round selection last June and the trading of the No. 1 overall pick (Swanson) the year prior.
While there are some players, mostly arms, who have a chance to contribute this coming season, most of the system is bottom-heavy. Half of the Top 30 have ETAs of 2019 or 2020, 10 in '19 and five in '20. Some of those young players do have some upside, so if they can take a step forward this year, it would go a long way to helping the new regime move things in the right direction.
Biggest jump/fall
Here are the players whose ranks changed the most from the 2016 preseason list to the 2017 preseason list.
Jump: Jasrado Chisholm, SS (2016: NR | 2017: 3)
Fall: Yoan Lopez, RHP (2016: 8 | 2017: NR)
Best tools
Players are graded on a 20-80 scouting scale for future tools -- 20-30 is well below average, 40 is below average, 50 is average, 60 is above average and 70-80 is well above average.
Hit: Socrates Brito (50)
Power: Andy Yerzy (55)
Run: Gabriel Maciel (65)
Arm: Sergio Alcantara (70)
Defense: Sergio Alcantara (60)
Fastball: Jimmie Sherfy (70)
Curveball: Anthony Banda (60)
Slider: Alex Young (60)
Changeup: Wei-Chieh Huang (60)
Control: Matt Koch (60)
How they were built
Draft: 15
International: 7
Trade: 7
Free agent: 1
Breakdown by ETA
2017: 9
2018: 6
2019: 10
2020: 5
Breakdown by position
C: 2
2B: 1
3B: 1
SS: 5
OF: 5
RHP: 11
LHP: 5
Here's a look at the D-backs' preseason Top 10 prospects from each of the past seven years (click here to see a larger image):
Jonathan Mayo is a reporter for MLBPipeline.com. Follow him on Twitter @JonathanMayo and Facebook, and listen to him on the weekly Pipeline Podcast. This story was not subject to the approval of Major League Baseball or its clubs.