Marlins show left-handed power potential
Yelich hits two-run blast, Bour adds solo homer off Cards righty Oh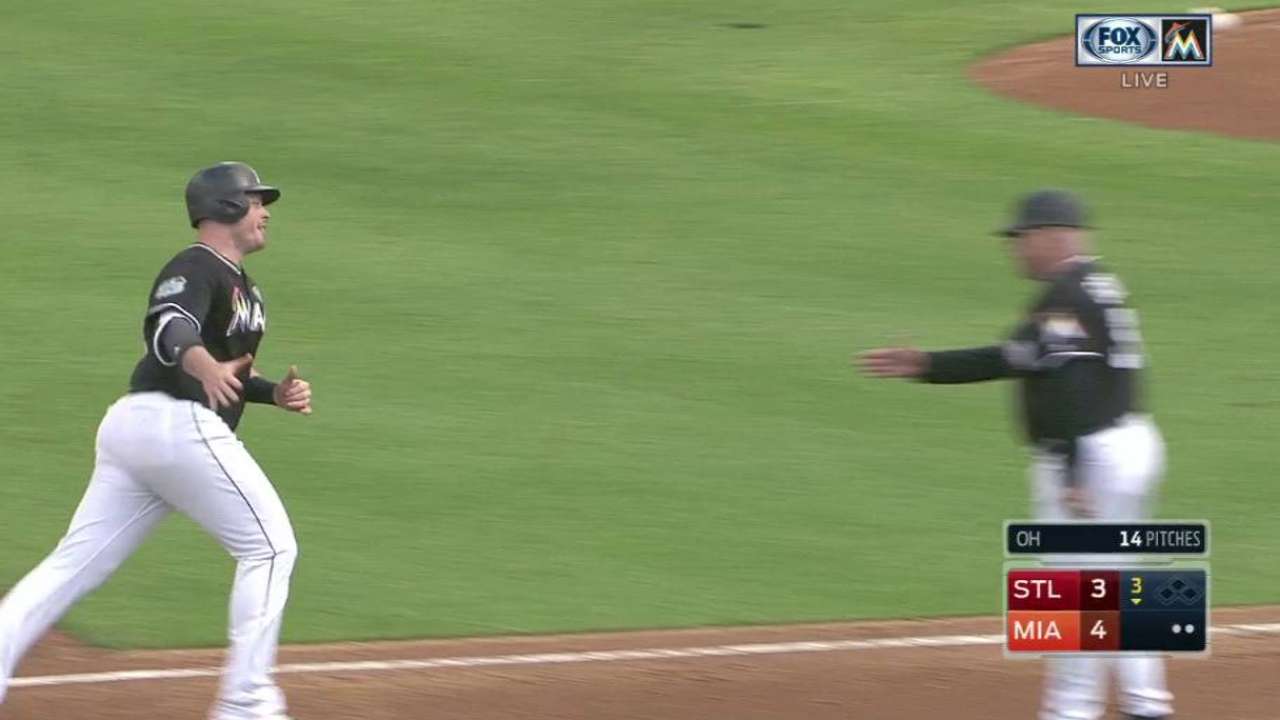 JUPITER, Fla. -- The Marlins showed a glimpse of the left-handed power potential they have in the middle of the order on Saturday in an 8-7 win over the Cardinals at Roger Dean Stadium. In the third inning on Saturday, Christian Yelich blasted a two-run home run off Seung Hwan Oh, and two batters later, Justin Bour followed with a solo shot.
Two swings, three runs at Roger Dean Stadium in the Grapefruit League opener. It's the kind of production Miami is expecting to see from their two most dangerous left-handed hitters.
"With Yelly, obviously, the sky's the limit," Bour said. "I think with the whole team, not just him, I think this entire lineup has just sort of scratched the surface of what we can be. Stay healthy, and take good approaches and good at-bats every single day, and I think we'll shock some people."
Yelich is coming into his own as a potential star.
"I think he's a star right now," manager Don Mattingly said. "Superstar may go with the market, and if we can get ourselves playing in the playoffs, and in that scenario. Yelly, to me, is already a star. I just want him to keep getting better. I know there is more there. I don't think we have to force it and say he has to do this, this or this. I just want him to continue to improve."
The 25-year-old Yelich belted 21 homers and drove in 98 runs in 2016. Now cemented third in the lineup, he had a slash line of .298/.376/.483 last season.
Yelich's two-run drive to right field on Saturday pulled the Marlins even at 3, and the blast came after Matt Carpenter's two-run homer put St. Louis in front by two.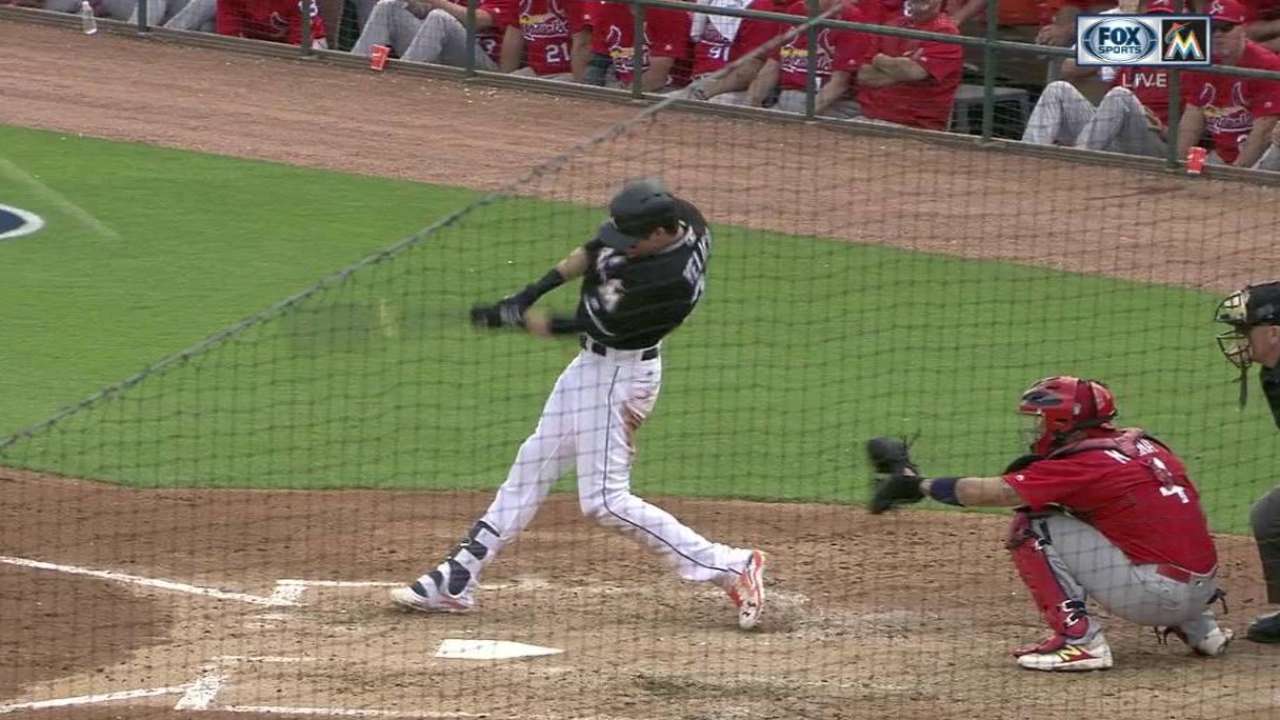 "I think that was more just going up there trying to put good at-bats together and get your feet wet in Spring Training," Yelich said. "You're just working on timing and trying to swing at strikes and good pitches. It just happened that it worked out that way. You definitely take it and try to build upon it in Spring."
Yelich shares Bour's sentiment that the Marlins' offense has tremendous potential.
"I feel like we're confident," Yelich said. "With our offense, it's just a matter of us staying on the field. We haven't really been able to do that the last few years. I feel like we have a lot of talented players up and down the lineup. We've got to be out there."
Bour missed more than two months with a right ankle injury last year, but he still finished with 15 homers and 51 RBIs. His home run, which put Miami in front, 4-3, showed how he can change a game with one swing.
"For me, I'm not so much focused on results to start," Bour said. "Obviously, home runs are great; it means you're doing something right. For me, it's more of getting that feel right and sort of getting my feet back under me and getting into a rhythm and good at-bats."
Joe Frisaro has covered the Marlins for MLB.com since 2002. Follow him on Twitter @JoeFrisaro and listen to his podcast. This story was not subject to the approval of Major League Baseball or its clubs.