Bryce is right: Harper homers in 1st spring AB
Slugger sees immediate results after adding 15 lbs. of muscle over offseason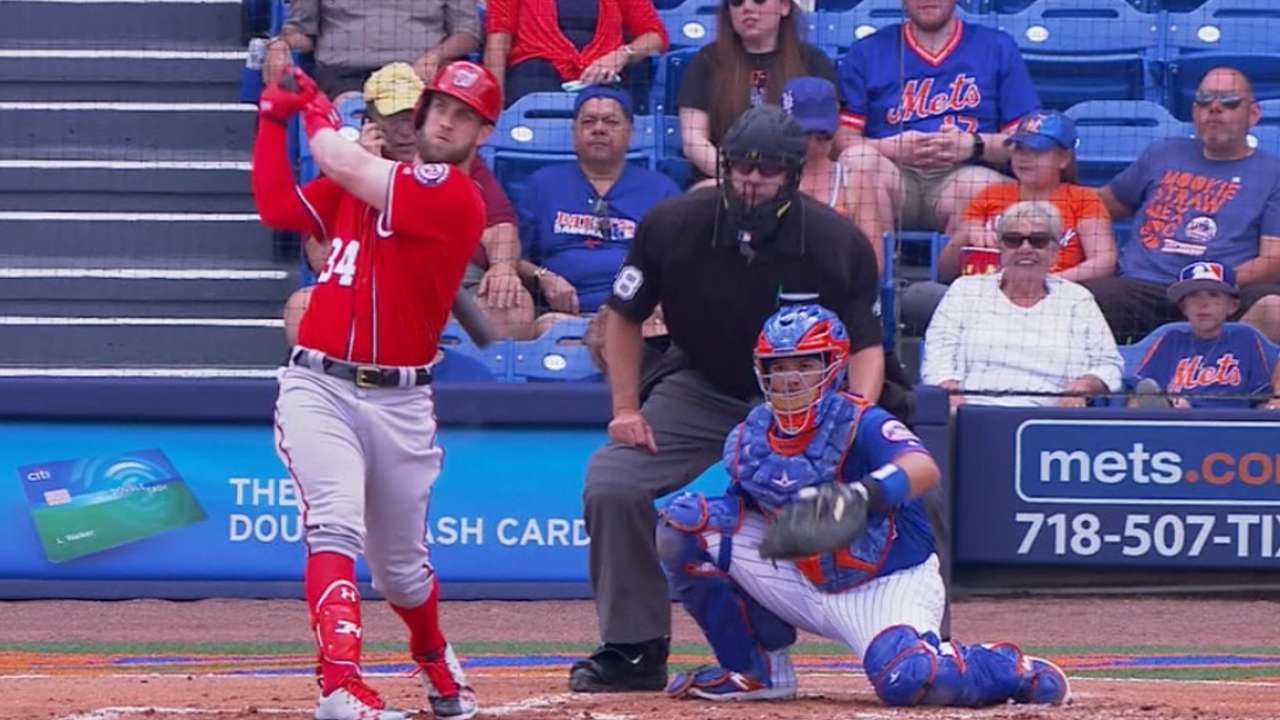 PORT ST. LUCIE, Fla. -- Bryce Harper bulked up during the offseason, adding about 15 pounds of muscle to his frame. He has credited his offseason routine as a reason he entered Spring Training feeling strong.
Harper saw immediate results in his first at-bat of Grapefruit League play on Saturday afternoon, when he launched a solo home run over the right-center-field wall in the second inning of the Nationals' 8-6 victory over the Mets.
That was his first swing in game action this spring. His next swing resulted in an opposite-field single in the fourth inning. Harper finished the day 2-for-2 before Brian Goodwin replaced him in right field to start the bottom of the fifth inning.
"We were hoping he'd just run home, get in his car and drive to Spring Training back to our place," left-hander Gio Gonzalez said. "What a day. It's great to see Bryce looking amazing."
It was only the Nationals' first game of the spring, but Saturday was still a positive sign for Harper, who is trying to bounce back from a disappointing 2016 season.
"You want to have good at-bats," Harper said. "Especially facing a lefty, I haven't done that all spring, so makes me happy definitely. But like I said, [I'm] just trying to have good at-bats and see how it goes."
In one swing, Harper displayed the power that had been absent for much of the second half of 2016, as he hit just five home runs after the All-Star break and only one during the final month of the season. Whether his power was compromised due to an injury is unclear. However, the familiar swing and pop returned Saturday afternoon.
The key for Nationals manager Dusty Baker is keeping Harper at this point. Baker recalled managing Barry Bonds, who would begin Spring Training on a hot streak only to cool off later on in the spring. Still, Baker came away encouraged with what he has seen from Harper so far.
"He came in, did his thing, and went home," Baker said. "We just want him to continue that. It's not going to be like that every day, but that's a good sign. His concentration level -- he worked hard this winter, you can tell."
Jamal Collier covers the Nationals for MLB.com. Follow him on Twitter at @jamalcollier. This story was not subject to the approval of Major League Baseball or its clubs.