Stanek has few fastball peers
Rays' fireballing prospect has clocked in at 103 mph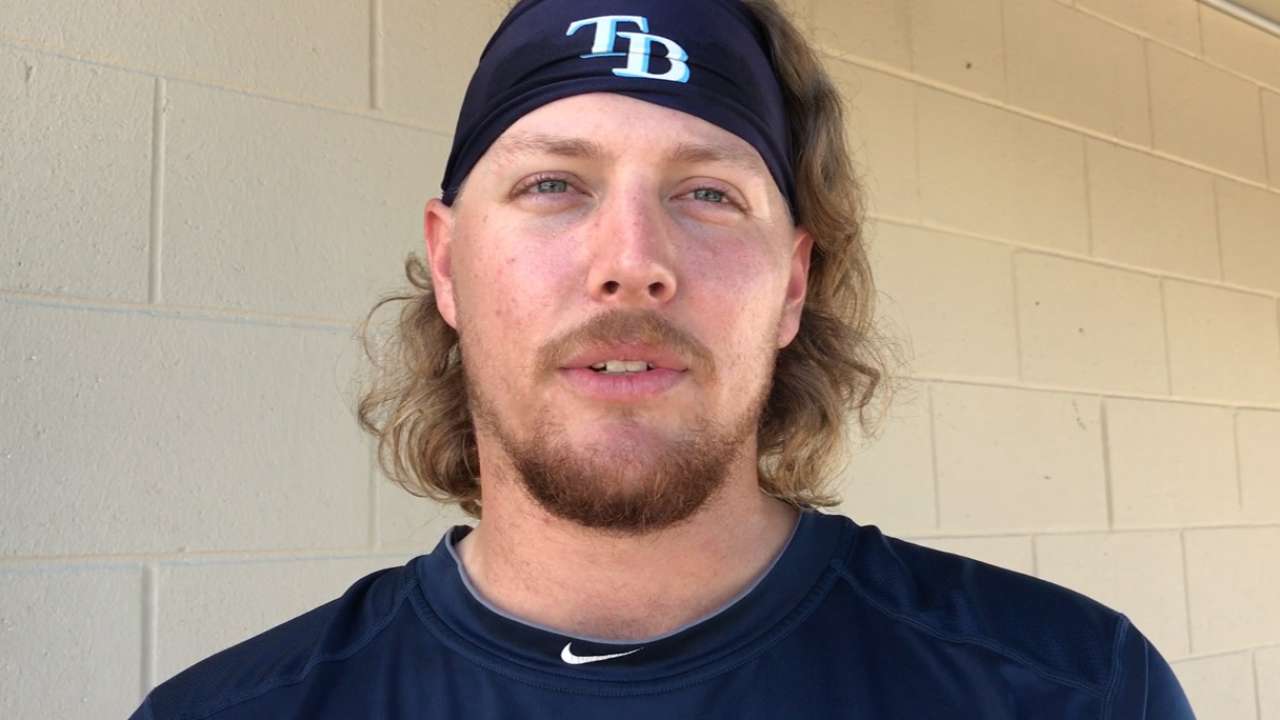 FORT MYERS, Fla. -- Jaime Schultz found himself holding the radar gun and charting pitches last summer because he would be starting Triple-A Durham's game the following night. That's when something caught his eye.
Ryne Stanek was on the mound for the Bulls and he uncorked a fastball.
"The gun said 103," Schultz said. "I couldn't believe it. I'd seen him hit a lot of triple digits, but I was surprised with 103, just because it was the first time I've seen a number like that. You see 100, 101, but to jump all the way up there to 103, I was like, 'Wow. Amazing.'"
• Spring Training: Info | Tickets | Schedule | Gear
Where does that fastball put Stanek, the Rays' No. 13 prospect? According to Statcast™, 31 Major League pitchers hit 100 mph at least once last season. Only two, Aroldis Chapman and Mauricio Cabrera, hit 103. Chapman did it 101 times, and Cabrera did it nine times.
"I guess it's one of those things that just happens," said Stanek when asked about his triple-digit fastball. "My whole goal is to try and get outs. If it happens to be a pretty firm fastball, so be it."
Stanek made his first appearance of the spring during Friday night's 3-1 win against the Twins at Hammond Stadium. Though he didn't hit 100 mph, the spring is young. He hit 99 twice and pretty much lived at 98 for the rest of his inning of work.
What does a triple-digit fastball do to hitters?
"Facing him in live BP, I know it's early, but he was throwing hard," Logan Morrison said. "And that's something you have to account for. You have to get going. I mean he's throwing breaking balls for strikes, and that's another thing you have to think about. When you're on the heater and he throws you a breaking ball, it's tough to stay back and even pull the trigger."
Added Matt Duffy: "Many times, it can be intimidating. It's different for every guy. Some can control it, some can't. Those are the guys you never get really comfortable being in the box."
Ramping up to hit a triple-digit heater is one of the more difficult things a Major League hitter has to do.
"The best way I can describe it is, if you're not anticipating swinging, you're going to be too late," Duffy said.
Bill Chastain has covered the Rays for MLB.com since 2005. This story was not subject to the approval of Major League Baseball or its clubs.