Gibbons using spring to evaluate youth
Urena, Alford, Pompey among Jays' prospects getting shot at camp
DUNEDIN, Fla. -- There will come times during the regular season, Blue Jays manager John Gibbons knows, when an injury or a slump or a trade or some other curve thrown by the baseball gods will force the organization to consider its Minor League options.
And that, believe it or not, is one of the things he'll be thinking about during the Grapefruit League season, which opens Saturday against the Braves at Champion Field.
• Spring Training: Info | Tickets | Schedule
"We know these older guys," Gibbons said. "We know what they can do. They're basically just here to get ready. I want to see the younger guys. They approach it a little different. It always helps to make a good first impression, and that's what they have a chance to do."
The Blue Jays didn't post a lineup for Saturday, but the travel roster is filled with younger players. That's partly because there are split squad games on Sunday (home against the Phillies, on the road against the Yankees) and partly because regulars like Josh Donaldson (strained calf), Troy Tulowitzki and Russell Martin are going to be eased into action.
Instead, the list of players who will make the trip includes infielder Richard Urena, who is ranked the team's fourth-best prospect by MLBPipeline.com. "I'm a big fan. I thought he was the MVP of camp last year," Gibbons said.
It includes infielder Lourdes Gurriel, the Cuban prospect signed last fall to a reported 7-year, $22 million contract. "We put a lot of money into him and he's got a chance to be a really good one," Gibbons said.
It includes outfielders Dalton Pompey and Anthony Alford, who is rated the No. 3 prospect after playing last year at Class A Dunedin.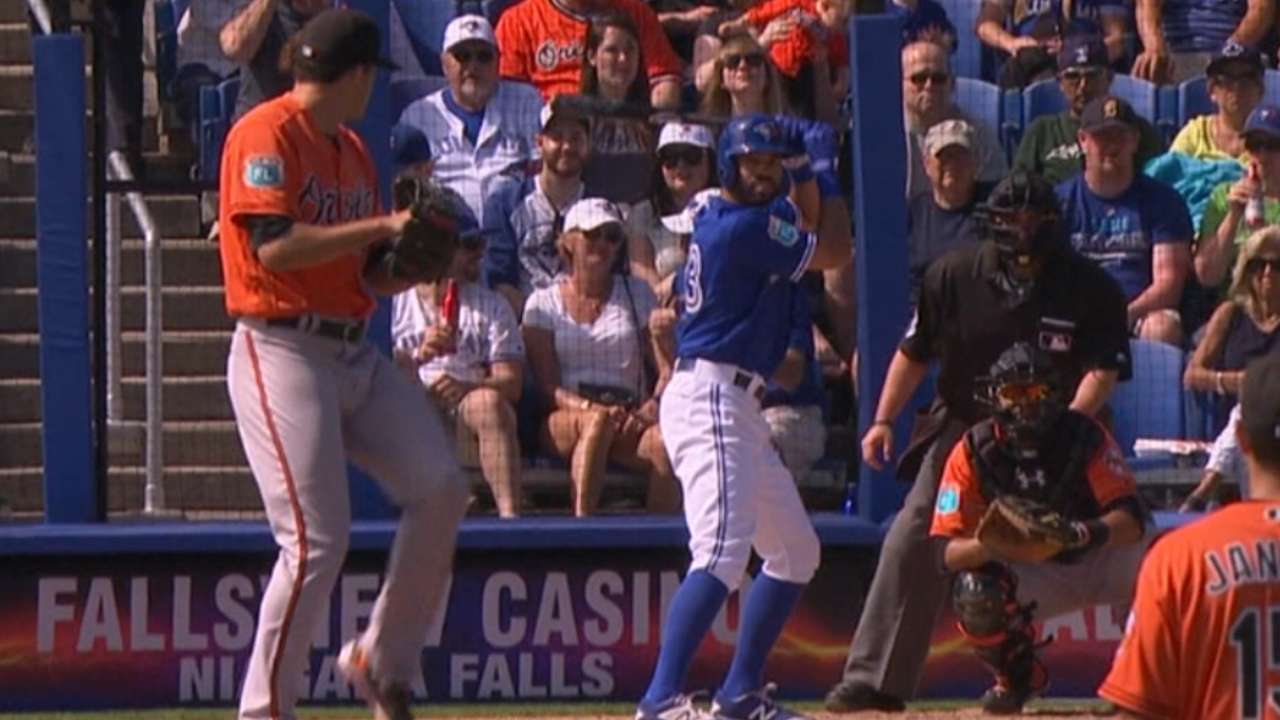 "Even if they don't start the season in the big leagues, it always helps when you're sitting around and saying, 'This guy may be able to help us,'" Gibbons said. "We form our opinions on what we might have seen in Spring Training. You can get all the advice you want [from the Minor League staff]. And you usually have to rely on it during the season. But you feel much better when you've seen a kid play pretty good, even if it's a different kind of setting down here."
Even an older player, like 29-year-old right-hander Casey Lawrence, who will start Saturday against the Braves, falls into that category, even though he is in his eighth year in the system without pitching in the big leagues so far.
"The thing that turned him around, he picked up some velocity. Which is kind of unusual," Gibbons said. "But he's a pitcher. He can pick the plate apart pretty good. He's got a great feel. He's one of those survivors in the game. If he gets an opportunity, there's no telling what he could do. He could be one of those feel-good stories."
Worth noting
Gibbons confirmed that right-hander Marcus Stroman will start Monday against the Pirates at Florida Auto Exchange Stadium.
Paul Hagen is a reporter for MLB.com. This story was not subject to the approval of Major League Baseball or its clubs.