Now 40, Arroyo's celebration tastes have changed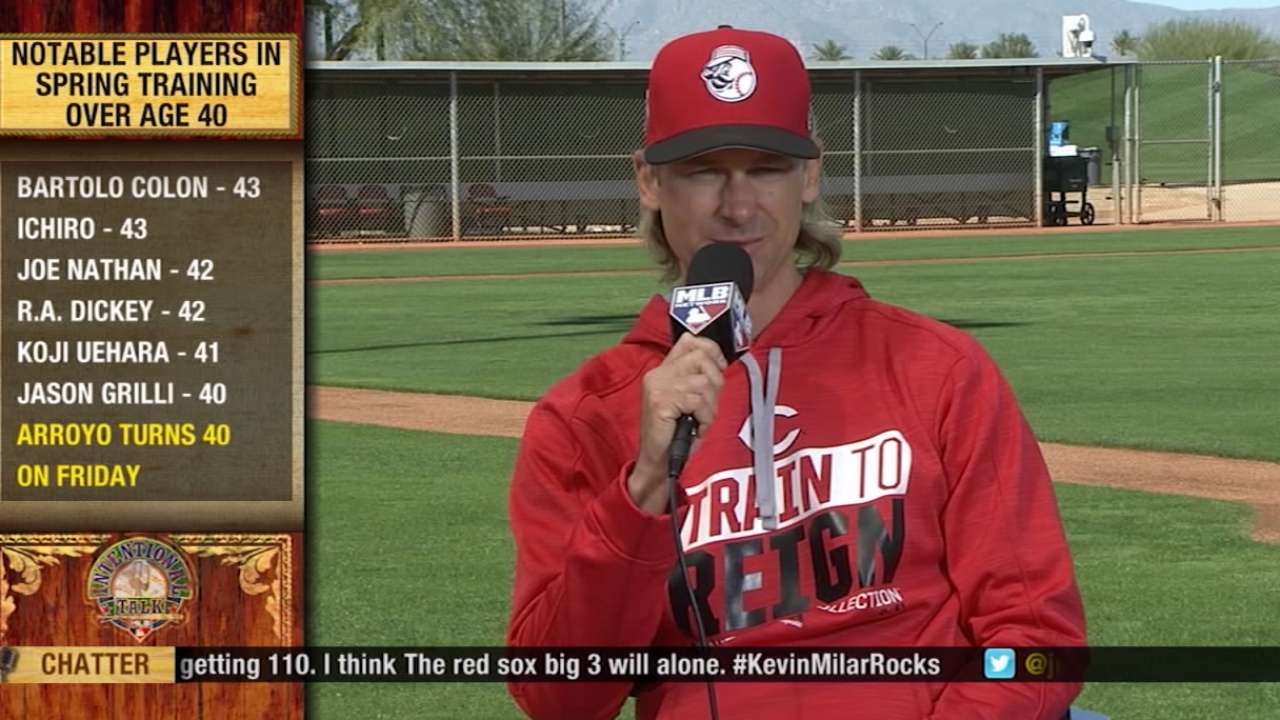 GOODYEAR, Ariz. -- Often the coolest person in the room and the most easygoing, it's hard to imagine Bronson Arroyo as the oldest guy anywhere. But the Reds pitcher hit the big milestone Friday, when he turned 40 years old.
How did Arroyo plan to mark the big day?
"The Waffle House, that's my favorite thing," Arroyo said on MLB Network on Thursday. "I'm not into the club scene anymore. It's probably going to be the casino, or I'm going to find a Denny's or an IHOP. When you're turning 40, you've got to go for the late breakfast."
• Spring Training: Information | Tickets | Schedule
There have been 25 Reds players that have played an age-40 season in the Major Leagues, according to BaseballReference.com, meaning they turned 40 on or before June 30.
The last Reds player to appear in a game at age 40 was reliever Arthur Rhodes, who pitched in Game 2 of the National League Division Series vs. the Phillies on Oct. 8, 2010.
Manager Bryan Price is one of many around the Reds who don't believe Arroyo looks 40.
"Just the way he looks, conditions himself," Price said on Friday. "The other part is how he assimilates with everybody. There's no strangers with anybody out there. He fits in so well."
Arroyo, who pitched for the Reds from 2006-13, is back trying to make the club as a non-roster player after missing the last two seasons with arm injuries. He was excused from camp on Friday because he was sick.
If Arroyo makes the team out of camp, he won't be close to being the oldest player in the Major Leagues. That distinction will belong to 43-year-old Bartolo Colon of the Braves. Ichiro Suzuki of the Marlins is also 43.
Mark Sheldon has covered the Reds for MLB.com since 2006, and previously covered the Twins from 2001-05. Follow him on Twitter @m_sheldon and Facebook and listen to his podcast. This story was not subject to the approval of Major League Baseball or its clubs.