Robles brings smiles, speed to Nats' camp
Highly touted prospect made good first impression on coaching staff, club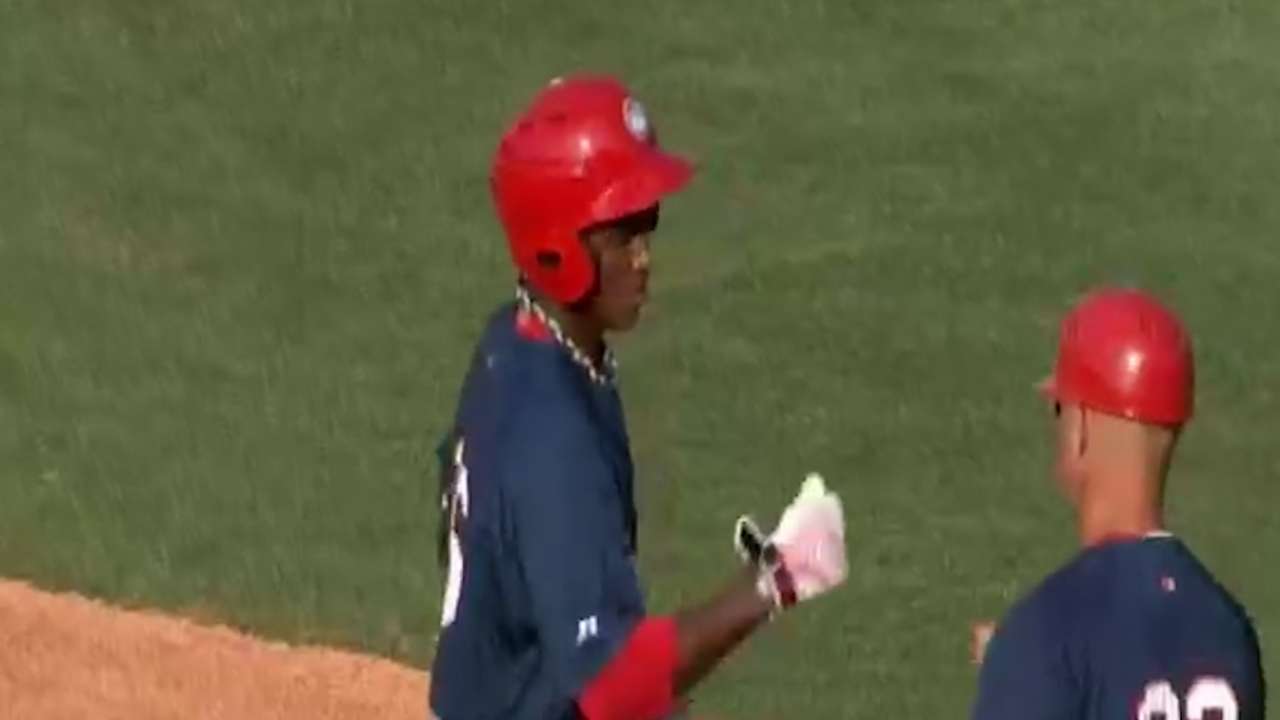 WASHINGTON -- The Nationals intrasquad game on Thursday also featured the first time many of the Major League coaching staff got a look at outfielder Victor Robles, who was called up to Major League camp for the day to hit third and play center field for one of the teams.
He showed off some of the skills that have made Robles perhaps the fastest-rising prospect in baseball, now the Nationals' top prospect and No. 7 overall as rated by MLBPipeline.com. In his first at-bat, wearing a white No. 91 jersey without his name on it, he beat out a dribbler down the third base line without a throw. Eventually, he was picked off at second base by Tanner Roark -- a sign of a player who is still 19 years old.
• Spring: Info | Tickets | Schedule | Gear
Robles was matched up against Major League pitchers and was watched by the entire Nationals coaching staff, general manager and even one of their principal owners, Mark Lerner. And yet, Robles -- who projects as a potential future No. 1 prospect in baseball -- showed no signs of intimidation.
"I felt comfortable," Robles said through an interpreter. "That's what I work for, is to prepare myself and face big league pitchers. I felt good."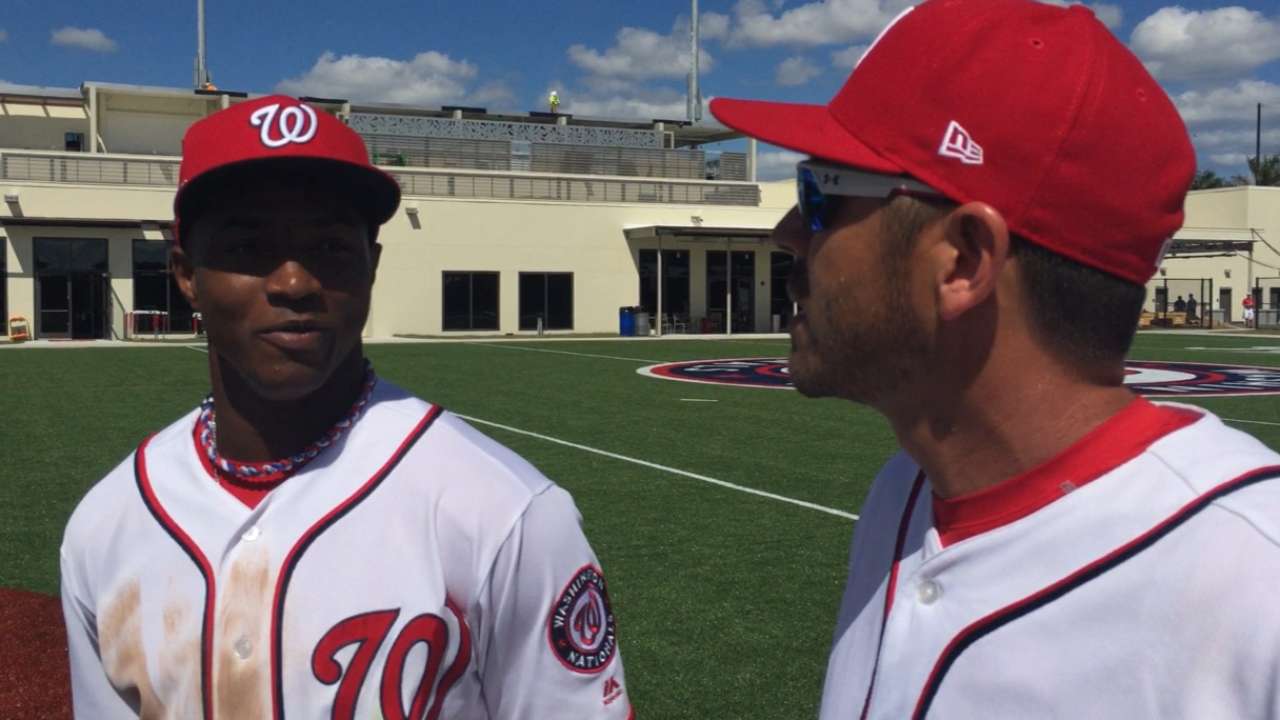 And he left a good first impression.
"He's a young talent. He's the youngest guy out on the field. That's how it was for me," said Nats manager Dusty Baker, who debuted in the Majors at 19 years old. "He's a good talent. That's why we brought him over, to get a look at him and some of the other guys at the same time."
Robles was one of the most highly coveted prospects this offseason as the Nationals discussed trades for Chris Sale and Andrew McCutchen. The Nats' unwillingness to deal Robles is perhaps the main reason McCutchen is not playing for Washington today. Robles heard the speculation, but was glad the Nationals did not wish to part with him.
"I listened and heard some of the rumors going around, but that didn't take away any of my enthusiasm," Robles said. "Either way, whether I'm here or somewhere else, I'm here to play baseball and that's my goal, and my focus is on playing baseball.
"They really want to keep me here and think highly of me. That goes a long way."
And if the Nats were to call and need him as soon as this season?
"I'm always ready," he said with a smile.
Jamal Collier covers the Nationals for MLB.com. Follow him on Twitter at @jamalcollier. This story was not subject to the approval of Major League Baseball or its clubs.