Maddon looking at Schwarber for leadoff spot
Outfielder not known for speed, but has shown he can get on base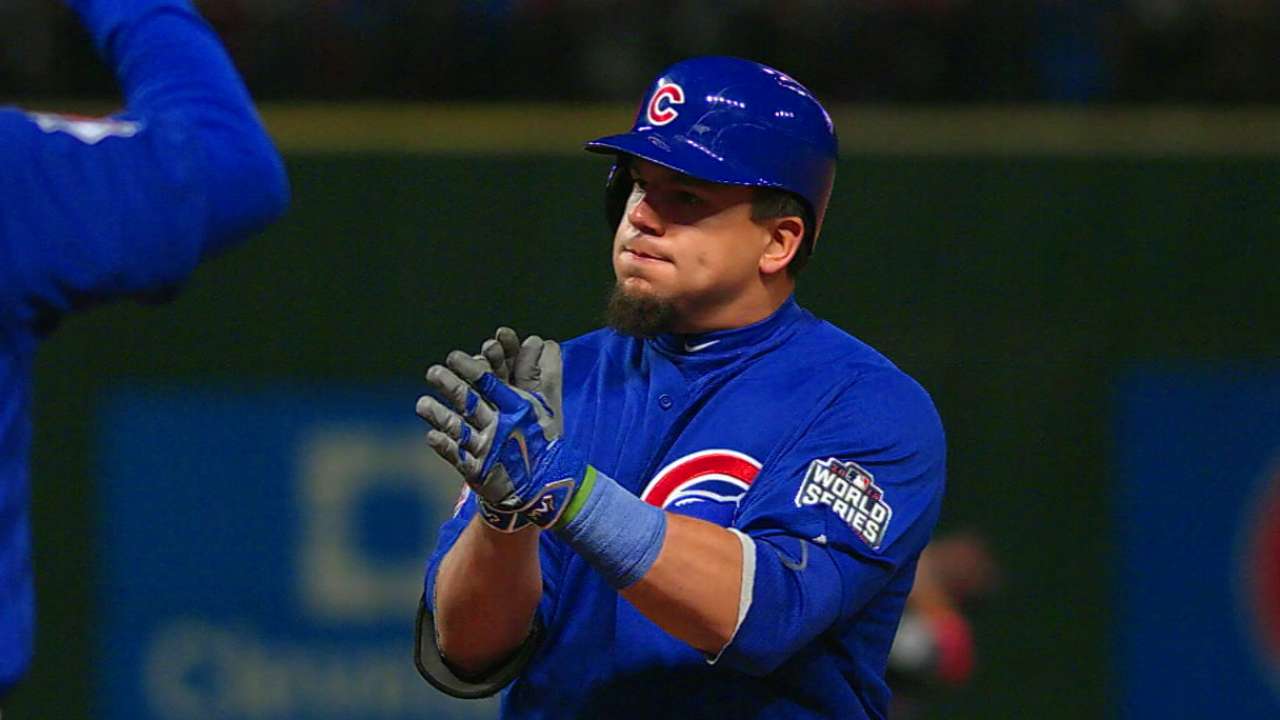 MESA, Ariz. -- Who will be the Cubs' leadoff man now that Dexter Fowler is gone? Manager Joe Maddon likes the idea of Kyle Schwarber at the top of the lineup, although don't expect the outfielder to be setting any stolen base records, and that's not because of a lack of speed.
Schwarber, who missed virtually all of the 2016 regular season after tearing two ligaments in his left knee, must continue to get on base. Asked if the outfielder had a green light on the bases, Maddon quickly responded, "No."
• Spring Training: Info | Schedule | Tickets | Gear
"I'd prefer that he subscribe to the Brian Downing method of leading off," Maddon said of the former White Sox, Angels and Rangers player who was never a threat on the bases, totaling 12 steals in 606 games while batting first.
Schwarber, Ben Zobrist and Jon Jay are the leading candidates for the No. 1 spot in the batting order. Maddon is waiting on the Cubs' baseball operations geeks to crunch some numbers to figure out the bottom of the order.
"We're still toying with the idea of the pitcher [batting] eighth and either Jay or [Albert Almora Jr.] in the nine hole, which makes it more interesting to me," Maddon said.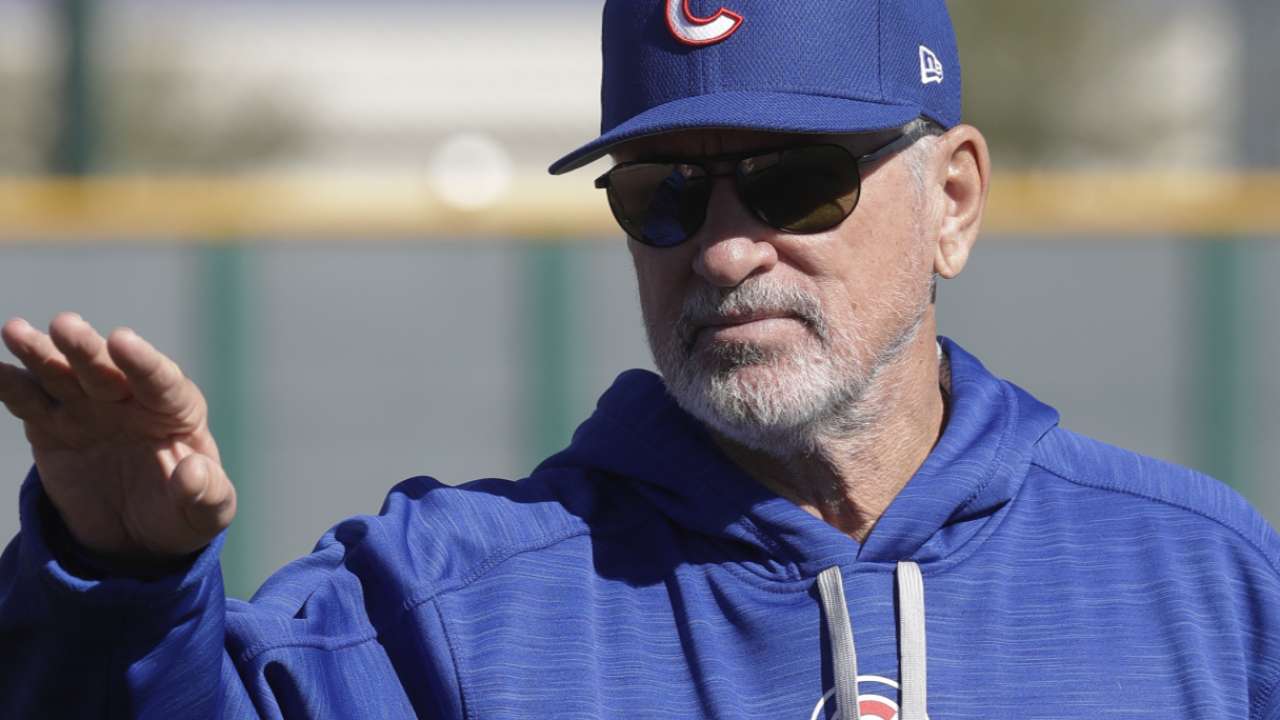 Maddon had the pitcher bat eighth in 2015, his first season with the Cubs, but that was designed to help young shortstop Addison Russell ease into the big leagues. This year, Russell could bat as high as fifth. If the pitcher does bat eighth, Almora or Jay would be the likely candidates to hit ninth and give Schwarber more RBI opportunities.
"Theoretically, it would be perfect if it went Almora or Jon to Schwarber to [Kris Bryant]," Maddon said. "That's kind of nice. The only concern I have there is who's hitting seventh? We have a nice lineup, so the seven-hole hitter would then lose the benefit of having the pitcher hit eighth. It has nothing to do with the eight hole and hitting sooner. My concern is who's hitting seventh, and what that's going to do to that guy."
Because Schwarber is coming off the knee injury, he is not projected to play every game, and also would likely sit against tough left-handed starters.
"I definitely want to be proactive and want to rest him," Maddon said.
The Cubs possess a pretty formidable lineup with Schwarber, Bryant, Anthony Rizzo and Zobrist at Nos. 1-4.
"There's pause involved there," Maddon said. "If you don't want to pitch to [Schwarber], the guys coming up behind are pretty interesting. It's formidable so it's uncomfortable from the other side."
Worth noting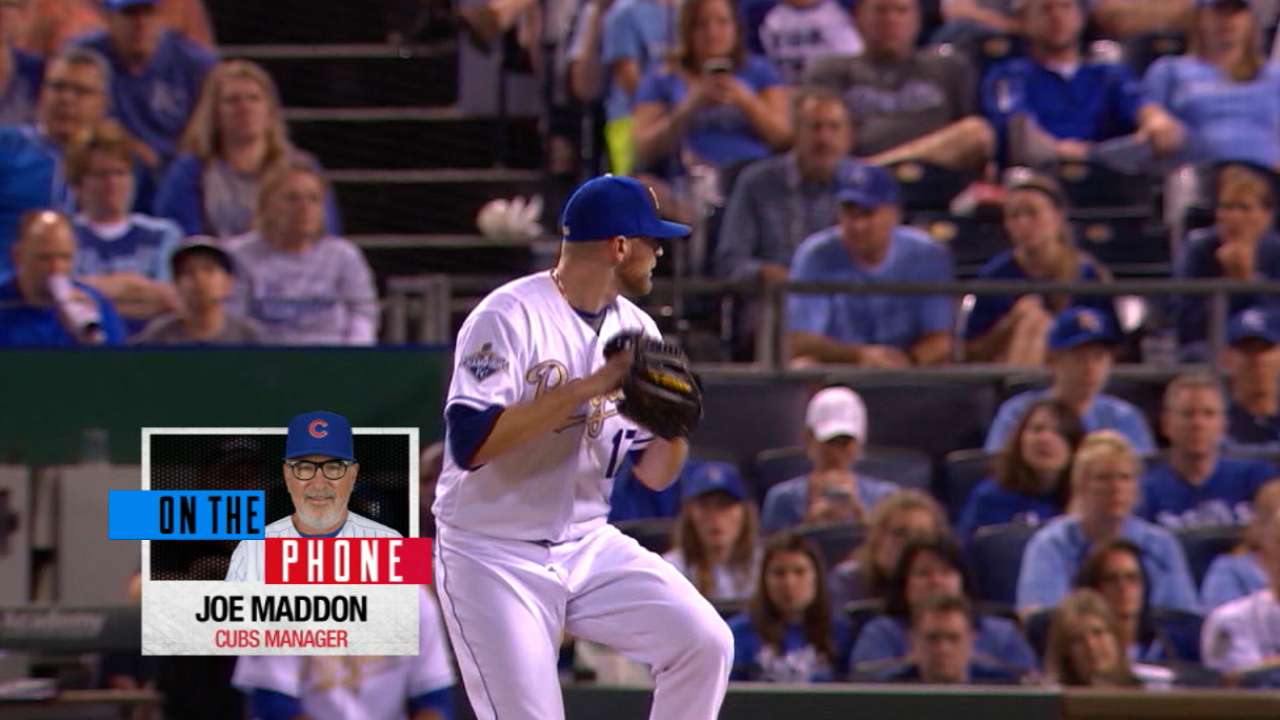 • Maddon and Wade Davis are reunited after spending four seasons together with the Rays from 2009-12. Any difference in the right-hander?
"The only way he's changed is he's a relief pitcher," Maddon said of Davis, who was a starter for the first three years with the Rays. "He's the same cat. ... I think he's gotten slightly funnier and opened up more and is more relaxed. He's got this really deliberate slow pace about him."
• The Cubs had a team golf event on Thursday. How is Maddon's game? "I hit the ball a little bit too often," he said.
• The regular position players had a dress rehearsal at Sloan Park on Thursday, taking batting practice there. The Cubs' first home Cactus League game is Saturday against the Athletics.
Carrie Muskat has covered the Cubs since 1987, and for MLB.com since 2001. She writes a blog, Muskat Ramblings. You can follow her on Twitter @CarrieMuskat and listen to her podcast. This story was not subject to the approval of Major League Baseball or its clubs.