MLB.com Columnist
Jonathan Mayo
Breaking down the Cards' Top 30 Prospects
Despite loss of Reyes for season, St. Louis' system still strong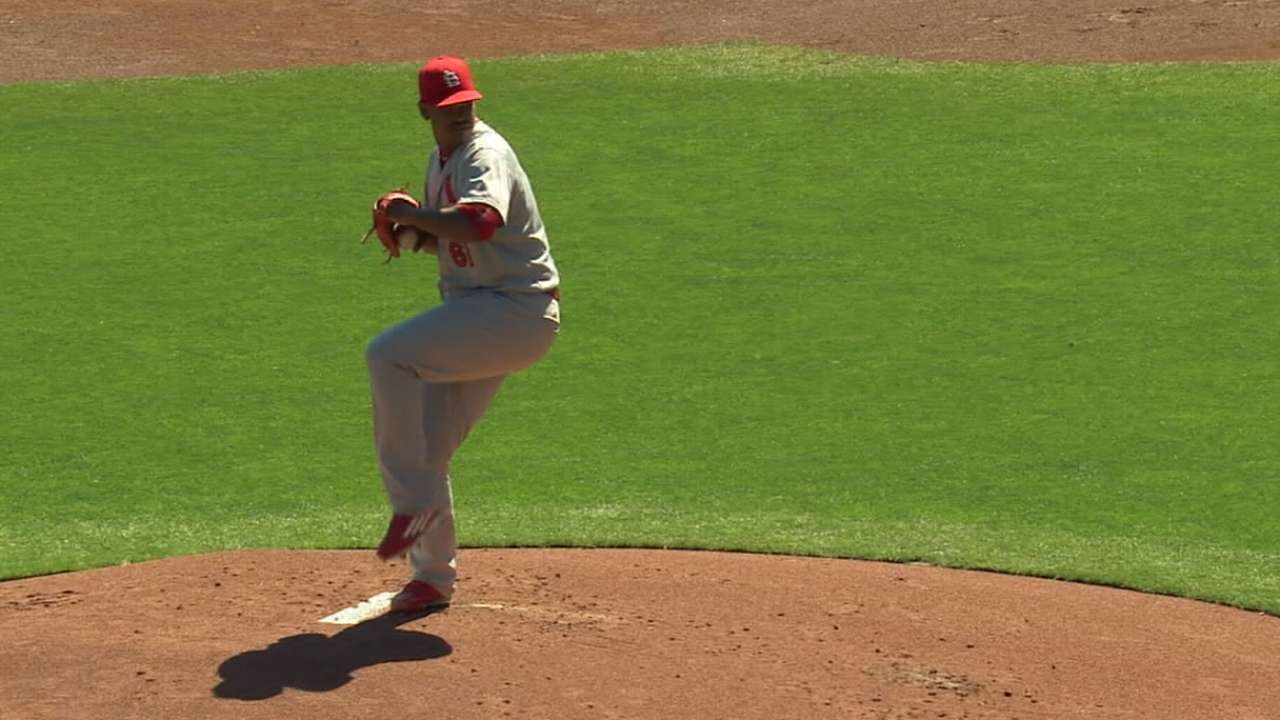 It's never a good thing to lose your No. 1 prospect. There's no way to sugarcoat that. When he's the top pitching prospect in baseball at the time, it makes it sting even more.
Losing Alex Reyes -- who not only is the top prospect in the system, but was also going to be counted on to make a major contribution in St. Louis this season -- is not something that can be overcome with the flip of a switch.
• Cardinals' Top 30 Prospects list
Top 30 Prospects lists
| Division | Release date |
| --- | --- |
| AL East | BAL, BOS, NYY, TB, TOR |
| NL East | ATL, MIA, NYM, PHI, WSH |
| AL Central | CLE, CWS, DET, KC, MIN |
| NL Central | CHC, CIN, MIL, PIT, STL |
| AL West | HOU, LAA, OAK, SEA, TEX |
| NL West | ARI, COL, LAD, SD, SF |
OK, that's the bad news. There is plenty of good news. First and foremost, of course, is that Reyes, the No. 14 overall prospect, is plenty young enough to come back from Tommy John surgery and be the dominant starter all envisioned. But beyond that is the fact the Cardinals have a lot of talent filling in behind him.
There's the best catching prospect in the game in Carson Kelly, who should be more than ready to be the starter in 2018 should the organization choose not to bring back Yadier Molina. Harrison Bader and Paul DeJong, two college bats from the 2015 Draft, had very strong first full seasons and could help out sooner rather than later.
And there is a whole lot of exciting, albeit raw, talent farther away. Starting with 2016 first-rounder Delvin Perez and continuing down to a host of players courtesy of the Cardinals' international spending spree last July, the majority of players in the Top 30 -- 17 to be precise -- have ETAs of 2019 or beyond. If that cadre of young players' tools start showing up in performance, this could easily be a Top 10 farm system in 2018 and the years to come.
Biggest jump/fall
Here are the players whose ranks changed the most from the 2016 preseason list to the 2017 preseason list.
Jump: Eliezer Alvarez, 2B (2016: NR | 2017: 12)

Fall: Nick Plummer, OF (2016: 6 | 2017: 23)
Best tools
Players are graded on a 20-80 scouting scale for future tools -- 20-30 is well below average, 40 is below average, 50 is average, 60 is above average and 70-80 is well above average.
Hit: Eliezer Alvarez (55)
Power: Paul DeJong (55)
Run: Jonathan Machado (70)
Arm: Delvin Perez (60)
Defense: Carson Kelly (65)
Fastball: Alex Reyes (75)
Curveball: Alex Reyes (60)
Slider: Dakota Hudson (60)
Changeup: Luke Weaver (65)
Control: Luke Weaver (60)
How they were built
Draft: 17
International: 11
Trade: 2
Breakdown by ETA
2017: 8
2018: 5
2019: 11
2020: 4
2021: 2
Breakdown by position
C: 2
2B: 1
3B: 0
SS: 3
OF: 7
RHP: 15
LHP: 2
Here's a look at the Cards' preseason Top 10 prospects from each of the past seven years (click here to see a larger image):
Jonathan Mayo is a reporter for MLBPipeline.com. Follow him on Twitter @JonathanMayo and Facebook, and listen to him on the weekly Pipeline Podcast. This story was not subject to the approval of Major League Baseball or its clubs.