Bucs reliever Light no fan of intentional walks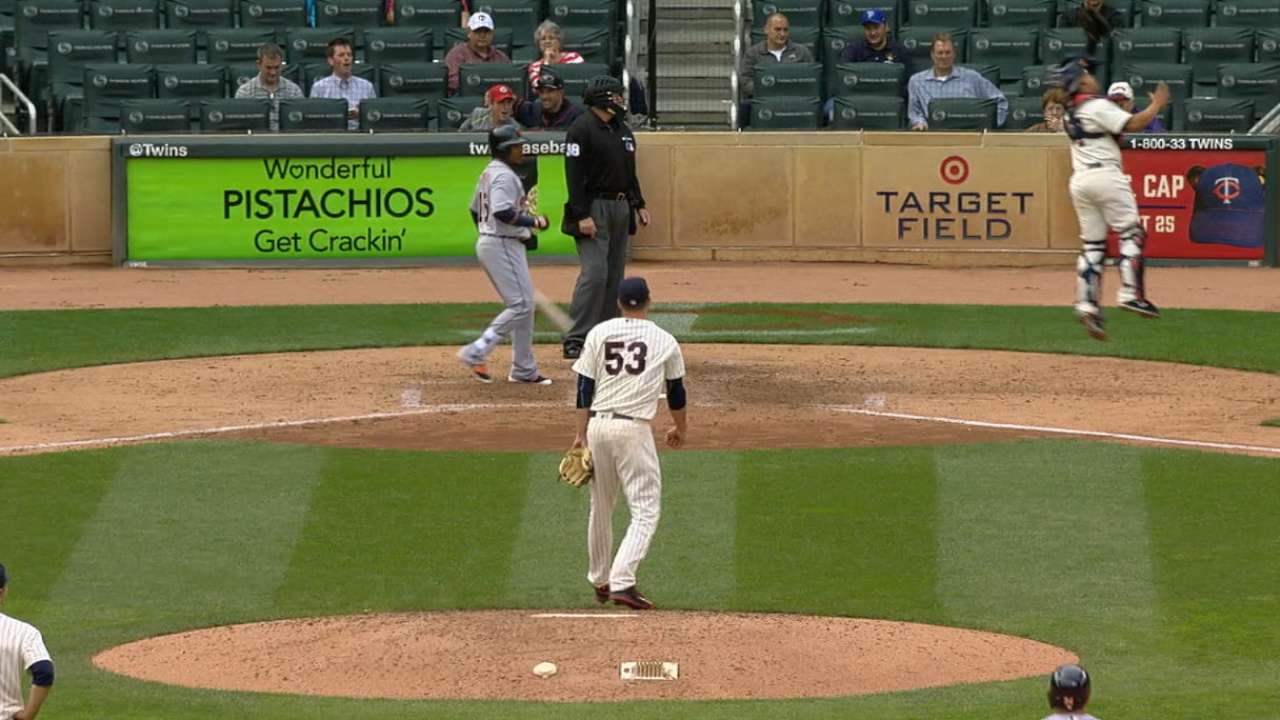 BRADENTON, Fla. -- Pirates reliever Pat Light is ready for automatic intentional walks.
"Love it," Light said, smiling. "Super excited about it."
Why is Light so enthused about the anticipated rule change? He may have been the last pitcher in Major League history to suffer the unintended consequences of an intentional walk. A simple signal from the dugout would have saved him some grief last season.
@joe_block @MLB I guess that is cool...? #partofhistory

— Pat Light (@Pat_Light) February 22, 2017
Pitching for the Twins against the Tigers on Sept. 22, the hard-throwing righty faced a 3-1 count against Erick Aybar. Light had never executed an intentional walk with catcher Juan Centeno behind the plate, and that thought entered his mind midway through his delivery. Light throws hard, even on intentional walks, but he worried Centeno might not have been prepared for it.
• Spring: Tickets | Ballpark | 40-man roster | NRIs
"I was like, 'Oh crap, I should probably lob this because he's not ready,'" Light said. "I started to slow down, and you saw the result. … Part of history, I guess. Not the best way to be a part of it, but it is what it is."
Manager Clint Hurdle said he is on board with the change. So is pitching coach Ray Searage, who once airmailed an intentional ball 15 feet up the backstop netting during his career. Reliever Daniel Hudson succinctly summarized the prevailing sentiment throughout the clubhouse -- for everyone but Light, anyway.
"If they kept it, I would have been fine," Hudson said. "If they got rid of it, I'm fine with that, too."
Around the horn
• With rain sweeping through Central Florida on Wednesday, the Pirates held an abbreviated indoor workout. Live batting practice took place in the batting cages, third-base coach Joey Cora reviewed the signs, and director of mental conditioning Bernie Holliday held a separate session with players.
"The rain presented us an opportunity to crush Plan B," Hurdle said. "And we absolutely dominated Plan B."
• First baseman Josh Bell (left knee) is "ahead of schedule," head athletic trainer Todd Tomczyk said. Bell, who faced live pitching on Tuesday, has been cleared for everything but full-speed running.
• Catcher Francisco Cervelli (right foot) is taking part in "modified baseball activities" but making progress, Tomczyk said. The Pirates would like to have him go through a full workout with the club before sending him to join Team Italy for the World Baseball Classic on March 5.
• Non-roster right-hander Jason Stoffel (right shoulder discomfort) is nearly ready to throw on the field.
Adam Berry has covered the Pirates for MLB.com since 2015. Follow him on Twitter and Facebook, read his blog and listen to his podcast. This story was not subject to the approval of Major League Baseball or its clubs.