Bochy sees Rockies on rise in NL West
Giants manager comments on tough division, difficulties of repeat championships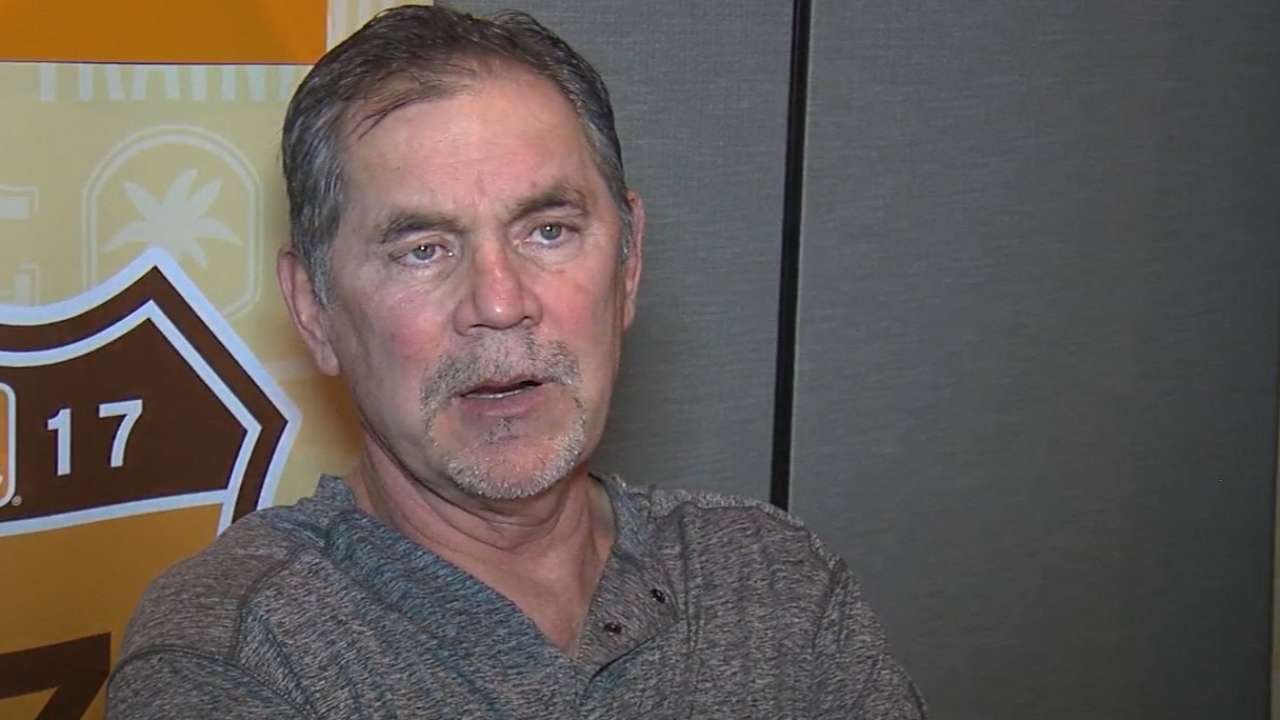 PHOENIX -- Giants manager Bruce Bochy typically says before every season begins that the National League West is a thoroughly balanced division.
This year is no exception. Moreover, Bochy has good reason to view the Giants and their West rivals as a bunched field.
The Dodgers, winners of four consecutive division titles, and the Giants have dominated the top of the division standings since 2007, the last season when neither team finished either first or second.
This year, however, Bochy believes Colorado can make an upward move, with its potent lineup and new manager Bud Black's guidance.
"Buddy's really good," Bochy said Tuesday at the Cactus League's annual Media Day. "Buddy runs the game well. He runs his pitching well. I know he has respect from the players. He's on top of the game. I think he's going to do a tremendous job in Colorado. One thing about Buddy -- he's not going to get outmanaged."
Arizona ideally will have ace Zack Greinke available for more than 26 starts. And San Diego, coming off a last-place finish, is no slouch within the division. The Padres were 9-10 against Arizona and Colorado and 8-11 against the Dodgers and Giants.
Also during Bochy's meeting with reporters:
• He confirmed Giants head athletic trainer Dave Groeschner will serve in that role for the Netherlands during the upcoming World Baseball Classic. Anthony Reyes will replace Groeschner on an interim basis.
• Bochy said there's no single reason that championship professional sports teams usually fail to repeat. "I don't think it's something universal," said the manager, who guided the Giants to World Series triumphs in 2010, 2012 and 2014. "In the years we didn't win, something different happened [to prevent a repeat]. Once you get there [to the postseason] it does become a bit of a crapshoot. You have to get hot; you have to get on a roll. I don't know if the best team wins all the time. That's why you have Wild Card teams [win it all]. We've done it."
• Those who play the what-if game point out that if San Francisco had maintained its 5-2, ninth-inning lead in Game 4 of the Division Series against the Cubs, they would have had to face the formidable Johnny Cueto in the decisive Game 5 at Wrigley Field -- and Chicago's World Series drought might still be intact.
"[Cubs manager Joe] Maddon keeps talking about how much he did not want to face Cueto in Game 5. We're disappointed we didn't get to see that, too, trust me," Bochy said. Citing the Giants' six consecutive victories in the 2012 postseason as a parallel example, Bochy added that the Cubs' comeback "shows you how hard it is to win the whole thing. That's the beauty of this game. You have to get 27 outs."
Chris Haft has covered the Giants since 2005, and for MLB.com since 2007. Follow him on Twitter at @sfgiantsbeat and listen to his podcast. This story was not subject to the approval of Major League Baseball or its clubs.