Rockies ready to compete with big spenders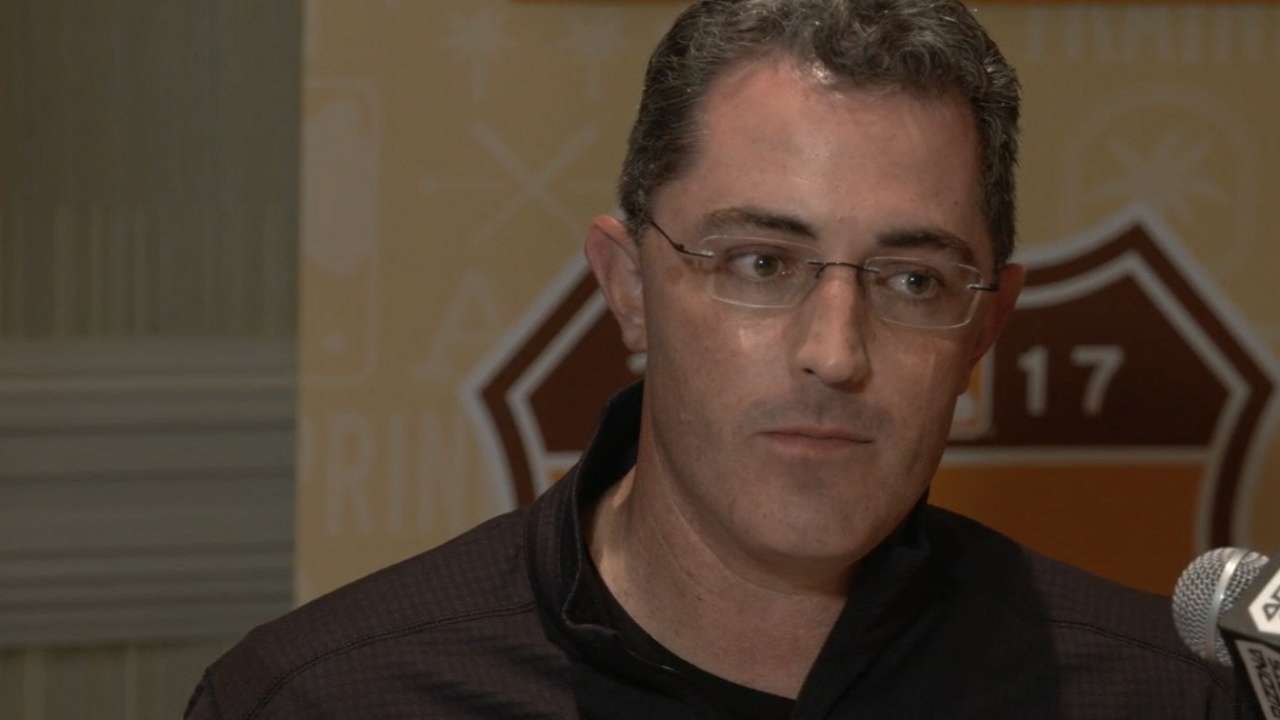 PHOENIX -- Rockies general manager Jeff Bridich hopes to follow the steps of the 2014 and '15 Royals and the '16 Indians as mid-market teams that reached the World Series.
Bridich, speaking Tuesday at Cactus League Media Day, didn't see the point in pronouncing the Rockies contenders after six straight sub-.500 seasons.
• Spring Training: Info | Tickets | Schedule | Gear
But after increasing spending in the offseason to sign Ian Desmond to play first base, Greg Holland and Mike Dunn to bolster the bullpen and Alexi Amarista to add versatility and depth, he can look to the Royals and Indians as examples of solidly built teams who made proper in-season moves to appear in the last three World Series.
According to Sportrac's projection of MLB payrolls heading into 2017, the Rockies rank 18th at $117,703,571. They play in the National League West with the Dodgers, baseball's biggest spender, and the Giants, who rank fifth. But the Rockies still feel like they are in position to compete.
"I don't think the position that we're in, in this division in regards to payroll, it's not like we're in some unique positions here. It seems like all the divisions have a kind of stratification. So we don't really think about it or dwell on the fact that the Dodgers have a higher payroll or the Giants have a higher payroll. Our responsibility is to make the best decisions for now and for the future. … I think our intent is to grow [in payroll]."
The Royals ranked 18th in payroll in 2014, when they lost the World Series to the Giants in seven games. When they won the Series the next year, they climbed to 13th in payroll -- in part because of Trade Deadline deals for Ben Zobrist and pitcher Johnny Cueto. The Indians ranked 18th last year, even with the acquisition of relief stalwart Andrew Miller, when they took Cubs to Game 7.
Going into 2017, the Royals rank 15th and the Indians 17th -- not much higher than the Rockies -- and have postseason hopes. So Bridich doesn't mind studying what they have done.
"One of the comments that we have heard from some of the players that have been with us -- Mark Reynolds being one, Greg Holland being another -- that have been around these teams, and seen it and felt it, it looks and feels right now with us what it felt like with the Indians and the Royals," Bridich said.
If the Rockies perform as they expect, the onus will be on Bridich to make precise moves -- or non-moves. The Royals, after all, made deadline deal in 2014. Neither they nor the Indians remade their clubs at Deadlines.
So the team Bridich has built since taking over as GM after the 2013 season must produce. Bridich, admitting the science is inexact, believes it is ready.
"You have to pay attention to it," Bridich said. "If you choose not to pay attention to it, you can miss it. It's easy to miss.
"A lot of it comes down to relationships with staff members, relationships with players, listening to them and their reasons for thinking the way that they do when they go through their days, and their weeks and their months. You have to marry that with developmental timelines and being realistic about where certain players are at in their development -- physical, mental and emotional."
Thomas Harding has covered the Rockies since 2000, and for MLB.com since 2002. Follow him on Twitter @harding_at_mlb, listen to podcasts and like his Facebook page. This story was not subject to the approval of Major League Baseball or its clubs.