Bogaerts returns to World Baseball Classic stage
All-Star Red Sox shortstop has helped put the Netherlands on the map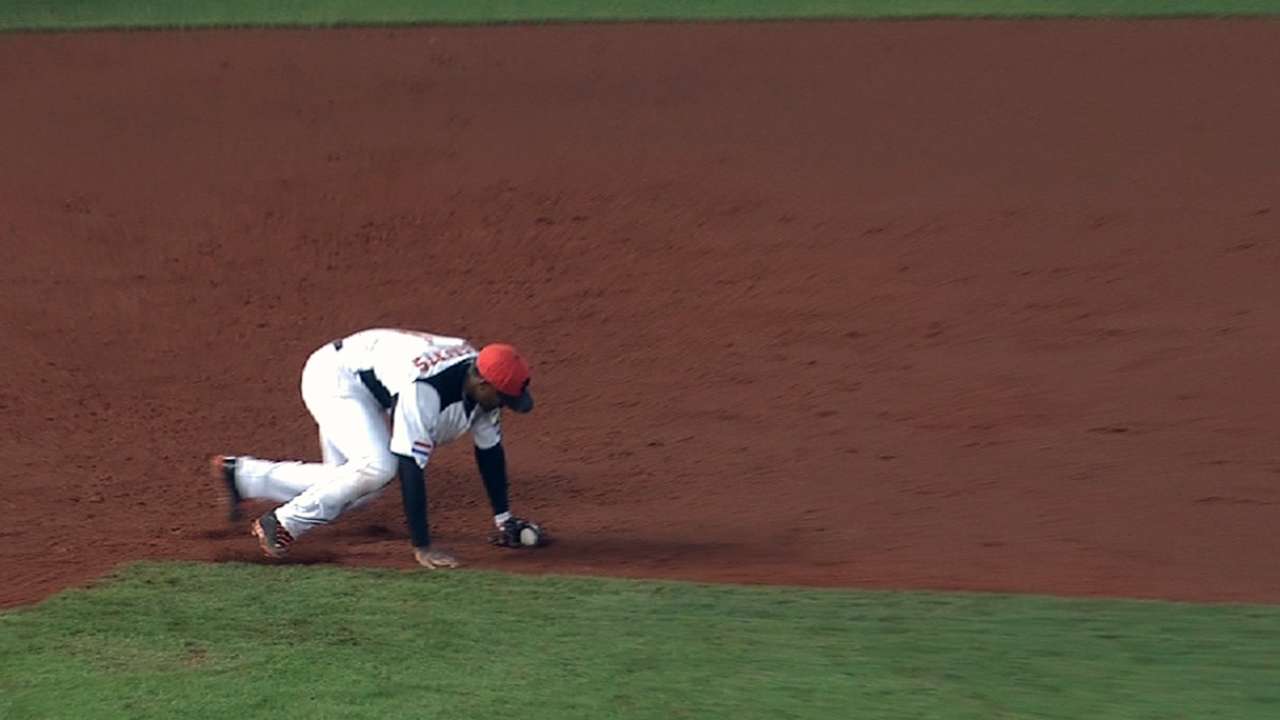 The first time Xander Bogaerts represented the Kingdom of the Netherlands in the World Baseball Classic, he hadn't yet suited up for the Red Sox. Four years ago, Bogaerts was considered a top prospect, and he was thrilled to be playing in the international showcase at the age of 20. This time, however, it is even more meaningful. Bogaerts has since established himself as one of the best shortstops in the game, and he's become a cornerstone for the Netherlands' squad.
"I remember I was really young; I didn't know a lot," said Bogaerts. "I just went up there with a little information and tried to do my best. This year, I'm much better prepared."
• Get World Baseball Classic tickets
Although Team Netherlands might not garner a lot of hype around the World Baseball Classic, Bogaerts cautions against overlooking his squad: "The pitching staff is probably one of the areas that might be a work in progress. [But] we have a lot of great players at different positions."
Bogaerts takes immense pride in having grown up on the soothing shores of Aruba, a Dutch Caribbean island, and in giving hope to others from his country who want to play baseball for a living. Four years ago, Bogaerts slashed .263/.364/.368 with a couple of doubles for the Netherlands, which had a strong fourth-place showing. Little did he know that, by the end of 2013, he'd be a member of a World Series-winning ballclub.
"We had a great run the last time we went. [The Red Sox] won the World Series that year. You never know what might happen this year," said Bogaerts.
Red Sox fans have come to love Bogaerts for both his sweet swing and smooth footwork in the field. Last season, he hit .294 with 21 homers and 89 RBIs and made the American League All-Star team for the first time. This, for a Boston team that won 93 games and the AL East title.
"I'm just trying to be strong in all aspects," he said.
• Rules for 2017 World Baseball Classic
If there was one disappointing aspect of Bogaerts' 2016 season, it was that his numbers declined in the second half. It was likely a product of fatigue, as he played in a career-high 157 games and had 652 at-bats. The ultimate gamer, Bogaerts doesn't want to play any less, though. He hopes his preparation this winter will help him withstand the rigors of the long season.
"I'm just trying to get bigger," said Bogaerts. "It's a long season. You know you're going to have a lot of wear and tear on your body, so you try to be as strong as possible."
The World Baseball Classic runs from March 6-22. In the U.S., games will air live exclusively in English on MLB Network and on an authenticated basis via MLBNetwork.com/watch, while ESPN Deportes and WatchESPN will provide the exclusive Spanish-language coverage. MLB.TV Premium subscribers in the U.S. will have access to watch every tournament game live on any of the streaming service's 400-plus supported devices. Internationally, the tournament will be distributed across all forms of television, internet, mobile and radio in territories excluding the U.S., Puerto Rico and Japan. Get tickets for games at Marlins Park, Tokyo Dome, Gocheok Sky Dome in Seoul, Estadio Charros de Jalisco in Mexico, Petco Park, as well as the Championship Round at Dodger Stadium, while complete coverage -- including schedules, video, stats and gear -- is available at WorldBaseballClassic.com.
Ian Browne has covered the Red Sox for MLB.com since 2002. Follow him on Twitter @IanMBrowne and Facebook. This story was not subject to the approval of Major League Baseball or its clubs.