MLB.com Columnist
Jonathan Mayo
Breaking down the Twins' Top 30 Prospects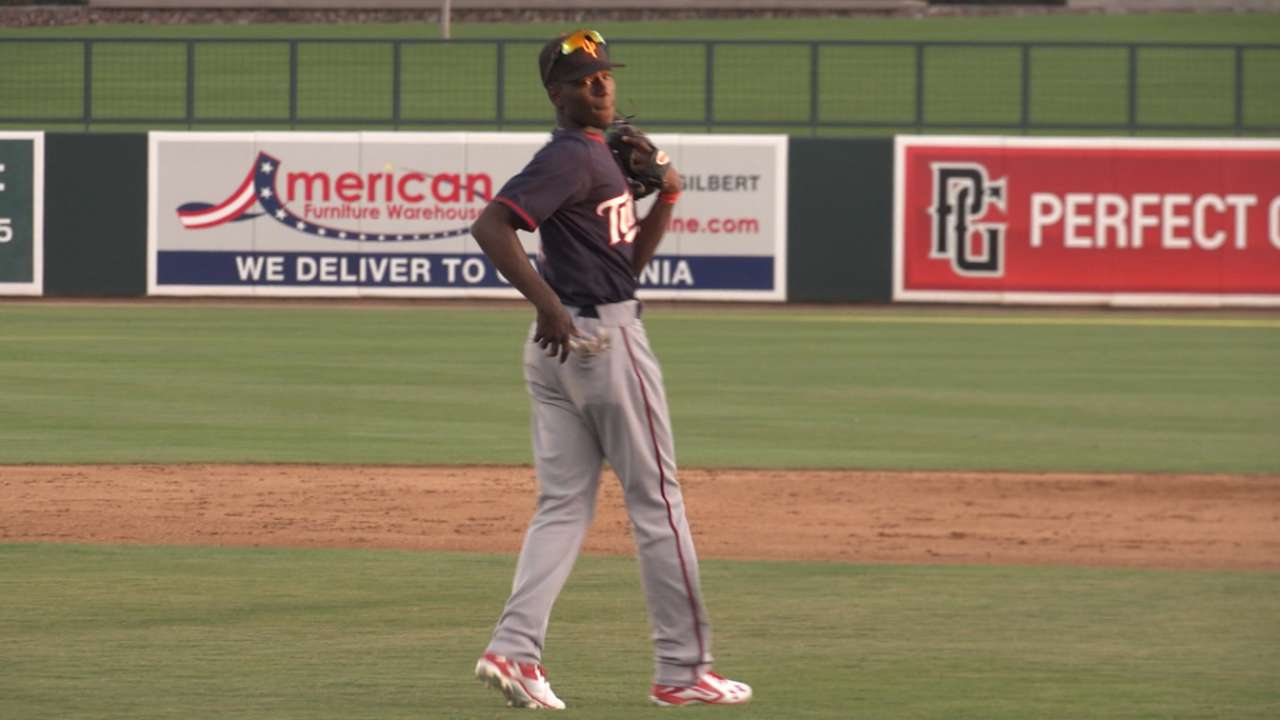 A year ago at this time, the Twins had the fifth-best system in baseball according to MLBPipeline.com. This year, they didn't place in the top 10. So what happened?
For the most part, it was a strong graduation rate. Byron Buxton, the system's No. 1 prospect for what seemed like an eternity, finally came off the list in early April. No. 2 prospect Jose Berrios and No. 3 Max Kepler followed him during the year. All three were on the overall Top 100 list. When a system loses three players of that caliber to the big leagues, it stands to reason the overall rating of the organization will take a hit.
• Twins' Top 30 Prospects list
Top 30 Prospects lists
| Division | Release date |
| --- | --- |
| AL East | BAL, BOS, NYY, TB, TOR |
| NL East | ATL, MIA, NYM, PHI, WSH |
| AL Central | CLE, CWS, DET, KC, MIN |
| NL Central | CHC, CIN, MIL, PIT, STL |
| AL West | HOU, LAA, OAK, SEA, TEX |
| NL West | ARI, COL, LAD, SD, SF |
That doesn't mean Minnesota's farm system is bereft of talent, though it's not as elite-level heavy as it was a year ago. Much of it has come from the Draft -- 18 of the Top 30, to be exact. Four of the top 10 are first-round picks from the past four years, starting with No. 1 prospect Nick Gordon, whom the Twins took No. 5 overall in the 2014 Draft.
There could be more graduations to come, with 10 of the Top 30 listed as having ETAs for this year. Only two from the Top 10 -- 2013 first-rounder Kohl Stewart and Adalberto Mejia, one of only two prospects acquired via trade -- look like they will reach Minnesota this year and potentially graduate off the list.
Players like Tyler Jay, who was on the Top 100 a year ago, Fernando Romero and Travis Blankenhorn could easily play their way onto the overall list, helping to raise the Twins' organizational ranking again. And while finishing with the worst record in baseball last year can't be perceived as a good thing, the small silver lining is that a really talented player will be added to this list when Minnesota picks No. 1 overall in the 2017 Draft.
Biggest jump/fall
Here are the players whose ranks changed the most from the 2016 preseason list to the 2017 preseason list.
Jump: Felix Jorge, RHP (2016: 26 | 2017: 9)
Fall: Engelb Vielma, SS (2016: 17 | 2017: 29)
Best tools
Players are graded on a 20-80 scouting scale for future tools -- 20-30 is well below average, 40 is below average, 50 is average, 60 is above average and 70-80 is well above average.
Hit: Nick Gordon (55)
Power: Lewin Diaz (60)
Run: Zack Grainte (65)
Arm: Engelb Vielma (60)
Defense: Engelb Vielma (65)
Fastball: J.T. Chargois (80)
Curveball: Mason Melotakis (55)
Slider: Nick Burdi (65)
Changeup: Stephen Gonsalves (60)
Control: Trevor Hildenberger (60)
How they were built
Draft: 18
International: 10
Trade: 2
Breakdown by ETA
2017: 10
2018: 8
2019: 5
2020: 6
2021: 1
Breakdown by position
C: 2
1B: 1
2B: 1
3B: 2
SS: 3
OF: 5
RHP: 9
LHP: 7
Here's a loot at the Twins' preseason Top 10 prospects from each of the past seven years (click here to see a larger image):
Jonathan Mayo is a reporter for MLBPipeline.com. Follow him on Twitter @JonathanMayo and Facebook, and listen to him on the weekly Pipeline Podcast. This story was not subject to the approval of Major League Baseball or its clubs.