Gutierrez hoping to contribute as part-timer
After Dodgers dealt him in 2004, outfielder is back where he began his career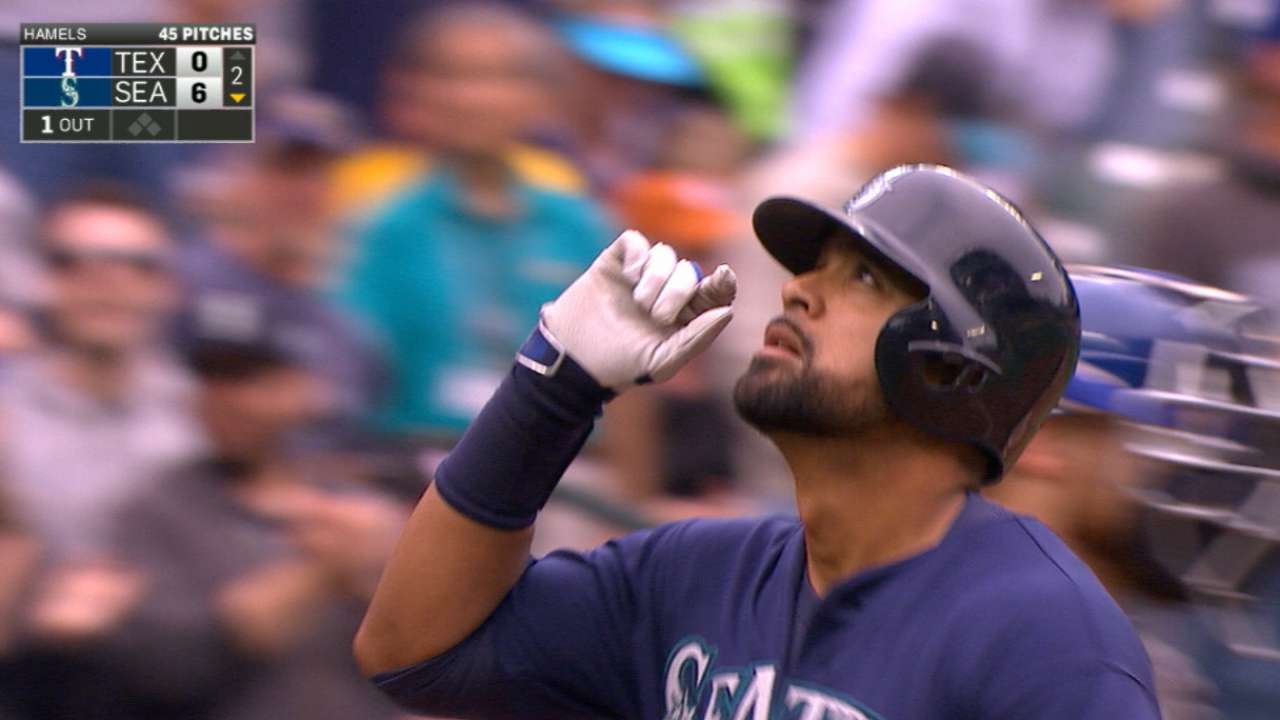 PHOENIX -- Franklin Gutierrez is back where he started, in a Dodgers uniform, sort of amazed at everything that has happened since he last wore it 13 Spring Trainings ago.
Between the time he was dealt to Cleveland for Milton Bradley in 2004 and re-signed as a free agent on Monday, Gutierrez has won an American League Gold Glove Award, fought through a rare disease that almost ended his career and now has returned as a part-time player seeking that elusive World Series.
"It's amazing," Gutierrez said on Tuesday, his 34th birthday, before the Dodgers' first full-squad workout. "I got traded twice, been around for a while and come back. Everything changed in 14 years, but it's still baseball. The Dodgers had a good season last year and hopefully do it again. Everybody expects to go farther and win the World Series. Hopefully we get there."
Gutierrez was acquired because management prioritized adding right-handed offense during the offseason and, as manager Dave Roberts said, Gutierrez is "a lefty killer." Roberts and Gutierrez were outfielders in camp together before his trade, which Gutierrez said surprised him at the time.
Back then, he was one of the Dodgers' top prospects. Cleveland moved him in a three-team trade to Seattle, where he became a premier defensive center fielder until an immune-arthritic condition, Ankylosing Spondylitis, struck in 2011, causing stiff joints and associated debilitating symptoms.
It took several years to pinpoint a diagnosis, and Gutierrez sat out 2014 to let the medication, which he still takes, heal his body.
"Three years ago, I was about to retire because I couldn't handle the pain anymore," Gutierrez said. "But the medicine works and gave me the opportunity to play the last three years. When they finally knew what I had, it's been under control because the medicine is working and I feel great. I don't have any side effects or things like [what] happened before; it's all under control."
The Dodgers have a surplus of outfielders and Gutierrez expects to be one of them, although he knows his days of being a regular are behind him.
"I had to change my game a lot," Gutierrez said. "Obviously, I'm not the same guy I used to be when I was 20 and can run down every ball in right field. Now I still do my job, but I have to be careful with my body, have to do a lot of stretching and preparation."
Even as a part-time player, Gutierrez isn't sure he can handle the demands of center field, which would provide the Dodgers an obvious alternative to starter Joc Pederson against left-handed pitching. Roberts said Gutierrez would most likely play in the corners, but he might get a test in center this spring.
"I haven't tried in a couple years," Gutierrez said. "It's a very demanding position, I have to try it. I'm not saying I can't do it, just have to go try it.
"It was difficult when you play every day and play a position that demands a lot as center field, then they take everything away from you," Gutierrez said of the effects of his condition. "I had to be strong in my mind, say this is my new body right now, this is the way I'm going to feel and be comfortable with this, that's the way it is. Sometimes in life, things don't happen the way you want them to."
Ken Gurnick has covered the Dodgers since 1989, and for MLB.com since 2001. This story was not subject to the approval of Major League Baseball or its clubs.