Inbox: Who is Blue Jays' Opening Day starter?
Beat reporter Gregor Chisholm answers fans' questions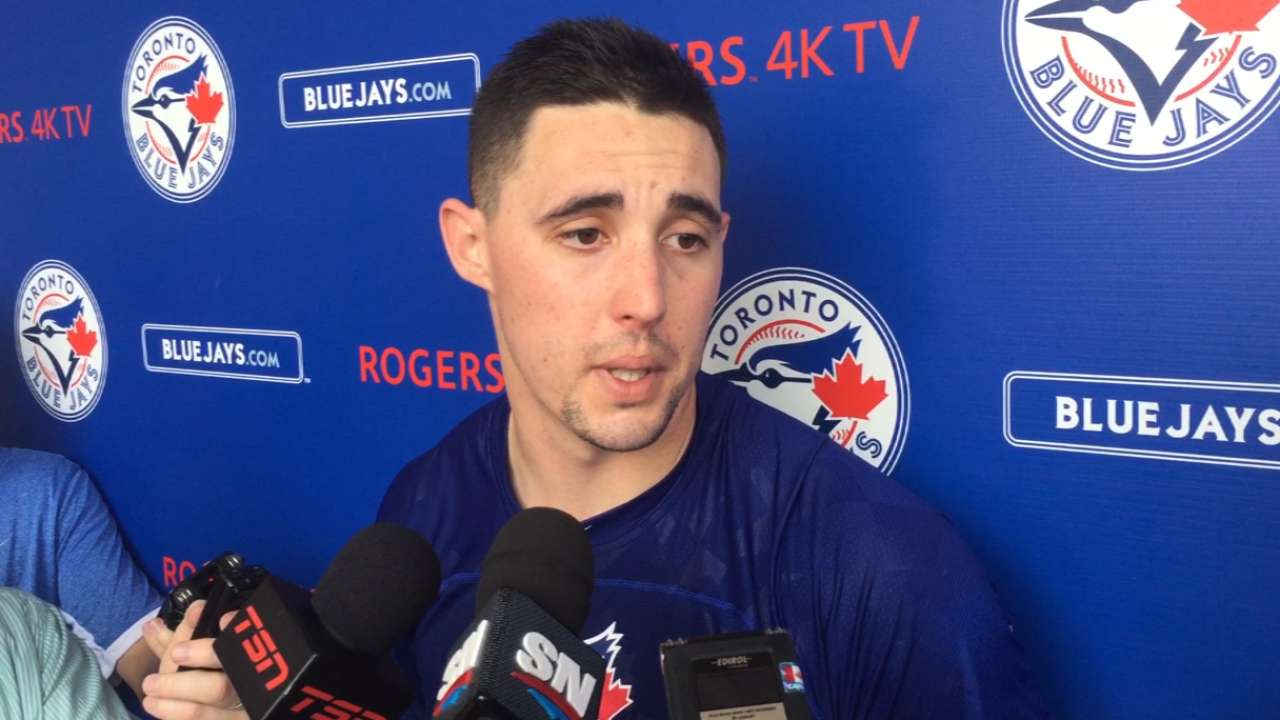 Who is going to be the Opening Day starter on the road and at home?
-- Liz, Toronto
The Blue Jays have a few different directions they can take here, but odds are that Aaron Sanchez and J.A. Happ will get the call for Opening Day and the home opener. Toronto has two off-days during the first week of the season, which means whoever starts Opening Day likely gets the finale in Tampa Bay on April 9 with the No. 2 starting the home opener on April 11.
Sanchez is the early favorite for Opening Day, but the club might also look to reward Happ after his 20-win season. If Happ ends up starting Opening Day instead of Sanchez, look for Francisco Liriano to open the year as the No. 4 starter instead of No. 5 so Toronto can break up its lefties in the rotation.
• Submit a question to the Blue Jays Inbox
How many games do you think Kendrys Morales plays at first?
-- Danny M.
Not many. Morales should be expected to start at first during Interleague Play, but outside of that, I think his appearances there will be few and far between. Yes, there has been talk about the gloves Morales brought with him to camp and the work he did on defense, but this is still a 33-year-old who has played the field just 21 times over the past two seasons.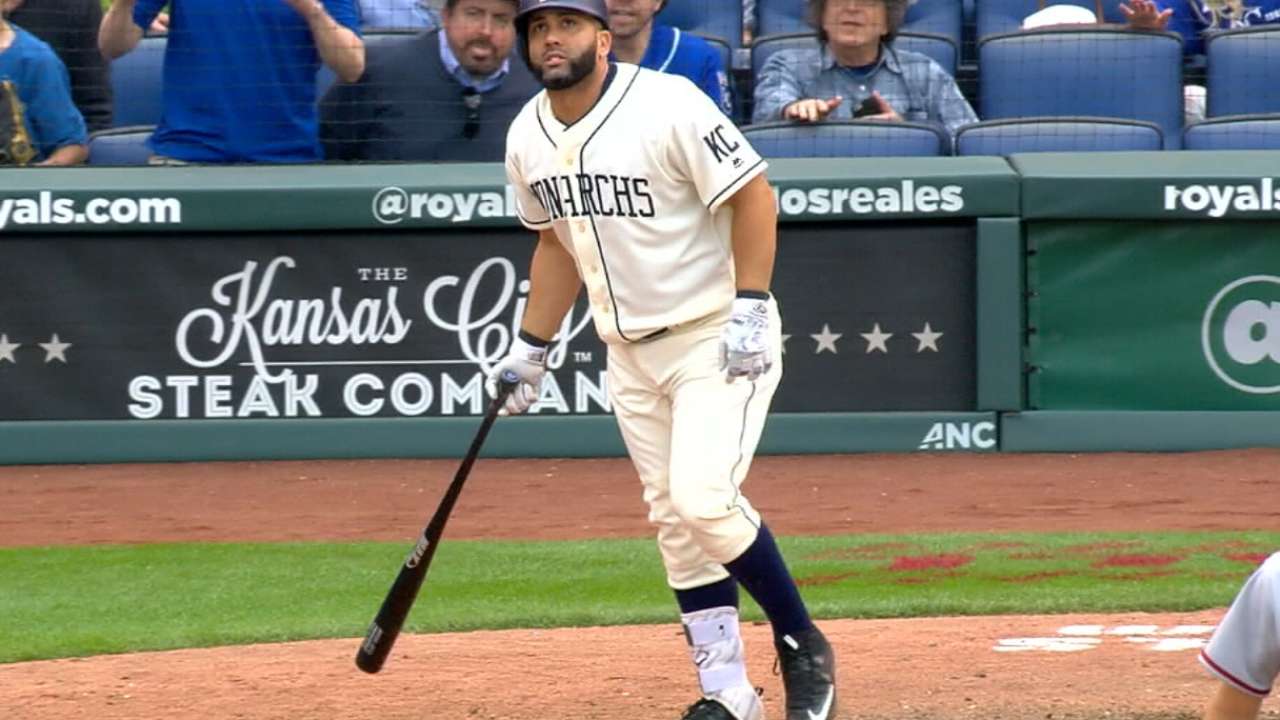 Manager John Gibbons said it best last week -- Morales is here to hit. With two other first basemen on the roster, there's no reason to play Morales there unless it's an emergency. Injuries to Josh Donaldson or Jose Bautista could change this plan, but Morales will be at first when he has to be and that's about it.
What is your projected batting lineup?
-- Charles L, Seoul, South Korea
Lineup vs. righties: Devon Travis, Bautista, Donaldson, Morales, Troy Tulowitzki, Justin Smoak, Russell Martin, Ezequiel Carrera and Kevin Pillar.
Against lefties: Travis, Bautista, Donaldson, Morales, Tulowitzki, Steve Pearce, Melvin Upton Jr., Martin and Pillar.
The big question here is where the Blue Jays will slot Donaldson and Bautista. An argument can be made that keeping Donaldson in the No. 2 spot makes the most sense, but I like the idea of having Bautista's high OBP directly in front of the club's best hitter. My projection is based on what I think Toronto will do, but Dalton Pompey should still receive a lot of consideration in left.
Last season, the Jays were fortunate that they did not have a large number of injuries to their rotation. It's unlikely they'll be as lucky in 2017. Who would be the team's extra starters in case of one or more lengthy injuries?
-- Joanne M., Toronto
If you're a Blue Jays fan looking for something to worry about, this is the area that should be considered the most alarming. Toronto has options, but not a lot of quality options, beyond its starting five, and the problem is that the viable alternatives will begin to dwindle once the regular season gets underway.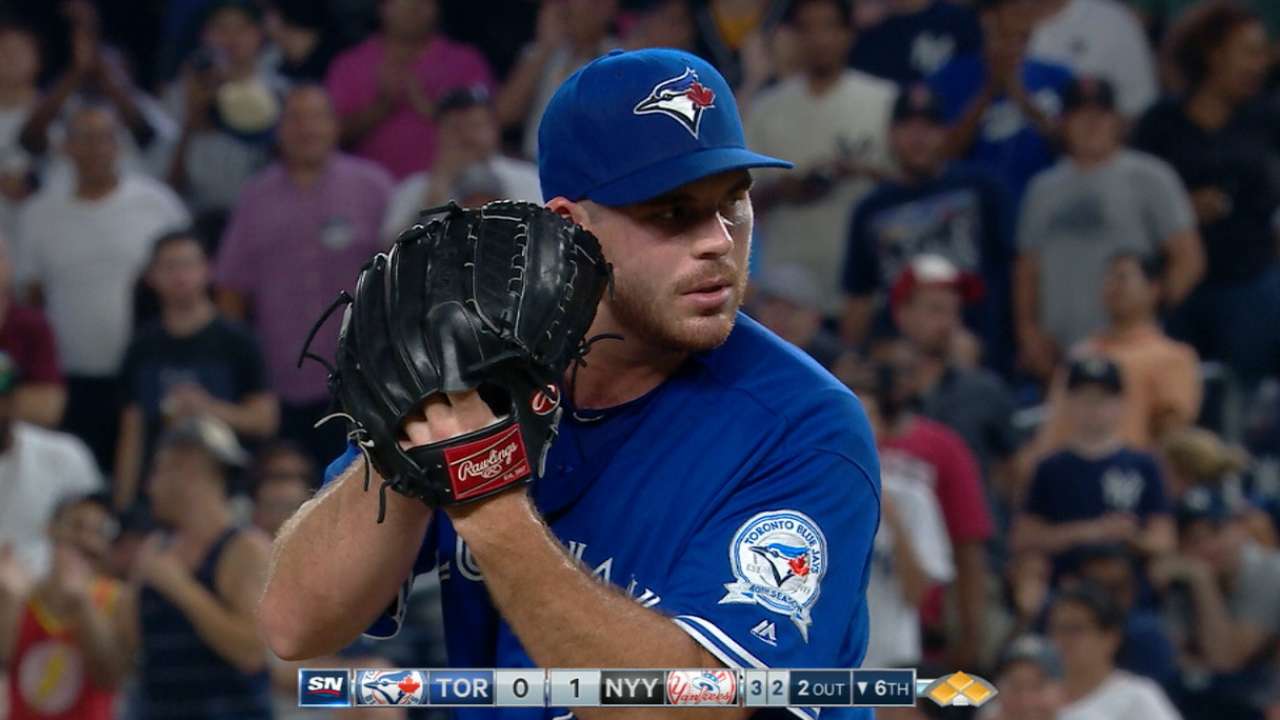 The top two backup starters would appear to be Joe Biagini and Mat Latos. The problem is that both pitchers also have a strong chance to make the team as relievers, so the club won't have the luxury of keeping them stretched out in the Minors. Latos likely can transition to the rotation at any point this season, but if Biagini begins the year as a reliever, he'll likely stay in that role all season to protect against injury. Other names to keep in mind: T.J. House, the out-of-options Mike Bolsinger and Brett Oberholtzer.
How come all the experts keep slotting Carrera in as the option against righties when he had a better year and a career hitting against lefties?
-- JT, Alexandria, Ontario
That's the biggest problem with Toronto's potential platoon in left: Both players excel vs. lefties but struggle vs. righties. Carrera has experienced reverse splits throughout his career, with a .711 OPS vs. lefties and a .649 OPS vs. righties, but the difference was even more pronounced in 2017, with an .824 OPS against lefties compared to a mark of .624.
Pompey could solve a lot of problems by stealing the job and becoming the everyday guy, but if he doesn't do that, then the Blue Jays will have to figure out how to best use Carrera and Upton. If Upton isn't going to play vs. lefties, he shouldn't be on the roster, but since he offers more pop and his career .760 OPS is better than Carrera's, he would seem to have the edge.
Gregor Chisholm has covered the Blue Jays for MLB.com since 2011. Follow him on Twitter @gregorMLB and Facebook, and listen to his podcast. This story was not subject to the approval of Major League Baseball or its clubs.