MLB.com Columnist
Jonathan Mayo
Breaking down the Mets' Top 30 Prospects
New wave of talent takes over NY's system, headlined by position players Rosario and Smith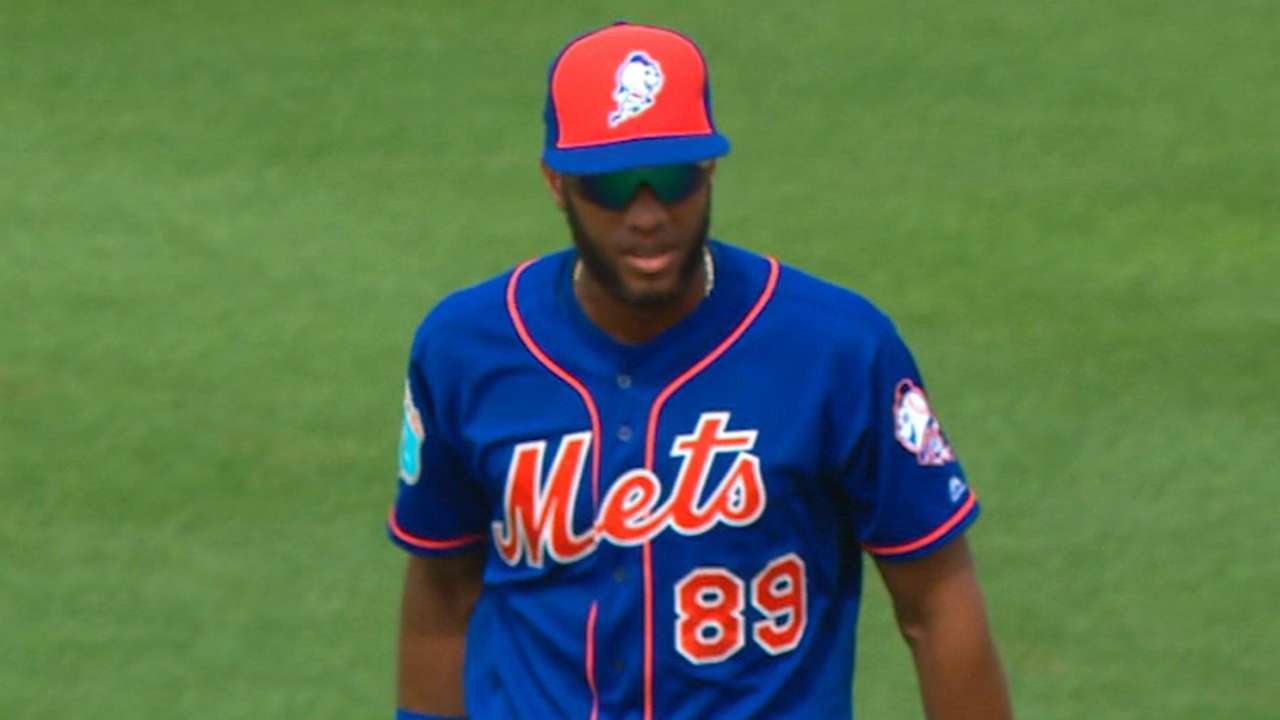 It had appeared like the top prospects had all graduated to the big leagues. After all, how could there be more impactful talent after the likes of Noah Syndergaard, Jacob deGrom and Steven Matz graduated off of the Mets' Top 30 list? Well, sometimes looks can be deceiving.
While it's true there weren't guys coming up and throwing gas and looking like future National League Cy Young Award candidates, a still-eligible Matz did get an NL Rookie of the Year Award vote to extend the Mets' streak of getting at least one ROY vote to three years, starting with deGrom's win in 2014. But the contributions from the farm system came from more unlikely sources.
Top 30 Prospects lists
| Division | Release date |
| --- | --- |
| AL East | BAL, BOS, NYY, TB, TOR |
| NL East | ATL, MIA, NYM, PHI, WSH |
| AL Central | CLE, CWS, DET, KC, MIN |
| NL Central | CHC, CIN, MIL, PIT, STL |
| AL West | HOU, LAA, OAK, SEA, TEX |
| NL West | ARI, COL, LAD, SD, SF |
Robert Gsellman, who is still on this list, took a big jump forward stuff-wise and prospect-radar wise. He and Seth Lugo were unsung heroes of the Mets' playoff run in 2016, stepping in and filling injury-caused voids in the pitching staff. Even undrafted free agent T.J. Rivera, who simply hit his way to New York at age 27, came up big while filling in for Neil Walker at second.
For the first time in three years, the top of the Mets' list is not held by one of those young guns. Instead it's shortstop phenom Amed Rosario, who gives the Mets the chance to have an elite-level position player for the first time in a very long time. Add in Dominic Smith and it's possible that the next wave of talent everyone is talking about in Queens is of the offensive variety.
Biggest jump/fall
Here are the players whose ranks changed the most from the 2016 preseason list to the 2017 preseason list.
Jump: Thomas Nido, C (2016: N/A | 2017: 11)
Fall: Milton Ramos, SS (2016: 11 | 2017: 23)
Best tools
Players are graded on a 20-80 scouting scale for future tools -- 20-30 is well below average, 40 is below average, 50 is average, 60 is above average and 70-80 is well above average.
Hit: Amed Rosario and Dominic Smith (60)
Power: Peter Alonso (55)
Run: Amed Rosario (60)
Arm: Amed Rosario (65)
Defense: Amed Rosario (65)
Fastball: Josh Smoker (70)
Curveball: Thomas Szapucki (60)
Slider: Justin Dunn and Marcos Molina (55)
Changeup: Robert Gsellman (55)
Control: P.J. Conlon (60)
How they were built
Draft: 18
International: 9
Trade: 1
Free agent: 2
Breakdown by ETA
2017: 7
2018: 6
2019: 12
2020: 5
Breakdown by position
C: 3
1B: 2
2B: 2
3B: 3
SS: 7
OF: 4
RHP: 5
LHP: 4
Here's a look at the Mets' preseason Top 10 prospects from each of the past seven years (click here to see a larger image):
Jonathan Mayo is a reporter for MLBPipeline.com. Follow him on Twitter @JonathanMayo and Facebook, and listen to him on the weekly Pipeline Podcast. This story was not subject to the approval of Major League Baseball or its clubs.