MLB.com Columnist
Jonathan Mayo
Breaking down the Phillies' Top 30 Prospects
Crawford heads Philadelphia's list for third straight season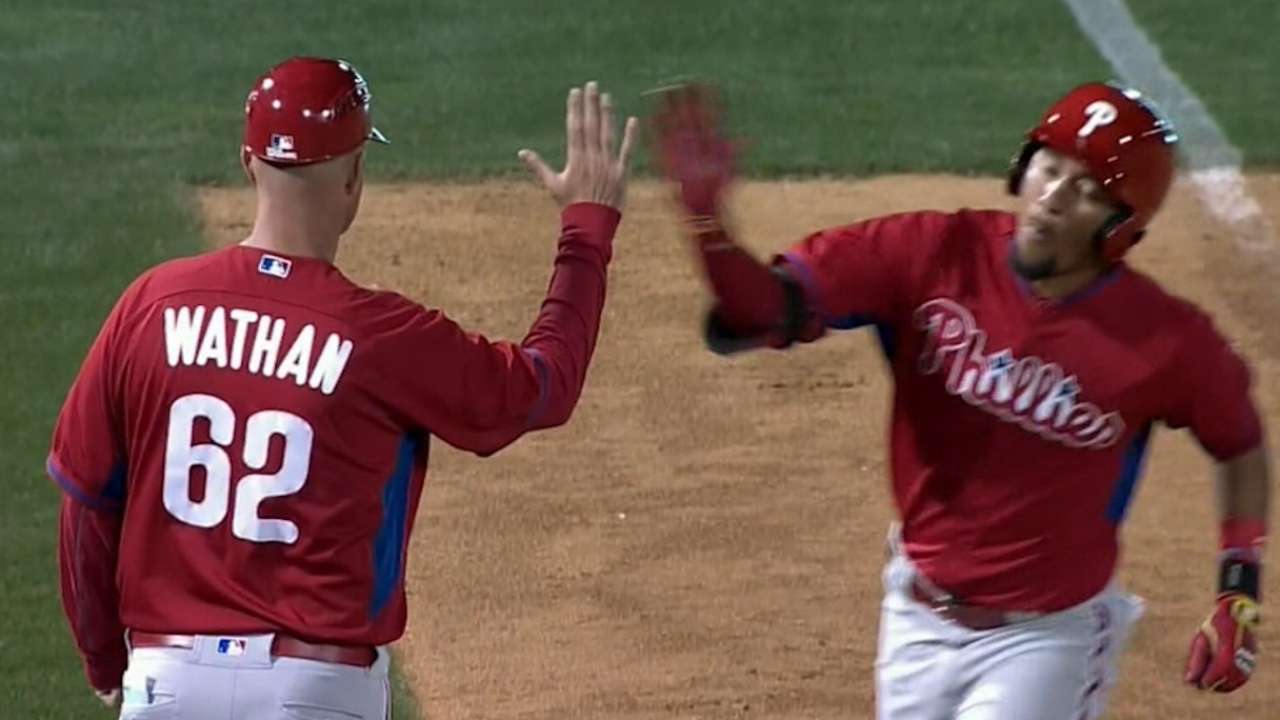 Back at the Trade Deadline in 2015, the Phillies realized it was time to turn things over and hit the rebuild button. That's when Cole Hamels was dealt to the Rangers for five Minor Leaguers, four of whom were on the Phils' Top 30 list at this time last year. Ken Giles went to the Astros in that offseason, bringing in more young talent.
Having a highly-regarded system is all well and good, but the whole purpose of a rebuilding effort is to be able to take that talent and give the big league club players who can contribute to a winning team. That's an ongoing effort, with moderate gains in 2016, but several of the players from those trades graduated off the Top 30 and into Major League roles.
Top 30 Prospects lists
| Division | Release date |
| --- | --- |
| AL East | BAL, BOS, NYY, TB, TOR |
| NL East | ATL, MIA, NYM, PHI, WSH |
| AL Central | CLE, CWS, DET, KC, MIN |
| NL Central | CHC, CIN, MIL, PIT, STL |
| AL West | HOU, LAA, OAK, SEA, TEX |
| NL West | ARI, COL, LAD, SD, SF |
• Philadelphia's 2017 Top 30 Prospects list
There is the possibility of a rotation made up largely from pitchers who came from Texas and Houston. Alec Asher, Jake Thompson and Jerad Eickhoff -- from the Hamels deal -- all spent time in Philadelphia's rotation in 2016, with Eickhoff the most consistent. Add in Vince Velasquez, who had narrowly graduated from prospect status in 2015, and that's a fairly good acquired foundation of arms. Jorge Alfaro (acquired in the Hamels trade) still looks like a big-time contributor and while Nick Williams (Hamels deal, too) has been enigmatic, he, too, should contribute soon.
With all of the flux, one name on the Phillies' Top 30 has remained a constant: J.P. Crawford. He's the No. 1 guy in the system for the third straight year. It may seem like Crawford has been a prospect forever, or that he had a pedestrian year in 2016, but he reached Triple-A at age 21 and is still one of the best all-around shortstops in the Minors, a reason why he's No. 6 on the overall Top 100 list.
Biggest jump/fall
Here are the players whose ranks changed the most from the 2016 preseason list to the 2017 preseason list.
Jump: Sixto Sanchez, RHP (2016: N/A | 2017: 7)
Fall: Mark Appel, RHP (2016: 4 | 2017: 20) and Malquin Canelo, SS (2016: 12 | 2017: 28)
Best tools
Players are graded on a 20-80 scouting scale for future tools -- 20-30 is well below average, 40 is below average, 50 is average, 60 is above average and 70-80 is well above average.
Hit: Mickey Moniak (60)
Power: Dylan Cozens (60)
Run: Roman Quinn (80)
Arm: Jorge Alfaro (70)
Defense: J.P. Crawford (65)
Fastball: Franklyn Kilome (70)
Curveball: Franklyn Kilome (55)
Slider: Victor Arano (60)
Changeup: Ricardo Pinto (60)
Control: Sixto Sanchez (55)
How they were built
Draft: 12
International: 11
Trade: 7
Breakdown by ETA
2017: 11
2018: 7
2019: 7
2020: 5
Breakdown by position
C: 2
1B: 1
2B: 3
3B: 1
SS: 2
OF: 8
RHP: 11
LHP: 2
Here's a look at the Phillies' preseason Top 10 prospects from each of the past seven years (click here to see a larger image):
Jonathan Mayo is a reporter for MLBPipeline.com. Follow him on Twitter @JonathanMayo and Facebook, and listen to him on the weekly Pipeline Podcast. This story was not subject to the approval of Major League Baseball or its clubs.