Hamilton harnessing thunder once again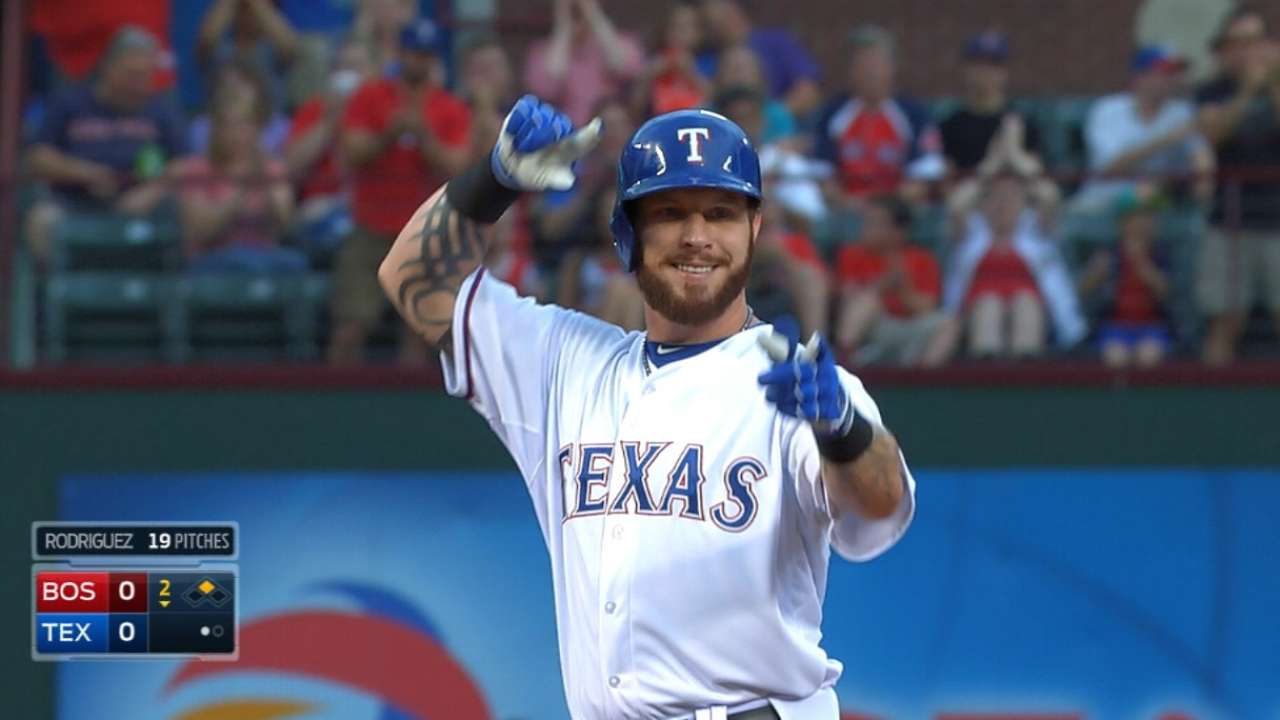 SURPRISE, Ariz. -- The storms moved east from the Phoenix area and the White Tank Mountains on Monday, and blue skies soared over Texas' training complex to greet the Rangers.
But there was still some thunder in the area, and it came from Field No. 1 behind the main stadium. Josh Hamilton, who missed last season because of left knee surgery, was taking batting practice.
• Spring Training: Info | Tickets | Schedule | Gear
The assault on cars traveling Bullard Avenue beyond right field began in the second round. Hamilton, hitting between Shin-Soo Choo and Mike Napoli, crushed one high and deep in the direction toward Bullard. Hamilton did it again on the next pitch: a savage line drive with just enough altitude to clear the fence.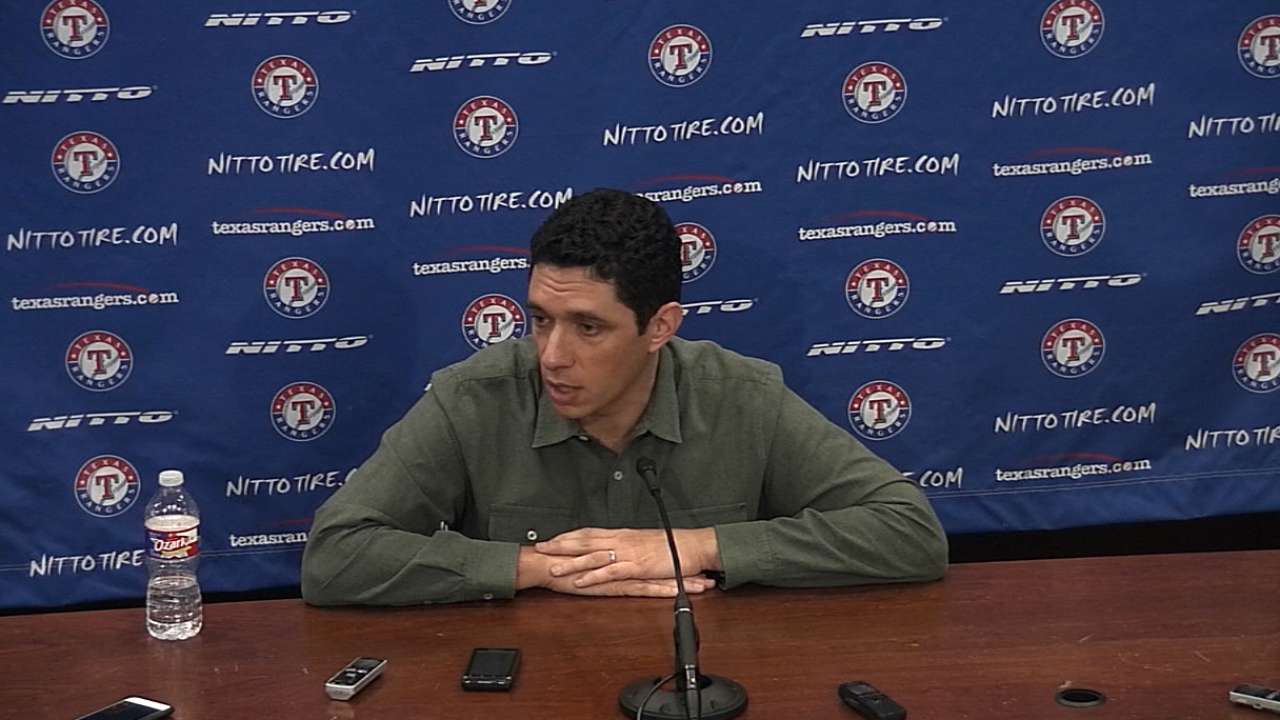 "It's just a different sound," farm director Jayce Tingler said behind the cage.
"The only two like it are [Marlins' Giancarlo] Stanton and him," hitting coach Anthony Iapoce said. "The first time I heard them. Stanton when I was with the Marlins and Josh last year. I put it on the tee for him. It was real quiet and then … wham!"
Hamilton, in a half-dozen rounds, had the usual February batting practice, lazy fly balls mixed in with line drives. Then the bat flashed again, a clap of thunder boomed and the ball soared through the desert air.
"How did it look?" Napoli said. "He was hitting moonshots."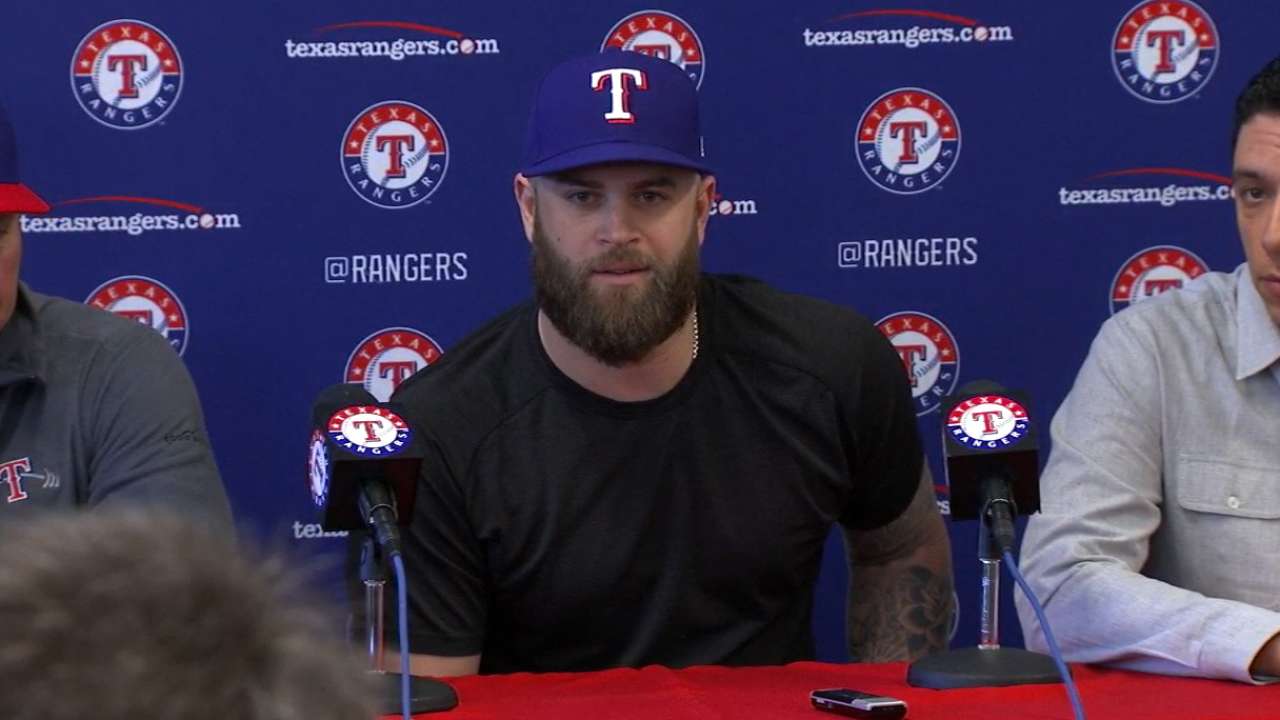 The last one of the day was crushed and would have easily ended up in the upper deck at Globe Life Park, just like in 2010-11 when Hamilton was leading the Rangers to two straight World Series.
"It felt good," Hamilton said. "I'm still trying to the feel. Sometimes I jump out at the ball rather than let it travel to me. But it's getting better every day."
His knee problems were so acute last spring Hamilton wasn't even able to take batting practice with teammates on the field. The cars were safe on Bullard, but not anymore.
"I just want to see as much live pitching at game speed as possible," Hamilton said.
He'll get many opportunities between now and the end of Spring Training. Hamilton is here on a Minor League contract and has to make the team. Hamilton also will not make the team strictly as a designated hitter.
Manager Jeff Banister wants him to play either first base, left field or both. Hamilton has never played first, but said he feels comfortable there this spring. The Rangers know he can play the outfield if he can keep from running into walls.
"When the ball is hit, I go and get it," Hamilton said. "But I'll try to be smart about it, know the situation and the run differential."
The Rangers will not make a hasty decision. Banister said everybody just needs to come here and play baseball, and the roster decisions will happen later in March. There were no decisions Monday, just an occasional reminder of the thunder that can come from Hamilton's bat.
T.R. Sullivan has covered the Rangers since 1989, and for MLB.com since 2006. Follow him on Twitter @Sullivan_Ranger and listen to his podcast. This story was not subject to the approval of Major League Baseball or its clubs.