Grandy reveres young players' 'work ethic'
Veteran outfielder, now oldest Met on roster, mentoring up-and-comers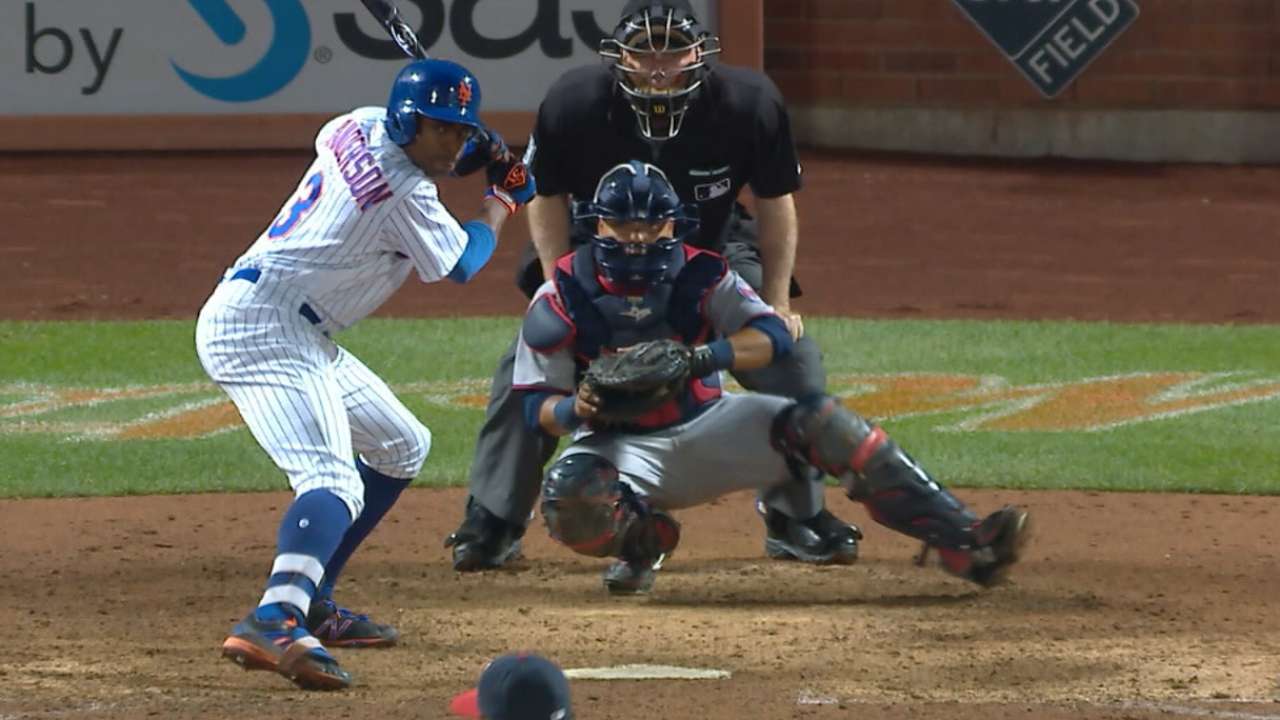 PORT ST. LUCIE -- Four years in with the Mets, outfielder Curtis Granderson's goal of winning a championship hasn't changed.
What has changed since relocating from the Bronx to Queens in December 2013, however, is where the three-time All-Star ranks on the age chart.
"Now, I'm the oldest guy on the team," Granderson laughed prior to Monday's morning workout. "But even when I came over from the Yankees to here, I was one of the older guys on the team along with David Wright, [Daisuke Matsuzaka], and Bartolo [Colon]. Now Bartolo's gone, and it's still me and David."
• Spring: Tickets | Ballpark | 40-man roster | NRIs
Granderson turns 36 in less than a month, and the days where the bright-eyed outfielder was coming up in the Tigers' farm system, watching Magglio Ordonez and Ivan Rodriguez, are long gone. Nearly eleven years after getting his first full stint in the big leagues, Granderson has become the sage veteran of a Mets team looking for its third straight postseason berth.
Of the Tigers team that made the World Series in 2006, Granderson is one of four players -- Detroit's Justin Verlander, Arizona's Fernando Rodney and Cleveland's Andrew Miller are the other three -- still active in the big leagues. That experience and longevity has turned Granderson, the '16 recipient of the Roberto Clemente Award, into a role model for the Mets' top prospects.
"It's great just to watch," Granderson said. "These guys come in with a great work ethic, and they're confident. They've been doing amazing things throughout their professional careers up to this point to get a chance to play here at the big league level."
Notably, young outfielders Brandon Nimmo and Michael Conforto have become understudies of the 13-year veteran.
"It's been really cool to watch and be alongside them," Granderson said. "If there's some times where I have to go to them and say some things here and there, I'll do it, but these guys are very professional."
To Granderson, part of what makes his mentoring job easier is that many prospects have been playing in big games already -- from high school summer leagues to the Minors -- and they understand what's expected of them.
With both personal and team expectations high in the final year of his four-year contract, Granderson's mind is eased by the young players knowing how vital their contributions are.
"The pieces and the depth that we have still allow us to keep going," Granderson said. "You guys are just as good, no matter who happens to be out there. If someone's getting replaced or needs the day off, you guys help the team keep going."
Jake Elman is a contributor to MLB.com. This story was not subject to the approval of Major League Baseball or its clubs.