Brewers want to enrich fans' experience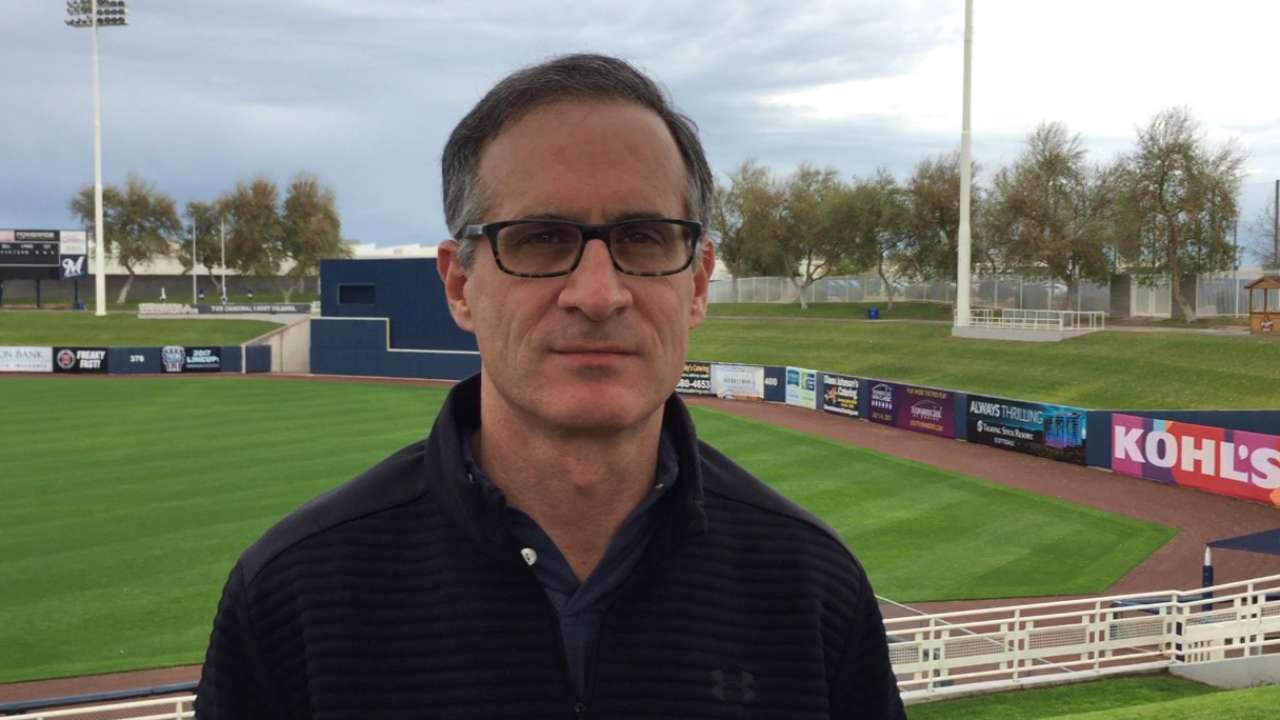 PHOENIX -- With Presidents Day and the start of Spring Training, it seemed an appropriate time to check in with the man who serves in the club president role of the Brewers, COO Rick Schlesinger.
MLB.com asked him to provide his three main messages to fans going into the 2017 season, and here's what Schlesinger had to say:
We need to elevate
"We need to elevate our performance on the field, we need to elevate our fan engagement, we need to elevate our fan experience at Miller Park, and I think we're making steps toward all of those goals. Craig Counsell said in the team meeting that this is an important season, a time for guys to be part of the next great Brewers teams. There are opportunities for young players to step up. On the business operations side, there are opportunities, too.
"We have spent an enormous amount of time on the food and beverage experience. That's our biggest offseason project, and the biggest project in the history of Miller Park. I think we are elevating the fan experience and hoping that people coming to Miller Park have not only a great time, but a great food and beverage experience. We also have engaged an independent music consultant who hails from Los Angeles to help us refine the type of music we play based on the demographic in the ballpark and the latest trends, and that person is also going to provide some consultation on the overall in-game experience. We have expanded our motion graphic and video capabilities in-house to provide a little more sophisticated, more creative video experience for the scoreboard. Those are areas I think fans are going to notice right away.
"We're also looking to do more engagement with our fans, whether that's through social media or marketing or community relations. So one of the themes for me is just elevating the whole Brewers brand."
Have fun
"I think more than ever people need a break from the stresses of everyday life, and we're looking for Miller Park to be fun. Baseball is a fun game to play, it's a fun game to watch, it's affordable, and it appeals to a fan in every demographic. We're looking for Miller Park to be an escape from the stresses everybody has. If people are looking to escape talking about politics or contentious issues, baseball can bring people together.
"I tell this to our staff as well. We work a lot of hours and we can't control what happens on the field, but we get to work for a Major League Baseball team, and it's a lot of fun. Let's not forget to have fun."
Play meaningful baseball
"Since we are a professional sports team, it is ultimately about winning and losing. I want us to play meaningful baseball throughout the entire season. To me, that means games of relevance. That means every game we play is important, not only to our development but to where we are in the standings. Everybody talks about how great the Cubs are, and they are great, but you don't have to win the division to make the postseason. I think we want to be playing meaningful games through the end of September. Not only does that engage fans and increase attendance, but it raises the bar and shows the fans of Milwaukee and Wisconsin that this team is talented and playing hard and competitive, and that this team fights. We're going to show people that this is a team to be reckoned with, all while we keep putting one eye toward the great Minor League system we're trying to develop.
"If we're playing meaningful baseball, the fans are going to care about the team. In the front office, we are trying to create a 'culture of care,' and I want the fans to feel the same way. I want them to look at this team as theirs. The fans have been so supportive, and if we can create that sport of symmetry of care between the fans and the team, that's great for our business and great for what we're trying to do."
Adam McCalvy has covered the Brewers for MLB.com since 2001. Follow him on Twitter @AdamMcCalvy, like him on Facebook and listen to his podcast. This story was not subject to the approval of Major League Baseball or its clubs.