Breaking down the Orioles' Top 30 Prospects
12 of Baltimore's Top 30 Prospects are expected to arrive in 2017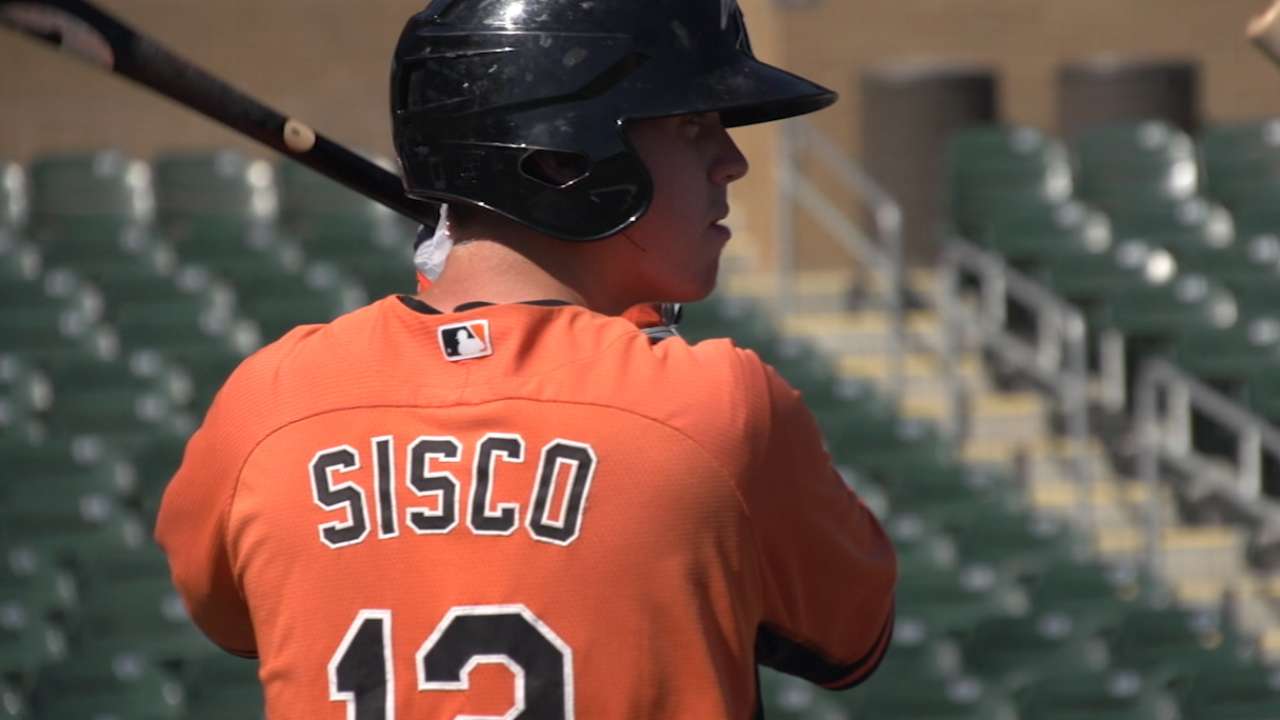 It was another successful year for the Orioles, who rattled off 89 wins, good for fourth in the American League, to reach the postseason for the third time in five years. But they were unable to advance past the Blue Jays in the AL Wild Card Game, as Edwin Encarnacion hit a dramatic walk-off home run off of Ubaldo Jimenez in the 11th inning to seal the O's fate. But while the playoff loss may have been difficult to swallow for fans, how Baltimore got there offers plenty of optimism for the future.
After three injury-plagued seasons, Dylan Bundy emerged as a key part of the Orioles' rotation after beginning the season in the bullpen. Though he did wear down late in the year, Bundy showed the promise that had made him the No. 4 overall Draft pick in 2011, as well as the organization's top prospect in subsequent years.
• Baltimore's 2017 Top 30 Prospects list
Top 30 Prospects lists
| Division | Release date |
| --- | --- |
| AL East | BAL, BOS, NYY, TB, TOR |
| NL East | ATL, MIA, NYM, PHI, WSH |
| AL Central | CLE, CWS, DET, KC, MIN |
| NL Central | CHC, CIN, MIL, PIT, STL |
| AL West | HOU, LAA, OAK, SEA, TEX |
| NL West | ARI, COL, LAD, SD, SF |
Bundy wasn't the only O's prospect to make an impact in the big leagues. Outfielder and Rule 5 Draft pick Joey Rickard performed admirably early in the year until a right thumb injury prematurely ended his season in July. Right-hander Mychal Givens was a consistent late-inning force out of the bullpen all year, while lefty reliever Donnie Hart posted a 0.49 ERA and a .194 opponents average after making the jump to the Majors in July. Trey Mancini didn't debut until Sept. 20, but he quickly made his presence felt as he became the third player in history to homer in his first three starts.
With 12 of their Top 30 prospects expected to arrive at some point in 2017, the Orioles should continue receive an influx of talent in the Majors. Catcher Chance Sisco added to his impressive Minor League resume by hitting .317 between the Double-A and Triple-A levels as a 21-year-old, giving him a .323 career average. He enters 2017 ranked as the club's top prospect, and he could get his first taste of the Majors in the wake of Matt Wieters' departure via free agency. Mancini could also make an impact, though the presence of Chris Davis will likely limit him to a platoon role.
Meanwhile, the O's used the 2016 Draft to restock their system with potential impact talent, selecting college hurlers Cody Sedlock, Keegan Akin and Matthias Dietz with their first three picks, and then adding toolsy outfielder Austin Hays in the fourth round
Biggest jump/fall
Here are the players whose ranks changed the most from the 2016 preseason list to the 2017 preseason list.
Jump: Garrett Cleavinger, LHP (2016: 27 | 2017: 14)
Fall: D.J. Stewart, OF (2016: 7 | 2017: 26)
Best tools
Players are graded on a 20-80 scouting scale for future tools -- 20-30 is well below average, 40 is below average, 50 is average, 60 is above average and 70-80 is well above average.
Hit: Chance Sisco (60)
Power: Trey Mancini and Anthony Santander (55)
Run: Cedric Mullins (60)
Arm: Austin Hays and Jomar Reyes (60)
Defense: Aneury Tavarez (55)
Fastball: Tanner Scott (80)
Curveball: Hunter Harvey (60)
Slider: Cody Sedlock (55)
Changeup: Parker Bridwell (60)
Control: Gabriel Ynoa (60)
How they were built
Draft: 20
International: 4
Trade: 3
Free agent: 1
Rule 5: 2
Breakdown by ETA
2017: 12
2018: 7
2019: 8
2020: 2
2021: 1
Breakdown by position
C: 1
1B: 1
2B: 0
3B: 1
SS: 2
OF: 6
RHP: 10
LHP: 9
Here's a look at the Orioles' preseason Top 10 prospects from each of the past seven years (click here to see a larger image:)
Mike Rosenbaum is a reporter for MLB.com. Follow him on Twitter at @GoldenSombrero. This story was not subject to the approval of Major League Baseball or its clubs.