Capps' delivery legal if drag replaces hop
Padres not concerned with righty's mechanics this early in camp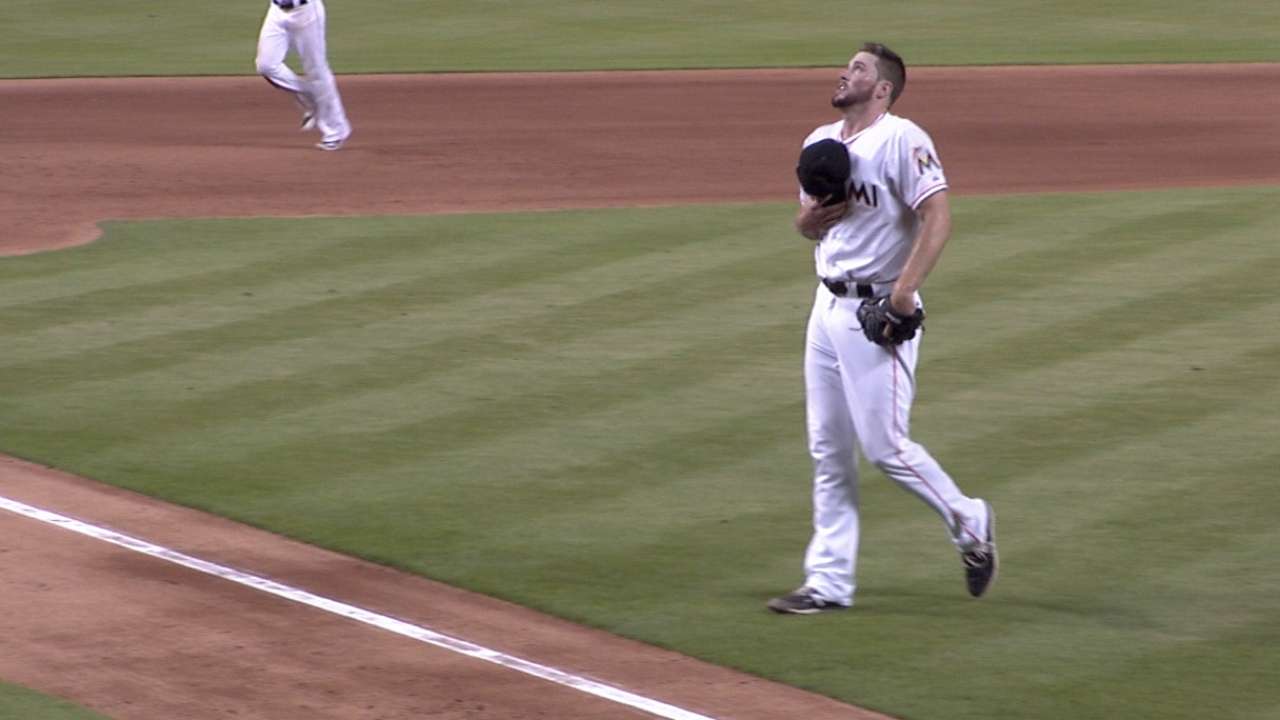 PEORIA, Ariz. -- Carter Capps' bullpen session Tuesday -- his first of Spring Training -- sparked plenty of debate over his unorthodox delivery.
The Padres have since spoken with Major League Baseball and clarified that so long as Capps drags his push-off foot, it will be deemed a legal pitching motion. Essentially, if Capps pitches in the same manner he did during his breakout 2015 season, he won't be penalized.
Following the initial bullpen session, question marks arose about an apparent hop, in which he left the rubber and disengaged from the dirt. But Capps brushed that aside, noting that he was still working out kinks during his first bullpen session of camp.
"I'm always trying to drag my back foot," Capps said. "It was the first bullpen of the spring, and obviously it went viral. It's not like I'm trying to hop or anything. I'm going to do exactly what I did in 2015, just trying to really drag that foot and work on my mechanics -- and put the best version of me out there that I can."
Because the only way to truly appreciate Carter Capps' delivery is in slow motion #PadresST pic.twitter.com/uLZHfWlThr

— San Diego Padres (@Padres) February 15, 2017
Capps, who was acquired from Miami in the Andrew Cashner trade last July, missed the 2016 season following Tommy John surgery. He's on track to be fully healthy by Opening Day, and the Padres are hopeful he can regain his '15 form, in which he posted a 1.16 ERA in 30 appearances.
Part of Capps' success could be attributed to his quirky delivery. In 2015, his average release point was the closest to home plate of any pitcher in baseball.
Capps opened that season in the Minors, where he was called for two illegal pitches in an outing for Triple-A New Orleans. Afterward, MLB offered some clarity, saying that he needed to drag his back foot without elevating it off the mound.
"I don't think we're concerned long term," said Padres manager Andy Green. "The first thing we want to do is let him throw how he's comfortable right now, as he's building himself back [from injury]. Then, as he gets closer to games, we'll have some back-field opportunities for him to fine-tune the mechanics."
Rule 5.07(a) in the Major League Baseball rulebook details a legal delivery and notes that a pitcher must maintain contact with the rubber at the start of his delivery -- which Capps has always done.
That delivery won't appear in game action until the second week of March, as the Padres continue to monitor his recovery. Given his past elbow troubles, the the club is prioritizing health over mechanics for now.
"We'll make sure that he's at a place where, 1, he's safe and 2, he's compliant with what Major League Baseball wants," Green said.
News and notes
• Right-hander Jarred Cosart, who had minor offseason elbow surgery, threw a bullpen session Sunday afternoon. He will make his Cactus League debut in early March, Green said, putting Cosart on schedule to be at full strength before Opening Day.
• Righty Cesar Vargas, who missed the final four months of the 2016 season with a flexor strain in his right elbow, is no longer inhibited by the injury, Green said. Vargas is on course to pitch next week when Cactus League play begins.
• Non-roster invite Andre Rienzo tweaked his left hamstring Saturday, preventing him from throwing a live batting practice session. The 28-year-old right-hander played catch from 120 feet on Sunday, and Green called the injury "nothing serious."
AJ Cassavell covers the Padres for MLB.com. Follow him on Twitter @ajcassavell. This story was not subject to the approval of Major League Baseball or its clubs.