Dusty seeking string of postseason appearances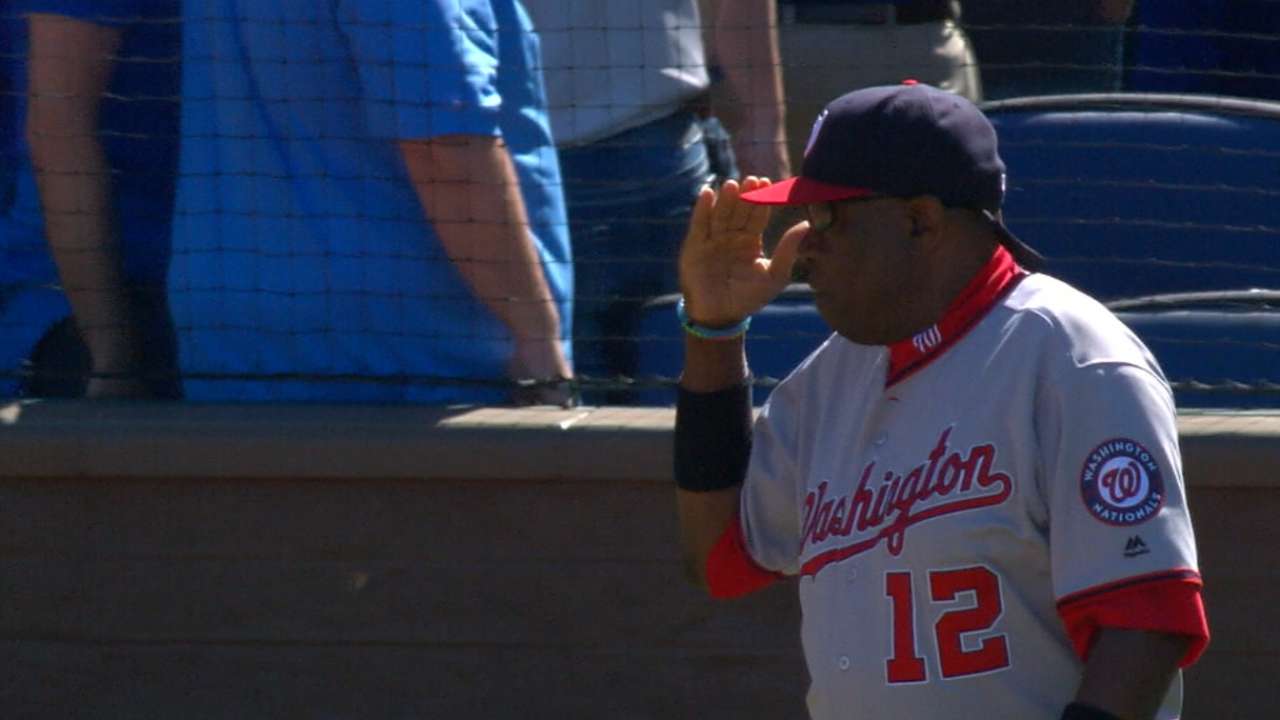 WEST PALM BEACH, Fla. -- Dusty Baker never prepared a message, but decided to speak from the heart when he addressed his team for the first time Sunday morning ahead of the Nationals first full-squad workout.
"It's like your family is back together again," Baker said.
Baker started speaking about the 2016 season and addressed the recent trend of Nationals following teams that have won division championships. In 2012, 2014 and 2016 the Nats captured the National League East Division crown, but failed to make it back to the postseason the following years. Baker is intent on changing that even if the road is harder this season.
• Spring Training: Info | Tickets | Schedule | Gear
"We'd like to have consecutive years," Baker said. "The good teams I've been on, we've been in the playoffs three, four years in a row, or four out of five. Whatever it is. So, that's our message. It's going to be tougher. The teams are more balanced in our division. We may have one of the toughest divisions in baseball, so we have to stay healthy and stay together."
What Baker did not feel he needed to address is his future. He is entering his second season as manager of the Nationals, but also the final year of his contract. Earlier this week, he said that he would like to manage beyond this season, however, he was not worried about his current contract status. Baker said he has felt his importance increase since he entered the organization and has not spent too much time worrying about his future. And he does not want his players to worry about his future either.
"The guys, I just want them to focus on what they have to do," he said. "Don't worry about me because Dusty's fine. I mean, everybody likes security. Everybody likes to know what their future is gonna be even though it doesn't amount to much.
"I'm very confident that we'd get things worked out. You'd like to do it sooner rather than later because I don't want to be a distraction to my team. I'm a team man. Always been a team man."
Jamal Collier covers the Nationals for MLB.com. Follow him on Twitter at @jamalcollier. This story was not subject to the approval of Major League Baseball or its clubs.