Kipnis on board with Francona's '17 message
Club focused on working toward another World Series run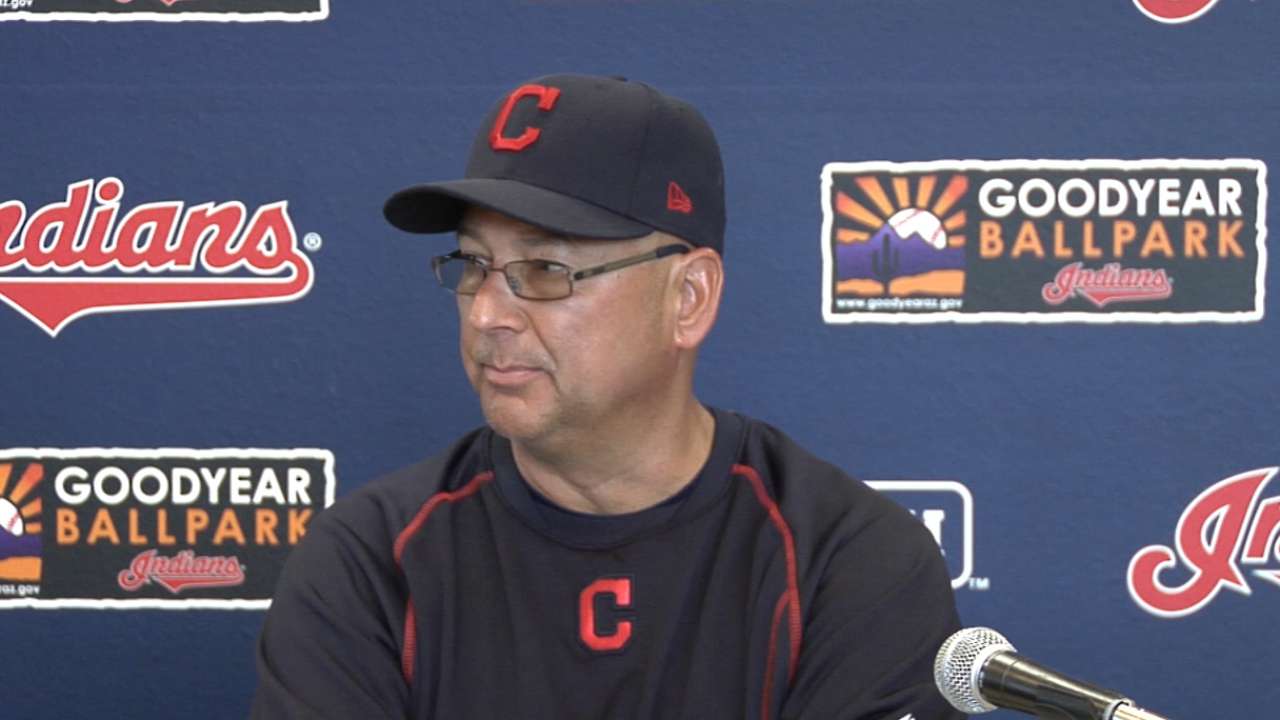 GOODYEAR, Ariz. -- Indians manager Terry Francona wanted to get it just right. Over the past week, he gathered his thoughts and jotted some down on paper. He erased parts and tweaked the wording. Even after all these years, and with three World Series appearances as a manager, Francona still stresses some over this speech.
Francona stood in front of his entire team on Sunday morning and delivered his message. He is not big on calling team meetings, but he does know the importance of setting the tone for a season with the spring-opening dialogue. This year is different, too. This year, Francona was speaking to the reigning American League champions.
• Tribe won't rush spring process with Kluber
"Just being kind of brutally honest, it can go two ways," Francona said. "Guys can come back with a sense of entitlement, or they can come back being hungry, knowing where they were and be like, 'Man, I want to get back there again.' My bet is on No. 2 with this team. I think they'll be just fine."
So, Francona's message was simple in the wake of last season's success.
The manager wants the players inside the clubhouse -- the bulk of the roster from last October's pennant run remains intact -- to be proud of what they accomplished last season. Francona said the Indians also need to quickly turn the page and focus on what lies ahead. Even with a similar cast of players, the 2017 club will form its own identity and have its own path to follow, hopefully, to the postseason again.
Second baseman Jason Kipnis has heard Francona's speech five years running.
"I saw him rehearsing in the mirror before," Kipnis quipped.
Kidding aside, Kipnis said he could sense a collective understanding around the room on Sunday morning.
"It was, 'We're right there with you. Let's get back to work right now,'" Kipnis said. "We know a lot of things went in our favor down the stretch. We played well. It's not always going to go that well. It's not always going to be everything tilting in your favor every time. You put in the work and now is when it starts."
The Game 7 loss to the Cubs in the World Series was a heartbreaker for Tribe fans, but it was also devastating for the players. Multiple players have already referenced the recent run by the Royals, who lost the Fall Classic in seven games to the Giants in 2014. One year later, Kansas City returned to the World Series and defeated the Mets.
"They knew they wanted to be right back there," Kipnis said. "We're kind of hoping to follow that path and there's guys who now know what it takes and what they need to work on, and what they need to kind of fix to get back there and make the adjustments. It gives you that past experience that now you don't have to ask any questions. You have that experience yourself."
Kipnis said Francona's message was taken to heart.
"Everyone is very proud of what we accomplished last year," he said. "But, if you also asked around, I think everybody wants that one more run. Everybody wants to get back. We finally got a taste of that fruit and we want to be there, and we want to stay there. This wasn't one of those offseasons where you wanted to get away from baseball.
"Everyone here was thinking about Game 7, and thinking about what happened during the whole offseason, and when can we start back up. I don't think anybody really needed that mental break, because it was that fun of a run and guys just wanted to get started again."
Jordan Bastian has covered the Indians for MLB.com since 2011, and previously covered the Blue Jays from 2006-10. Read his blog, Major League Bastian, follow him on Twitter @MLBastian and listen to his podcast. This story was not subject to the approval of Major League Baseball or its clubs.