Fifth-starter candidates to pitch in first week
Anderson, Montgomery will toe rubber; returners to be eased back
MESA, Ariz. -- Rain on Sunday forced the Cubs to limit their workouts to the batting cages for the second day, but the team is on track for next Saturday's Cactus League openers. However, don't expect to see Jon Lester, Jake Arrieta, Kyle Hendricks and John Lackey until the second week of games, manager Joe Maddon said.
The Cubs played an extra month because of the World Series, so the plan this spring was to ease the starting pitchers back into action. Lefties Brett Anderson and Mike Montgomery, who are being considered for the fifth spot, will pitch in the first week of games.
The Cubs open Cactus League play on Saturday with split-squad games. They'll host the Athletics at Sloan Park and travel to Scottsdale to face the Giants.
Spring Training: Info | Schedule | Tickets | Gear
"We have plenty of time to catch up," Maddon said about back-to-back rain days. "It gives guys a chance to go home a little earlier, which is not a bad thing on a Sunday like right now on a rainy day. It's all good."
Hendricks reflects on 2016
The 27-year-old may have finished with the top ERA in the Major Leagues last season, but the Cubs' right-hander was surprised to be one of three finalists for the National League Cy Young Award.
"I didn't expect it at all," Hendricks said. "It was not on my radar at the start of the year. Your focus is on day-to-day tasks and the team goal and winning and trying to get to where we got to."
The Nationals' Max Scherzer won the award, receiving 25 first-place votes, while Lester finished second, followed by Hendricks.
"To be able to sit there amongst those other two guys was pretty special," said Hendricks, who was interviewed on MLB Network before the announcement was made. "I didn't expect anything much out of it, but to be able to sit there and soak in the moment with those two guys was really, really special from where I was the year before. It was completely unexpected."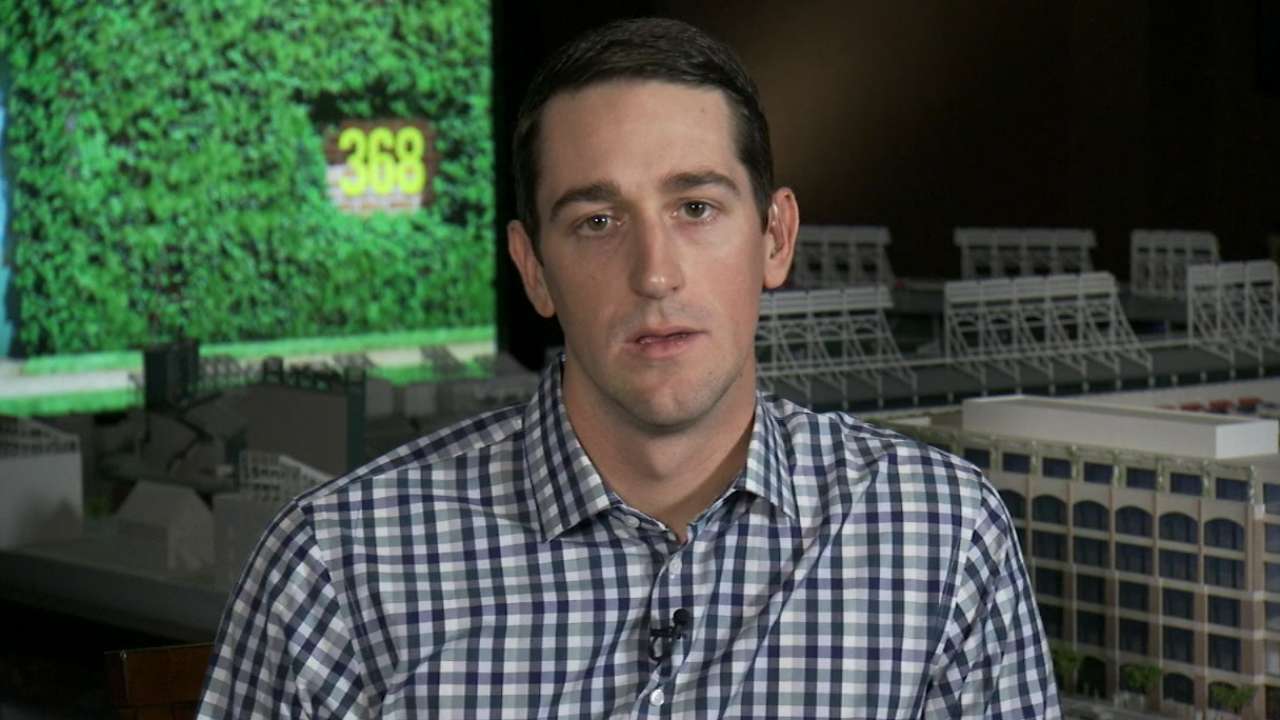 Hendricks went 8-7 with a 3.95 ERA in 32 starts in 2015 before compiling a 16-8 record and a 2.13 ERA in '16.
Scherzer was on a boat when he got word that he won the award.
"I could see him on the boat going crazy," said Hendricks, who watched on a monitor. "He completely deserved it. He had all the innings, the winning streak. He had all the numbers, he was dominant, he was a horse. If anything, I think Lester deserved it over me. [Lester] was the horse and the ace type for us, and consistent all year long. Those two guys were special all year long."
Sky's the limit for Russell
• Maddon finished up his pre-Spring Training individual meetings with all of the players, including shortstop Addison Russell, who impressed the manager with his mature approach.
"The sky's the limit," Maddon said of the 23-year-old. "This guy is just scratching the surface -- he's that good.
"He could be an annual All-Star, there's no question, and beyond. He's such a gifted athlete, he's so quick. And he cares so much. He's turned out to be a good self-evaluator. All of those [things] are components to creating a superstar, whether it's baseball, football or basketball."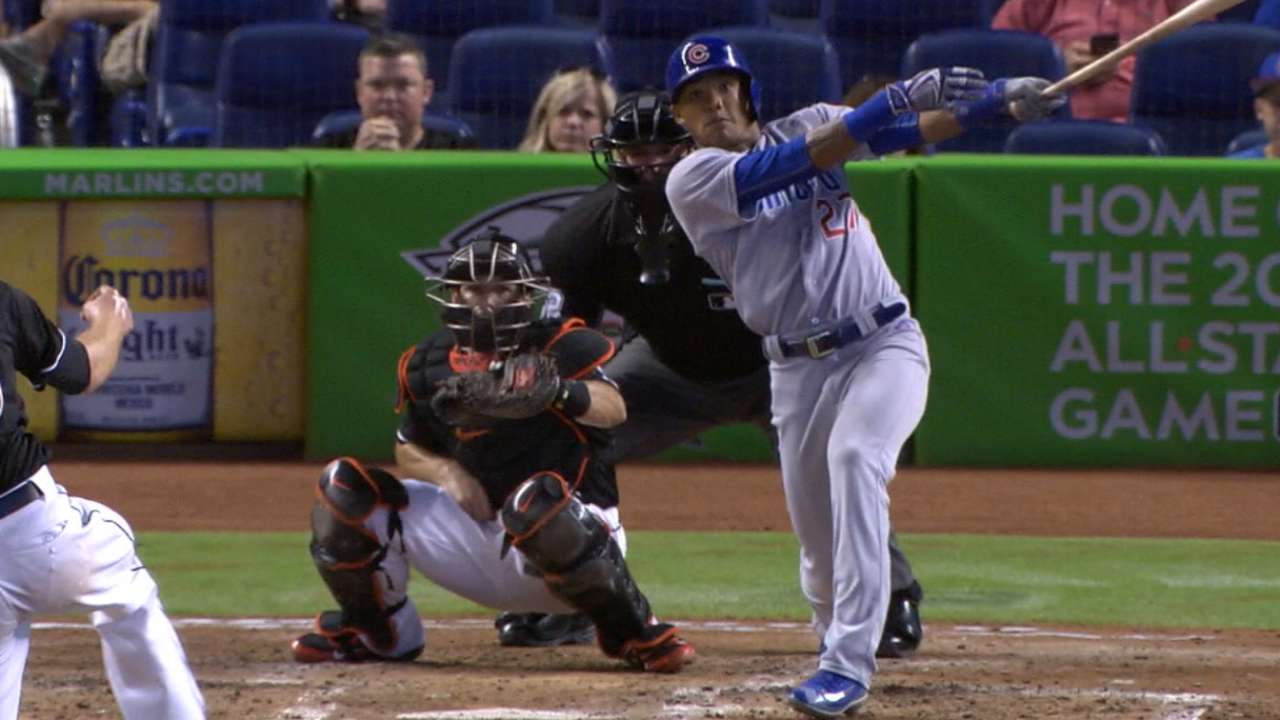 Bench battle
The Cubs don't have any starting position player competitions this Spring Training, but they do have an opening on the bench. Among the candidates for that are Munenori Kawasaki, Tommy La Stella and Jemile Weeks.
"We have options," Maddon said. "It's a long Spring Training, and hopefully nobody gets hurt and answers it for you, but all of these guys are in the running."
La Stella left the Cubs last season when he refused a Minor League assignment, but Maddon said he understood what happened.
"He was really good in the meeting and very clear," Maddon said of his pre-spring meeting. "He was definitely on board. He was very thankful for the way our guys [in the front office and on the team] dealt with it, which is really important. There's no animosity, no hard feelings. I'm really fine with Tommy."
Surprise bag of tricks
Last spring, live bear cubs, a mime, a guitarist and a DJ were among the guests to liven up the daily stretch. A surprise was planned for Saturday's first full-squad workout, but it was delayed because of the rain. Players should be ready for anything on Monday.
Strength and conditioning coordinator Tim Buss is the creative force behind most of the shenanigans. He doesn't provide Maddon with much warning.
"It's more daily, a day in advance or so," Maddon said, "and a lot of times, I'm not even aware. He knows he has my blessing."
#Cubs and baby bears pic.twitter.com/OUgo5dnXwD

— Carrie Muskat (@CarrieMuskat) March 25, 2016
Whatever happens does require some planning and plenty of costumes.
"It's combustible," Maddon said. "It's interesting. If I think of something, I'll throw it at him. He knows he doesn't have to clear it with me unless it's absolutely insane. It works pretty well that way."
Maddon has admitted to being a little "stitious," not superstitious. The bear cubs are probably too big to cuddle this year. Will the Cubs do some of the same things this spring as last year, which ended with a World Series championship?
"It's 2017," Maddon said. "I'm really good about exploring new avenues, always."
And somehow they're able to cover any expenses.
"Whenever in doubt, always write it off to 'ice,'" Maddon said. "'We just bought some ice.'"
Carrie Muskat has covered the Cubs since 1987, and for MLB.com since 2001. She writes a blog, Muskat Ramblings. You can follow her on Twitter @CarrieMuskat and listen to her podcast. This story was not subject to the approval of Major League Baseball or its clubs.