Werth poised for postseason success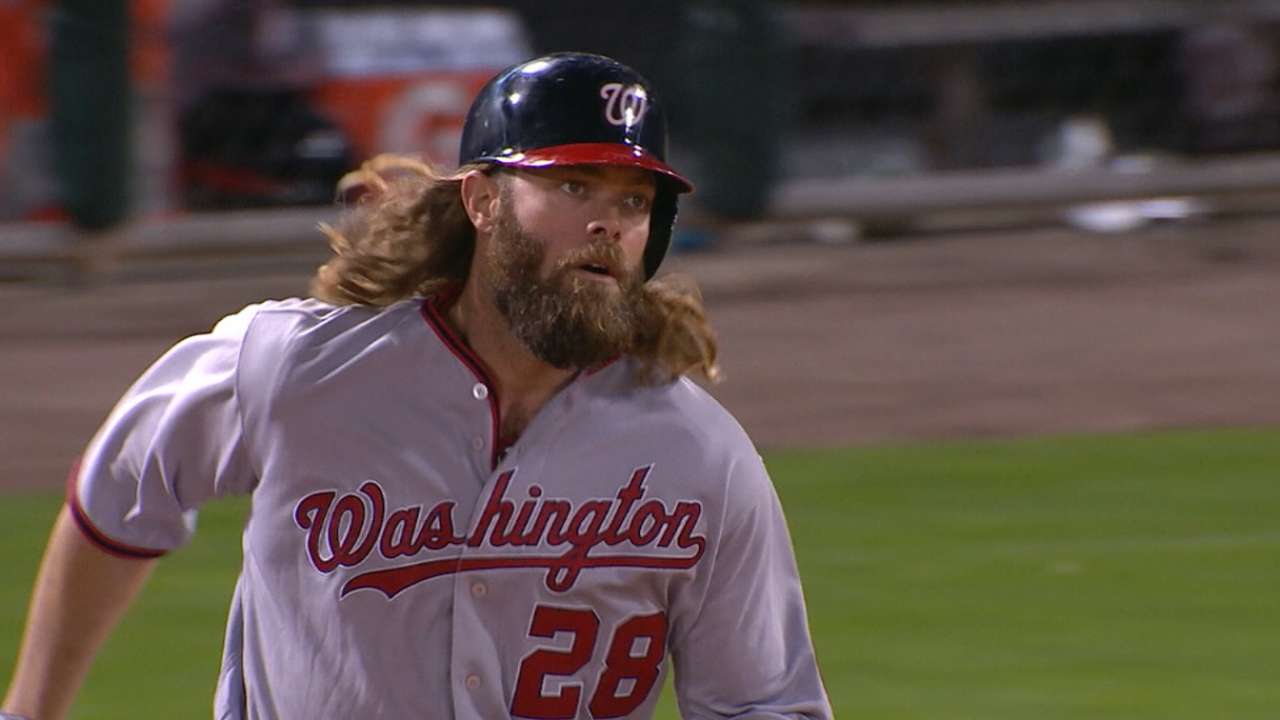 WEST PALM BEACH, Fla. -- A lot has changed since Jayson Werth arrived for his first Spring Training with the Nationals. When he signed in the winter of 2010, the Nats were one season removed from losing 103 games and had finished at the bottom of the National League East in three consecutive years. Washington also drew criticism for a perceived overpay to sign a player, who was in his 30s, to a seven-year, $126 million contract.
As Werth begins Spring Training for the final year of that contract, the Nationals have become one of the model franchises. Only the Cardinals have won more games in the Majors during the past five seasons and the Nats have won the National League East three times in the past five years. That success has not translated in the postseason, however, so Werth plans to allow 2017 to decide how he ultimately views his tenure in Washington.
• Spring Training: Info | Tickets | Schedule | Gear
"I'm not going to call it a success just yet because I think we need to win … in the postseason for me to call it a success," Werth said.
"I say the whole thing kind of hangs on this season. Look, there's going to be baseball in D.C. long after I'm gone. … But my career is kind of pinned to this season."
Werth, who will turn 38 in May, proved last season that he still has something to offer the Nationals as an everyday player. A broken wrist slowed his production in 2015 and cost him half the season, and he got off to a slow start to begin the 2016 season. After the first two months he was hitting .225/.280/.410 with a .691 OPS before he got hot in June. He posted a .926 OPS in June and began what would become a streak of reaching base in 46 consecutive games, tying a franchise record. He appeared in 143 games last season and was worth 1.1 Wins Above Replacement, according to Fangraphs.
Nationals manager Dusty Baker had a conversation with Werth on Saturday about the number of games he plans to play him this year, and although he would not reveal that number publicly, Baker has taken precautions to keep Werth fresh and in the lineup all season long. Baker believes being another year removed from his broken wrist is going to help Werth be even more productive in 2017.
"I think he's going to have a better year than last year," Baker said.
Werth said he has not had any discussions with the Nationals yet about anything beyond 2017. He still feels like he can play for another three, four or five seasons. Where he will wind down his career remains to be seen, but for now, he has one more season left in Washington and plans on making it count.
"I want to win," he said. "I want nothing more for these guys in here and the city to experience what it's like for a team to win the World Series, and I still have that opportunity."
Jamal Collier covers the Nationals for MLB.com. Follow him on Twitter at @jamalcollier. This story was not subject to the approval of Major League Baseball or its clubs.