Panda overhauls righty swing, feeling no pain
Red Sox 3B impresses Farrell in field; Swihart gets good-hearted ribbing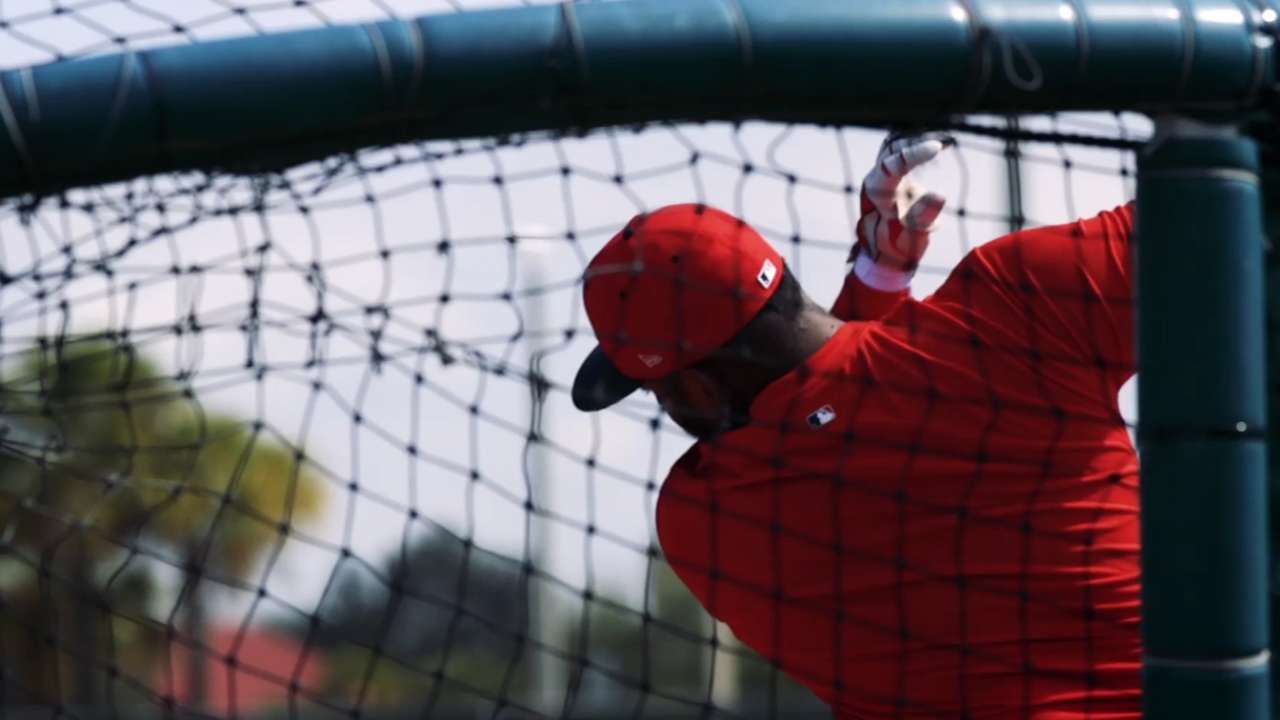 FORT MYERS, Fla. -- Red Sox third baseman Pablo Sandoval showed off a revamped swing from the right side when he was among the first players to take batting practice at Fenway South on Sunday.
"It doesn't bother me at all to swing the bat, so that is a good sign," Sandoval said.
Sandoval, who underwent surgery on his right shoulder last year, has been working on overhauling his right-handed swing this offseason. He even worked out with his friend, Tigers first baseman Miguel Cabrera, to refine his approach at the plate.
"Everything," Sandoval said when asked what he changed this spring. "My batting stance, no jumping around, trying to swing with power, focus on using my hips. It's been a lot of work."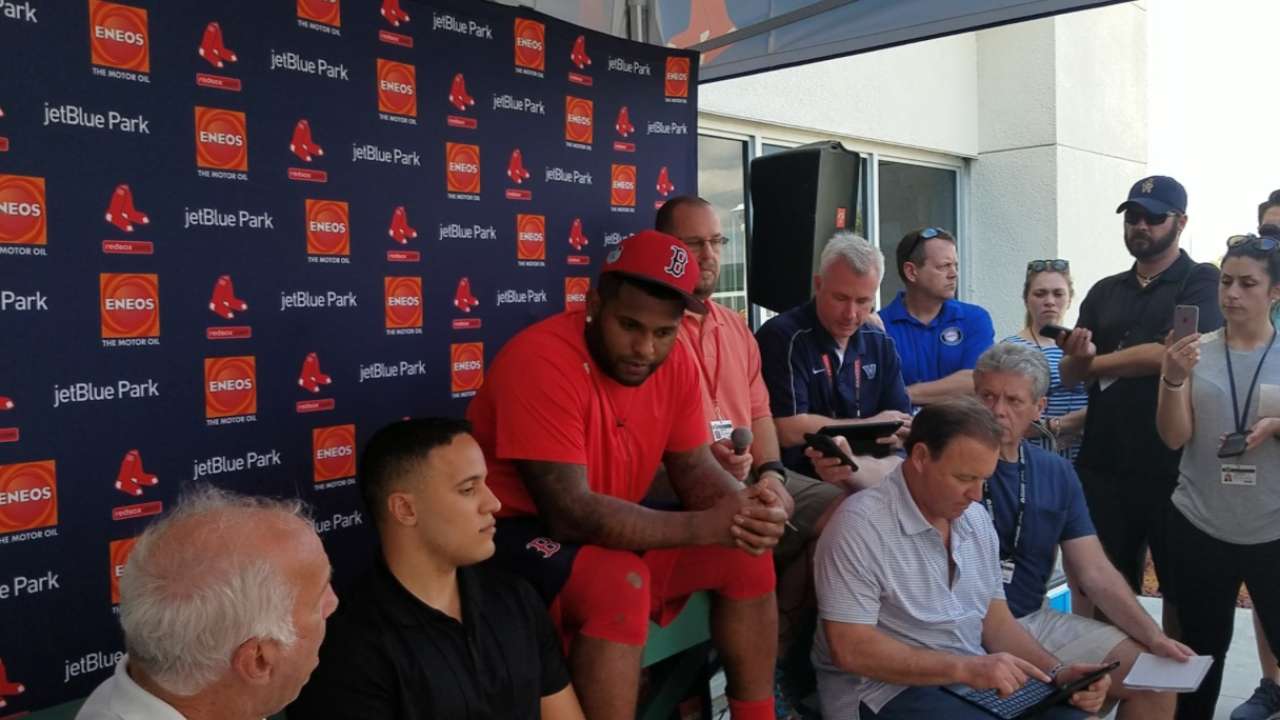 Sandoval said that while he is trying to get his swing in order from the right side, he is not abandoning the left side.
Red Sox manager John Farrell was also impressed with what he saw from his third baseman in the field as the team worked on situational drills.
"The work that he is putting in is right in line with the work that he did prior to camp opening up," Farrell said. "He's moving well and we are looking forward to the progression that is taking place."
Swihart's throwing woes
Catcher Blake Swihart got some good-hearted ribbing from his fellow catchers as he continues to work through struggles on making simple throws. Swihart has developed a minor case of the "yips" since camp began.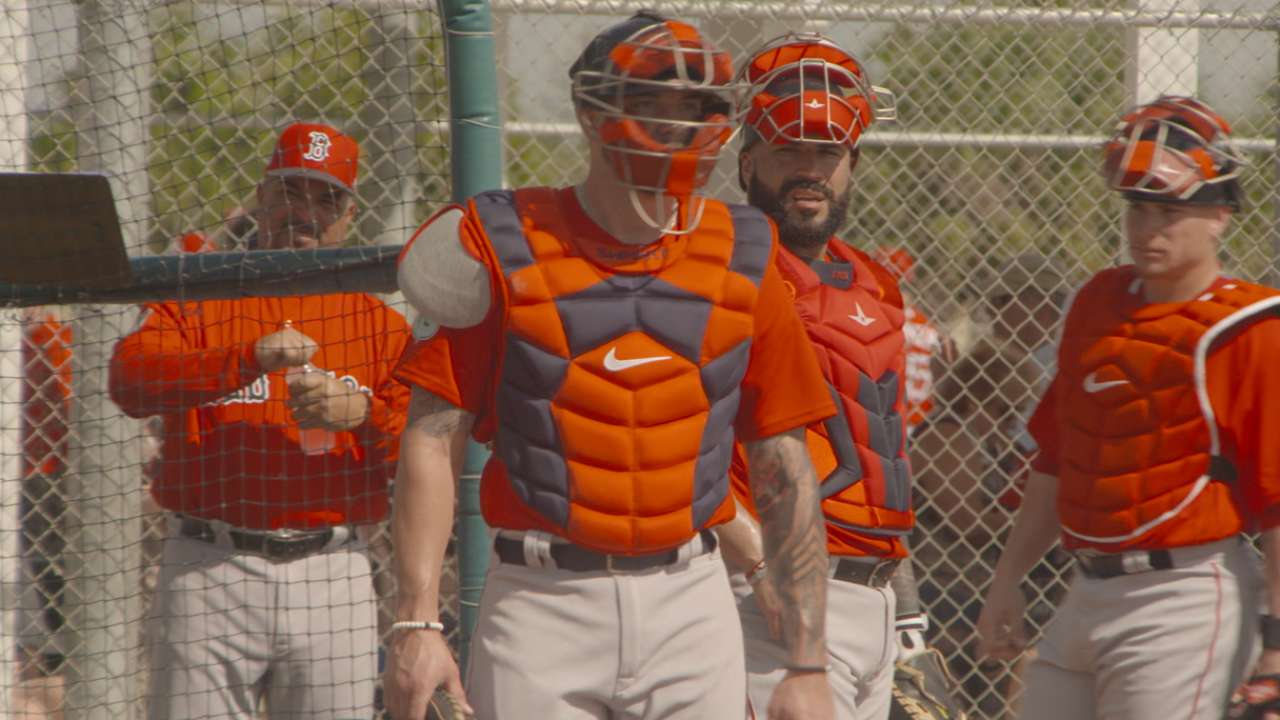 While practicing pickoff throws Sunday, fellow catcher Sandy Leon, who was covering first base during the drills, was forced to make a short-hopped scoop while stretching out on one of Swihart's throws.
Leon got up and and jokingly made the familiar ESPN SportsCenter jingle.
After executing three perfect throws to third, Swihart's fellow catchers gave him a round of applause.
Long day
The team held picture day before the workouts, which made for a long day for players and coaches. Farrell was pleased with the pace and what his team accomplished despite the late start.
"This is one of the longer days we'll have in camp when you consider the team fundamentals, the live BP," Farrell said. "I think through the first few days of workouts that we've gone about it with good energy, a good pace. ... A full day. A thorough day."
J. Scott Butherus is a contributor to MLB,com. This story was not subject to the approval of Major League Baseball or its clubs.