Mazara bracing for challenge of sophomore season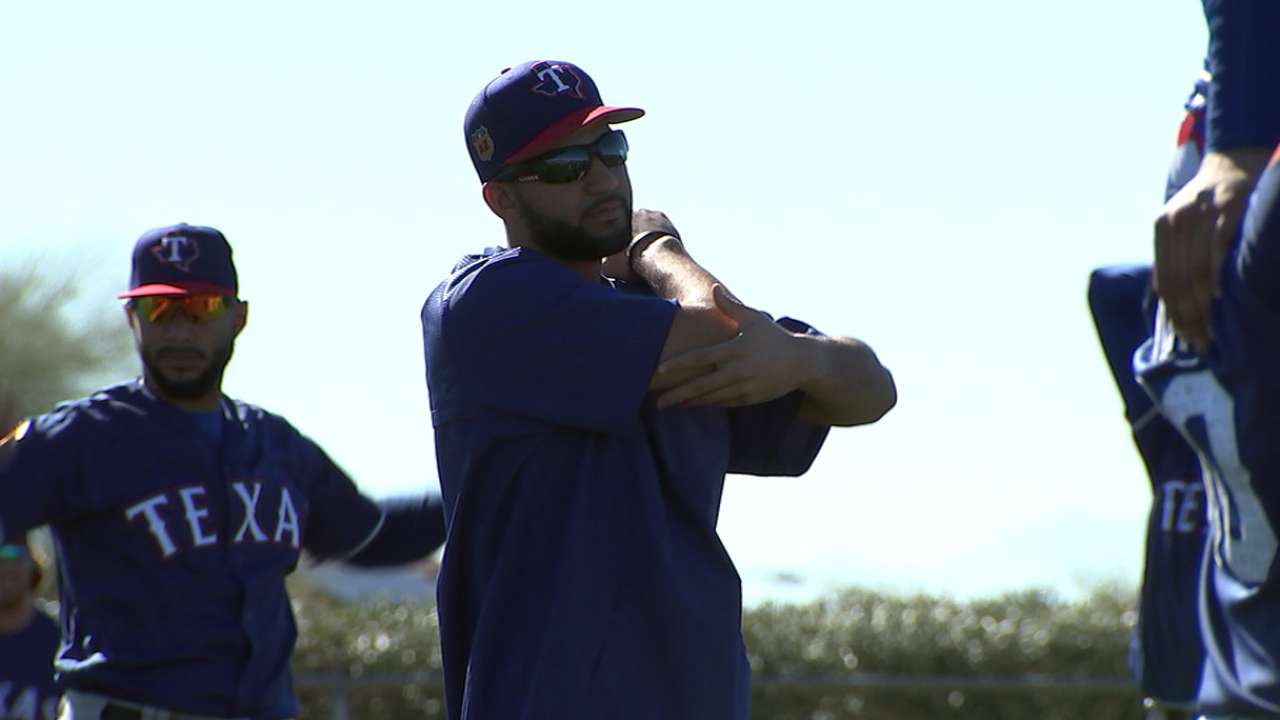 SURPRISE, Ariz. -- Josh Hamilton hit .292 with 19 home runs and 47 RBIs as a Reds rookie in 2007, then jumped to .304 with 32 home runs and 130 RBIs in 2008 after being traded to the Rangers.
So much for the sophomore slump.
"What everybody labels the sophomore slump…I don't believe it," Hamilton said. "It just depends on the player's preparation and how he gets ready for the season."
Spring Training: Info | Schedule | Tickets | Gear
That's the challenge facing Nomar Mazara as he gets ready for his "sophomore" season in the Major Leagues. The second year can often be the toughest for a young player, and it can also reveal much about him.
"It could be because everybody knows who you are and what you are about and where your holes are," third baseman Adrian Beltre said. "You still keep the same approach, but you still have to have an idea and keep getting better. It's definitely challenging in the second year, but I don't think Nomar should put much thought into it. He is really mature for his age, and that will help him get past the sophomore slump or whatever you want to call it."
Mazara got an indication of what he is up against in the second half of last season. Mazara took the American League by storm when he made his debut on April 10 at the age of 20. Through his first 53 games, he hit .324 with 10 homers, 28 RBIs and a .495 slugging percentage. But over the last 82 contests, he dropped to .228 with 10 homers, 36 RBIs and a .369 slugging percentage.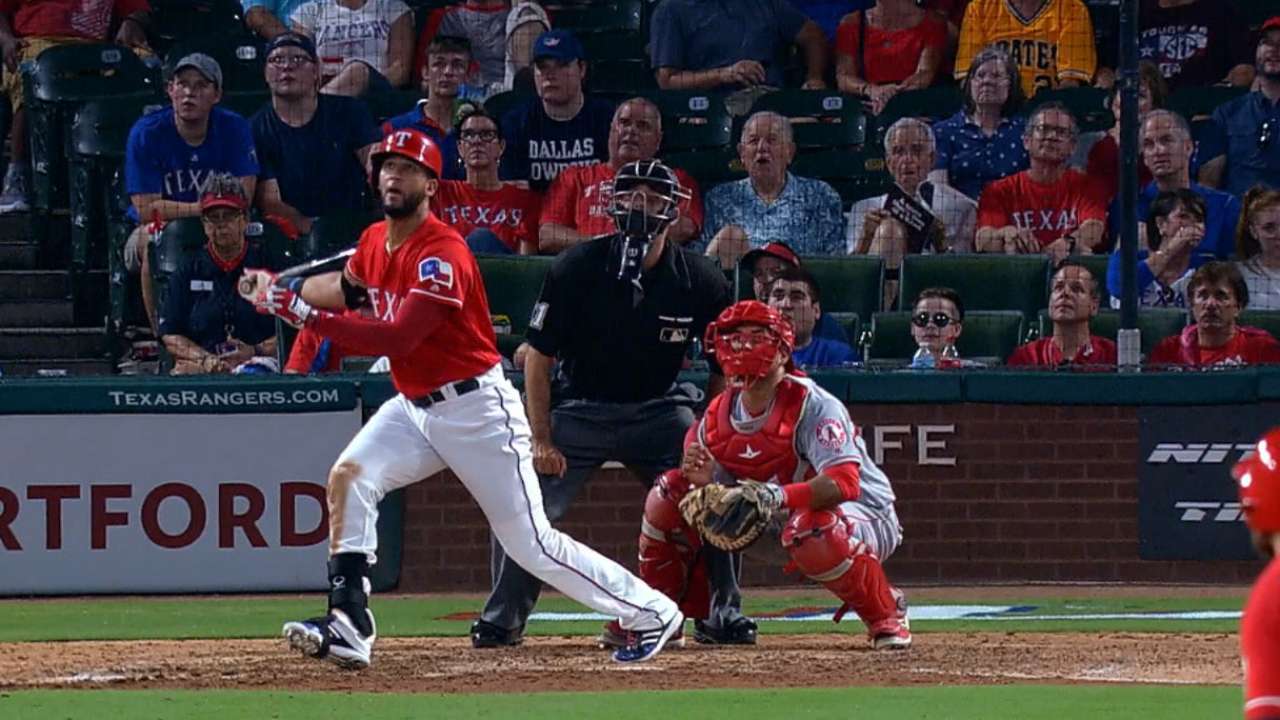 The league started catching up with him, and Mazara started wearing down both physically and mentally while experiencing the 162-game grind for the first time.
"Yeah…the first couple of months, they didn't know me and were just trying to get me out," Mazara said. "After they started seeing the video, they started to make adjustments and get me off-balance."
Mazara began to chase pitches rather than be patient enough to wait for something he could drive.
"I just need to trust myself and see what happens," Mazara said. "Early in the year, I was calm and patient and trusting my ability. I've got to do that."
That's the final challenge for a young player. The good ones don't let bad at-bats or the occasional slump impact them because they are confident in their abilities. Michael Young was supreme in that regard.
"For most guys, making adjustments can be a challenge," Rangers manager Jeff Banister said. "But when you talk about instincts for the game, I thought Nomar was well ahead of the curve. That doesn't mean it won't be more challenging. The game presents challenges to the greatest of players."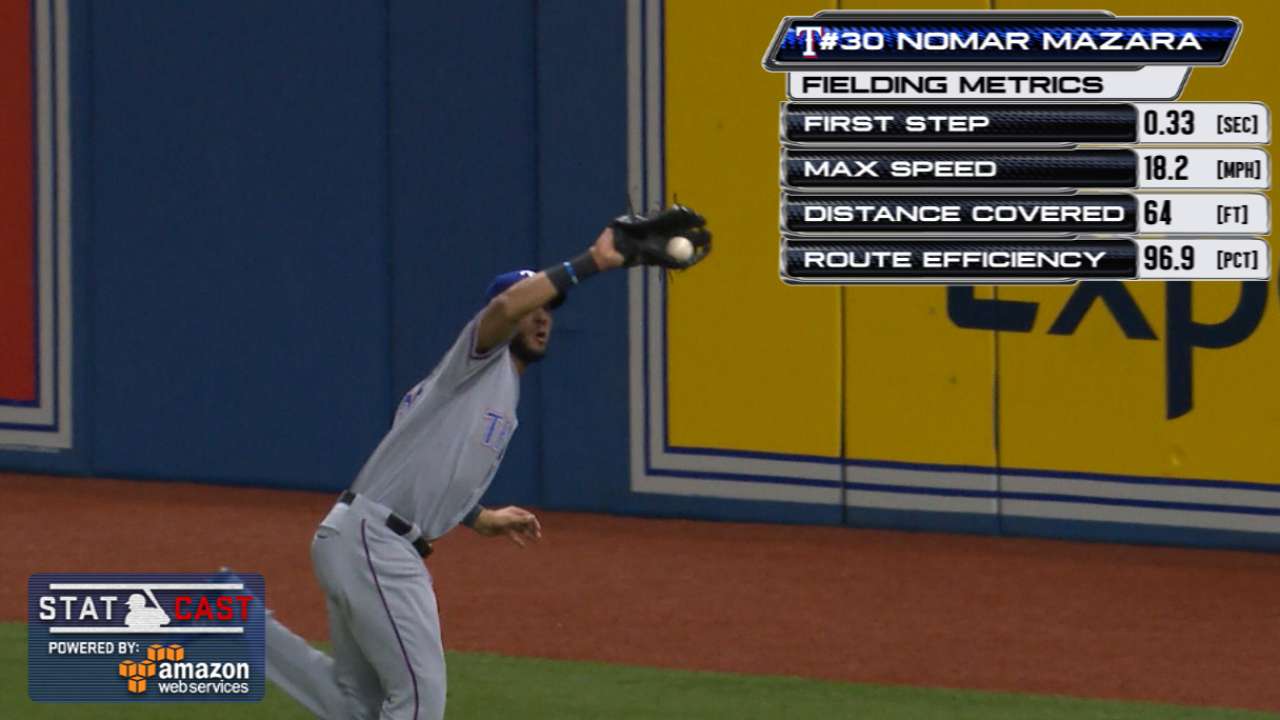 Banister also saw the physical part of it as well. Banister said Mazara's speed as far as chasing fly balls in the outfield declined as the season went along.
"I know there was a drop-off, and it's not all sheer physical," Banister said. "There was some mental fatigue as well."
Mazara said he admires the way Beltre, 16 years his senior, is able to stay physically and mentally strong for an entire season. Beltre hit .323 after the All-Star break in 2016, and his .617 slugging percentage ranked fourth in the AL during that stretch.
"I want to be like him," Mazara said. "I look up and see the way he is working out and taking care of himself. He is 37 years old. If he can work out like that, why not me? That's why he is the way he is."
T.R. Sullivan has covered the Rangers since 1989, and for MLB.com since 2006. Follow him on Twitter @Sullivan_Ranger and listen to his podcast. This story was not subject to the approval of Major League Baseball or its clubs.