Phils' logjam could leave starters in 'pen
Asher, Morgan among 12 candidates for MLB, Triple-A rotation spots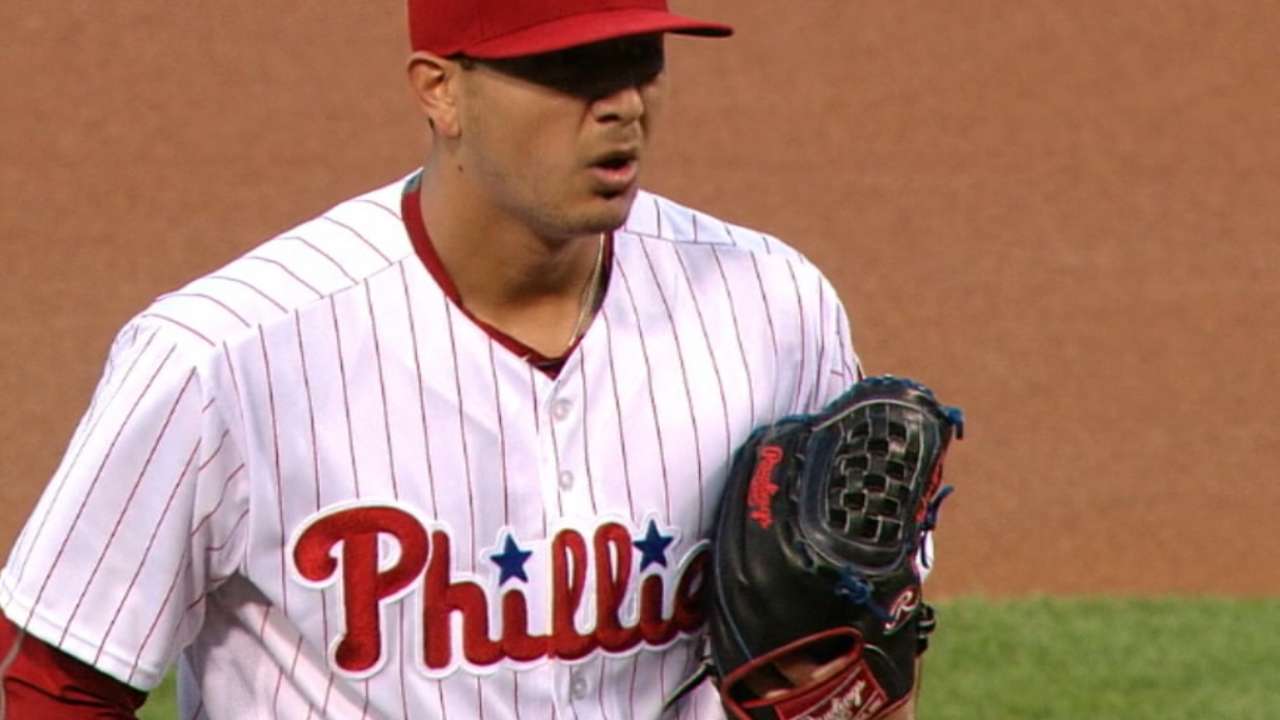 CLEARWATER, Fla. -- Alec Asher can do the math. The Phillies have 12 starters that could open the season in the big leagues or Triple-A.
Twelve starters, 10 jobs.
"It's hard not to notice it, but you try not to think about it," Asher said Sunday morning at Spectrum Field. "You just have to focus on what you want to do and who you want to be. But all the young starters know we have a lot of young talent. It just makes for good competition. But you can't really say, 'I should be here' or 'I should be there.' Just do your business and go where you're sent."
• Spring Training: Info | Tickets | Schedule | Gear
Phillies manager Pete Mackanin said if Jeremy Hellickson, Clay Buchholz, Jerad Eickhoff, Vince Velasquez and Aaron Nola are healthy at the end of camp, they should be in the rotation. That would leave right-handers Asher, Jake Thompson, Zach Eflin, Mark Appel, Ben Lively and Nick Pivetta and left-hander Adam Morgan looking to crack the Triple-A Lehigh Valley rotation -- again, if everybody is healthy. Eflin missed a bullpen session Friday because of swelling in his right knee, and Thompson is a week behind schedule because of a sore right wrist.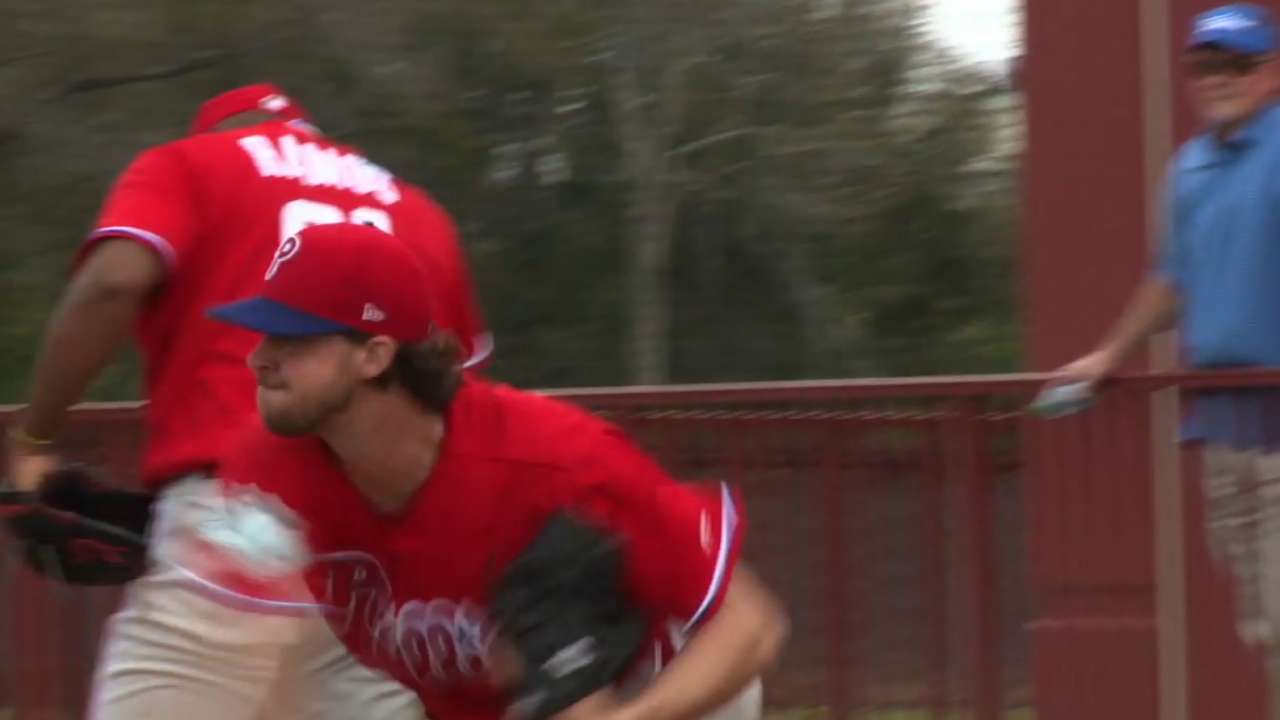 Mackanin already said Morgan could make the team as a reliever, but it is not out of the question that another starter in that group, like Asher, could be placed in the Phillies' bullpen.
"Would it behoove us to think about that? Of course," Phillies pitching coach Bob McClure said. "And there's probably a couple of them you'd have to look at that way."
McClure started in the Minor Leagues before the Royals promoted him to their bullpen in 1975. He remained there until cracking the Brewers' rotation in '80.
"I did it and it helped," said McClure, who had a 19-year career. "It got to the point where I felt that I would rather be in relief -- short, long, middle or whatever -- in the big leagues than a starter in Triple-A. I just wanted to be in the big leagues and pitch against the best. Sometimes I think it's a good way to break guys in anyway."
Pitching Coach Bob McClure is keeping a close eye on his staff. pic.twitter.com/pTh9GMNBue

— Phillies (@Phillies) February 15, 2017
Baseball is littered with successful starting pitchers who spent time early in their careers as relievers. Jim Palmer, Pedro Martinez, Kenny Rogers, Derek Lowe, Dave Stewart and David Wells are just a few.
"I was always asking to start," McClure said. "When they changed managers, I told them I would like to start. But I was at [212] games in relief before I started, which really helped because the game slowed down. Bases loaded, no outs? I'm good, man. Been here, done that. So it helped me as a starter. As a coach, I look at it that way. It doesn't mean you're not going to start, it means you're not starting now."
Pitchers like Lively, Pivetta and Appel are unlikely to make that switch because they have no big league experience. Eflin and Thompson are behind schedule, but the Phillies want to keep them in the rotation. That leaves Asher and Morgan, although it must be noted the Phillies aren't there yet. It's still very early in camp and plenty can change. Right now, they're being stretched out to start.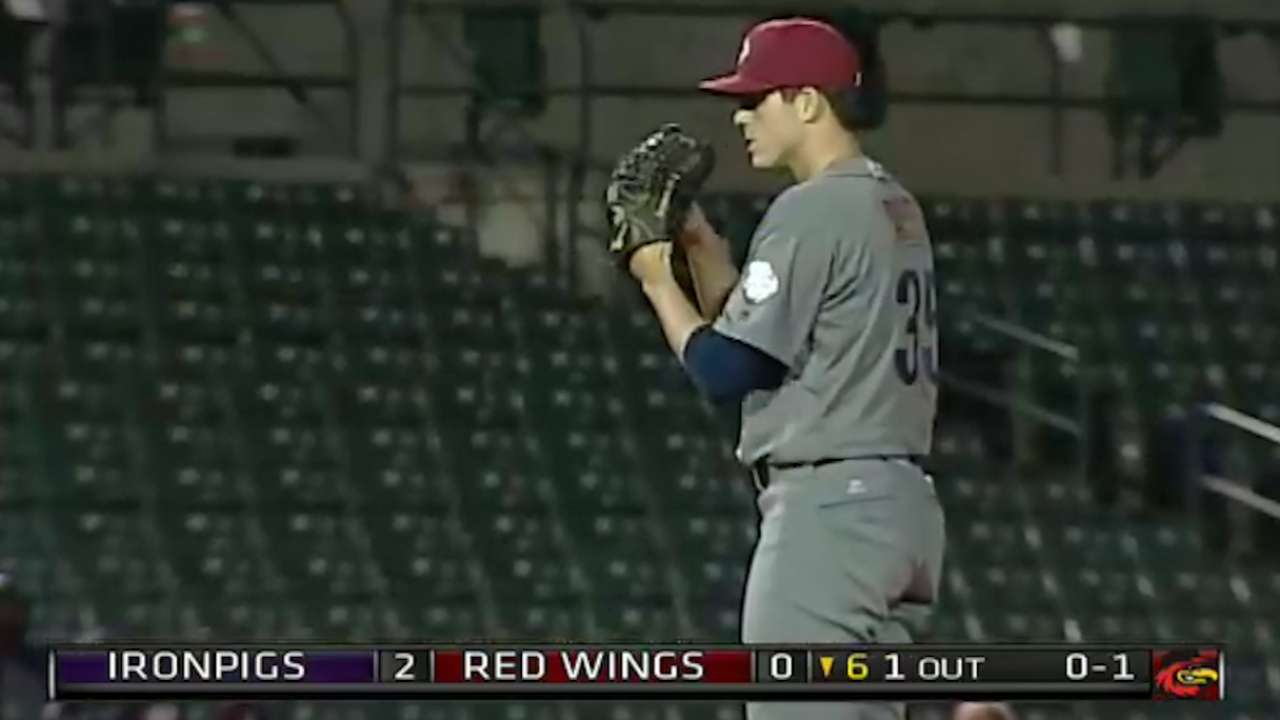 "Is that a possibility? Heck, yeah, it's a possibility," McClure said. "To me, it's an honor to think you can break with the club in any capacity. How do you sell it? You don't sell it. The big leagues are the big leagues. I'll tell you where I'd rather be. I remember going through it. You want me to pitch in relief? Hey, I'll help you win."
Asher went 2-1 with a 2.28 ERA in five starts last season with the Phillies. He went 2-1 with a 2.14 ERA in eight starts in winter ball.
"I want to do what the Phillies want to do," Asher said. "Obviously, I love starting. If they say I want you in the big leagues as a bullpen guy, and they feel like that's the best decision, I'll go with it. Ultimately, that's where you want to be. If you're in the big leagues, you're not going to be mad."
Todd Zolecki has covered the Phillies since 2003, and for MLB.com since 2009. Follow him on Twitter and listen to his podcast. This story was not subject to the approval of Major League Baseball or its clubs.