Exit velocity data helps hitters, pitchers alike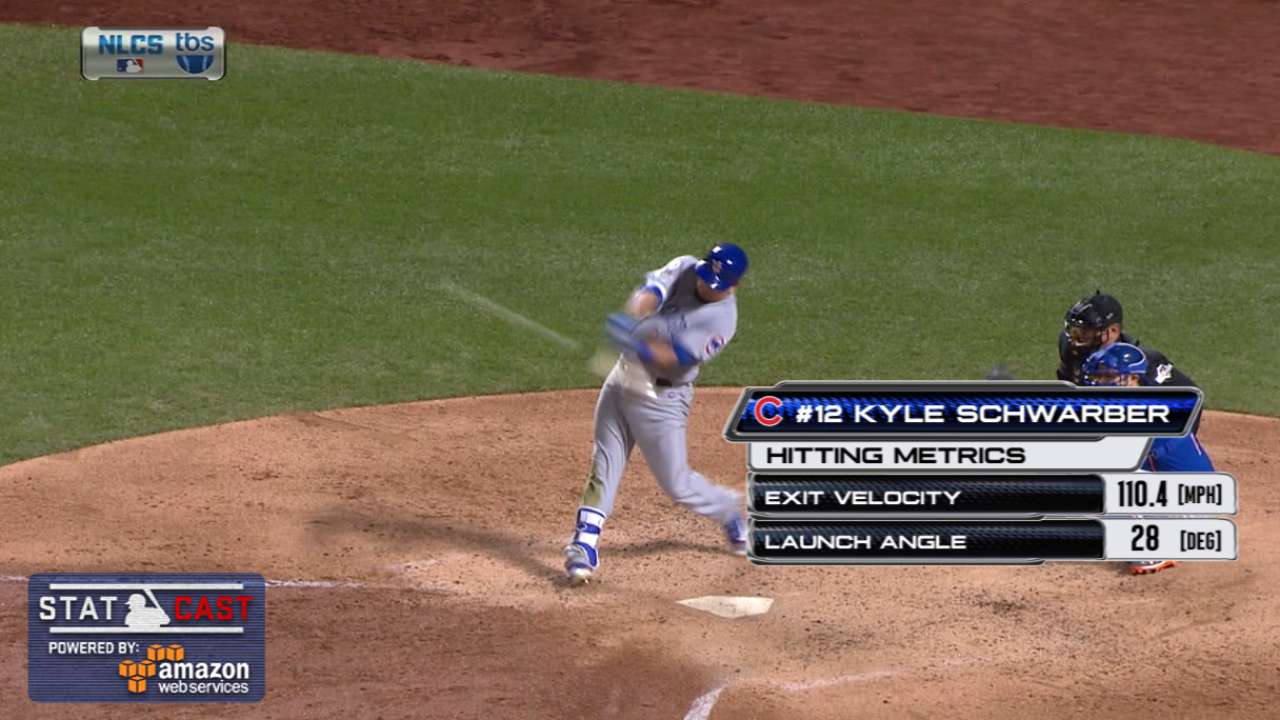 MESA, Ariz. -- Which Cubs player recorded the top average exit velocity in 2016? It probably comes as no surprise that it was Kyle Schwarber, who, according to Statcast™, averaged 101.7 mph. Of course, Schwarber only had four at-bats before being sidelined by a knee injury.
"I just care about hitting the ball hard," said Schwarber, whose hardest-hit ball (108.3 mph) in the regular season was actually a groundout to second base on April 4 in the top of the seventh inning of the Cubs' 9-0 win over the Angels.
Pitcher Jake Arrieta topped Cubs starting pitchers, with an exit velo of 90.8 mph, followed by Jon Lester (89.2 mph). That didn't surprise Arrieta, who said he prefers to look at the stat from a pitcher's perspective.
"The higher the exit velocity against you, it's a sign that either your command is off or you're just not executing properly," Arrieta said on Sunday. "It's not something we harp on, but if you see the figures, it gives you an understanding of where you rank. Or, it's a way to self-evaluate yourself and understand you're not as crisp or as sharp with command of the ball, and your secondary stuff isn't as sharp as you want it to be."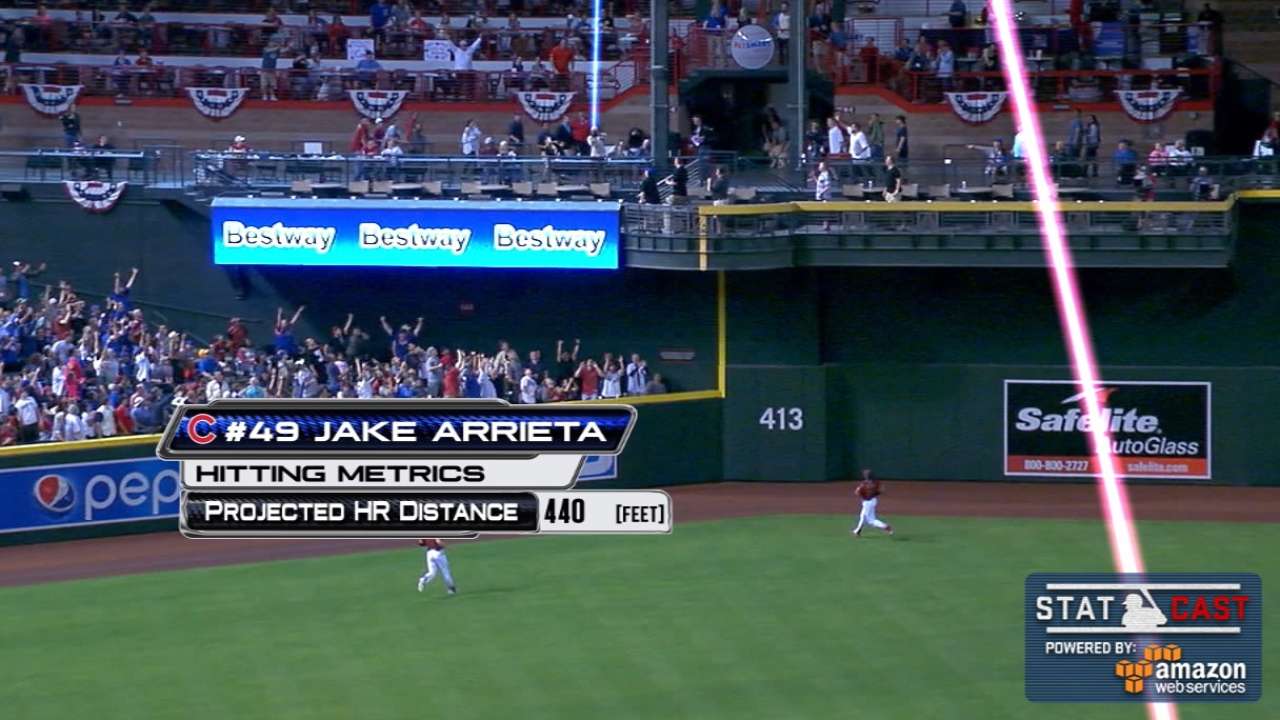 It's not as though Arrieta checks the charts after an outing.
"I don't think it's something a lot of guys will put emphasis on," Arrieta said, "but if it's brought up, it does make sense that if that number is high against you, there's reasons for that, most being if you fall behind a lot of hitters, you have to come in the strike zone with more hittable pitches, or your command isn't very good."
Among Cubs starters, Jason Hammel compiled the highest average exit velocity at 90.8 mph against him, followed by John Lackey (90.4 mph), Lester (87.8 mph), Kyle Hendricks (87.2 mph) and Arrieta (87.2 mph). Hendricks saw the hardest-hit ball off him (114.3 mph on April 9) among the starters, although it was a groundout.
In case you were wondering, Schwarber's hardest-hit ball in the World Series came on a third-inning single in Game 7, which registered at 112.7 mph. His leadoff single in the 10th clocked in at 105 mph. He could understand why pitchers might be curious about the numbers.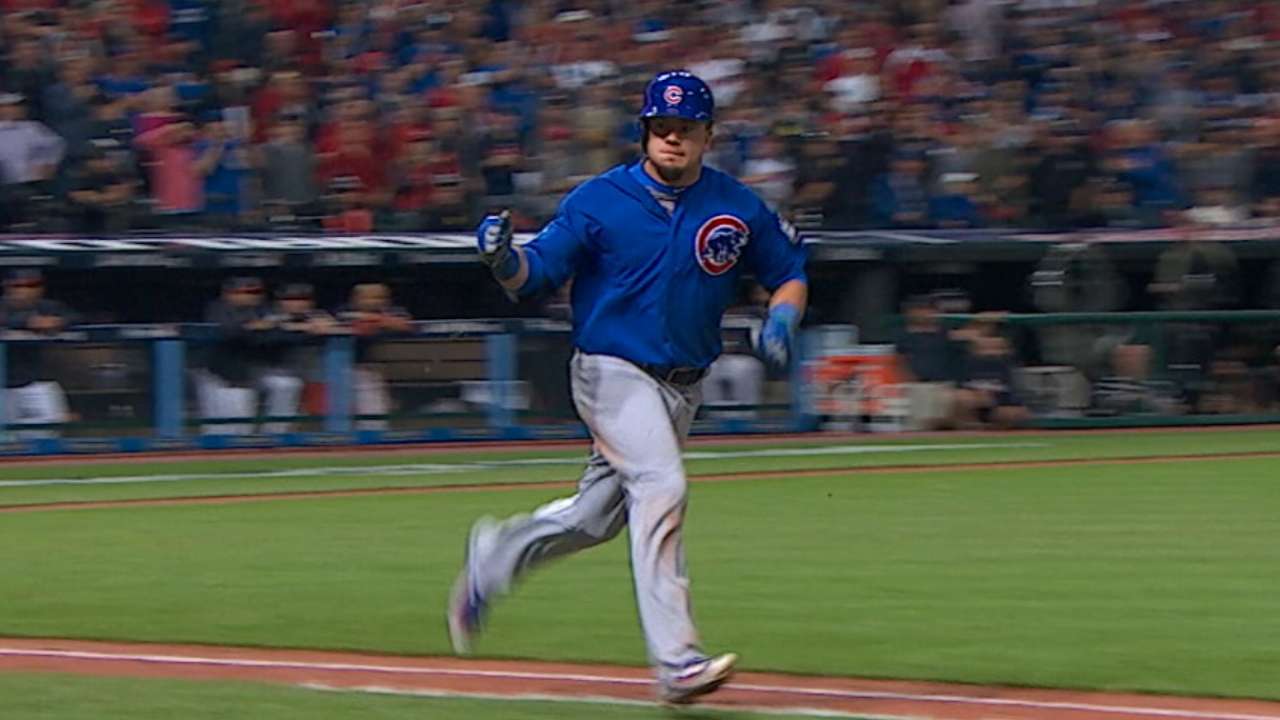 "I can see from the pitchers' perspective, trying to figure out what pitch gets hit hard the most," Schwarber said. "For me, it's knowing what I want to hit at the plate. Obviously, I want to do damage at the plate any way possible. I want to put a good swing on the ball. If it gets barrelled up, it's going to get barrelled up. I'm expecting it to get hit hard."
Carrie Muskat has covered the Cubs since 1987, and for MLB.com since 2001. She writes a blog, Muskat Ramblings. You can follow her on Twitter @CarrieMuskat and listen to her podcast. This story was not subject to the approval of Major League Baseball or its clubs.