For Loup, Glove Day like Christmas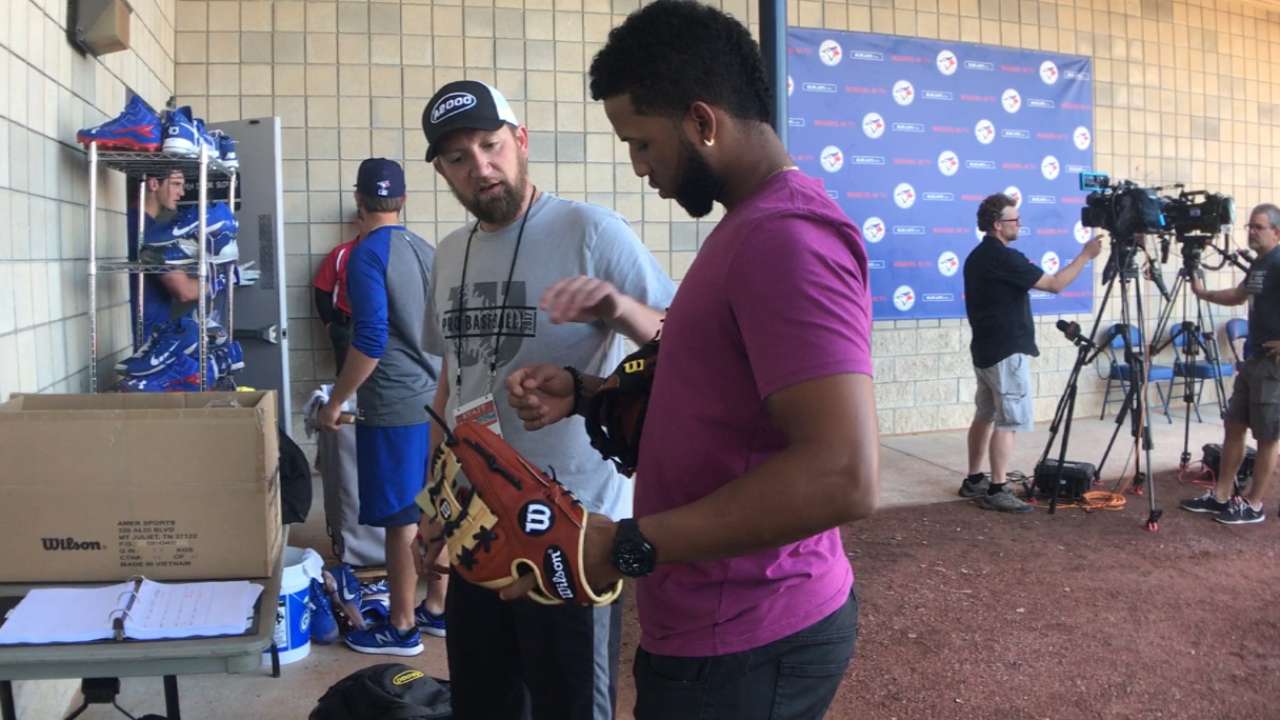 DUNEDIN, Fla. -- The start of Spring Training is always an exciting time for Blue Jays reliever Aaron Loup. There's seeing the familiar faces of coaches and teammates around the clubhouse after an offseason apart. There's getting back to work in preparation for the grind of a fast-approaching regular season.
And then there's Wilson Glove Day, which Loup compares to the thrill of opening presents on Christmas morning.
"Oh, for sure, it is," the left-hander said, smiling. "It's definitely a Christmas-y feel."
• Spring Training: Info | Schedule | Tickets | Gear
A lifelong user of Wilson-brand gloves, Loup joined teammates Darwin Barney, Mike Bolsinger, Darrell Ceciliani, Matt Dermody, Lourdes Gurriel and Steve Pearce on Sunday morning in picking up -- or picking out -- their new leather for the 2017 season. For Loup, who has spent five seasons with the Blue Jays since being selected by the organization in the ninth round of the 2009 Draft, it's the surprise that makes the day special.
"I got to design one glove last year, and then I got to come pick another one out of the bag," Loup said. "So, it's like, you design one on the Internet and you're not sure how it's going to turn out. When it gets here, you're like, 'Man, I want to see how it turned out.'"
In past years, Loup hasn't done much in the way of customization with his mitt aside from inscribing his name and No. 62 on it. But this spring, on a special dark-brown glove, he had "Soph & Wy" stitched on the outside in orange-brown lettering for his daughter, Sophie, and son, Wyatt.
"I'm a guy that just likes the fit and the feel," Loup said. "That's big for me. I've been with Wilson from Day 1, and luckily, they make a great glove with great quality. For me, it's been a good combination for me the whole way."
Loup hopes the new look translates to a solid performance on the field. The 29-year-old southpaw spent time between Triple-A Buffalo and Toronto last season, compiling a 5.02 ERA in 21 games with the big league club.
"For me, a lot of the gloves I've had, I've used for two or three years in a row, and I haven't had a problem with it getting overly flimsy or breaking down or anything," Loup said. "It's just fit, feel, and as long as it holds true to form and I can form it the way I like it, we'll roll with it."
Jeff Odom is a contributor to MLB.com. This story was not subject to the approval of Major League Baseball or its clubs.