Kim on 2017: 'Less pressure, more fun'
Outfielder focused offseason on learning 'American training and workouts'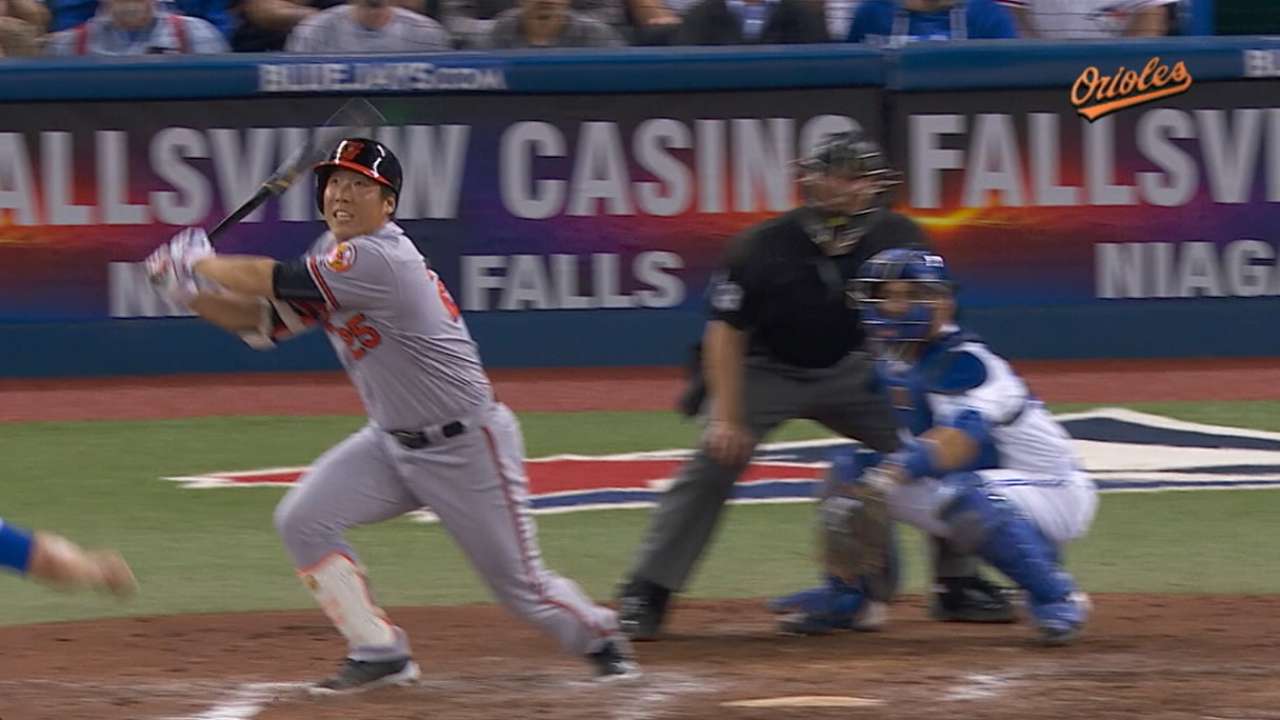 SARASOTA, Fla. -- Hyun Soo Kim sat quietly by his locker on Sunday morning. The Orioles' outfielder -- whose very presence last spring was a noteworthy event -- is enjoying being out of the limelight and being just another guy at the O's full-squad practice.
"I don't want to go back," Kim joked, in perfect English, of where things were this past year.
And who can blame him? After going 0-for-23 to start Spring Training in 2016, the much-maligned outfielder -- who refused to accept an assignment to start the year in the Minor Leagues -- went from hearing scattered boos at Camden Yards to becoming a solid contributor and fan favorite.
• Spring: Tickets | Ballpark | 40-man roster | NRIs
Kim's game-winning, pinch-hit homer in late September in Toronto was one of the O's biggest hits of the year, and he posted a .302/.382/.420 line in 95 games his first year in the Major Leagues.
"It feels like last year, I wanted to show more," Kim said through his new interpreter. "Without even knowing it, I was pressuring [myself]. This year, less pressure and more fun."
And a lot less to worry about.
"[There are] a lot of things that we knew were going to be a challenge for him, that he overcame that aren't this year," Orioles manager Buck Showalter said of Kim, who told him Sunday he wanted to play in both of the team's intrasquad games later this week. "I think it bodes well for his potential. I think he's got another level he can go to."
Kim, who arrived early to Sarasota last year to get in shape with vice president of baseball operations Brady Anderson, said he's in much better shape than a year ago. And, while his transition from the Korean Baseball League was tough enough, he also didn't get to work out as much as he would have liked, as he got married that winter.
"This year it's all about playing baseball," Kim said. "I worked out every day, as opposed to last year when I wasn't able to work out as much.
"I've learned the American method of training and workouts. They chose quality over quantity. They don't have to work hours, hundreds of thousands of balls that I would have to hit [in the past]. Rather, my body remembers what I have to do in a short amount of training time. I've learned to be more efficient [with my daily workouts]."
Kim is also hoping to be more productive against lefties and play himself into more of an everyday role. Showalter said the club will find or create games to get Kim a lot of spring at-bats against lefties, and the outfielder is embracing improving that part of his game.
"I want to be an everyday player," Kim said. "Through a lot of training with [hitting coach] Scott Coolbaugh, I'm able to see lefties and hit off them [in practice]. I'll try to become an everyday player who is able to do what the club asks me to do."
Brittany Ghiroli has covered the Orioles for MLB.com since 2010. Read her blog, Britt's Bird Watch, follow her on Facebook and Twitter @britt_ghiroli, and listen to her podcast. This story was not subject to the approval of Major League Baseball or its clubs.