Minter makes good first impression on Snitker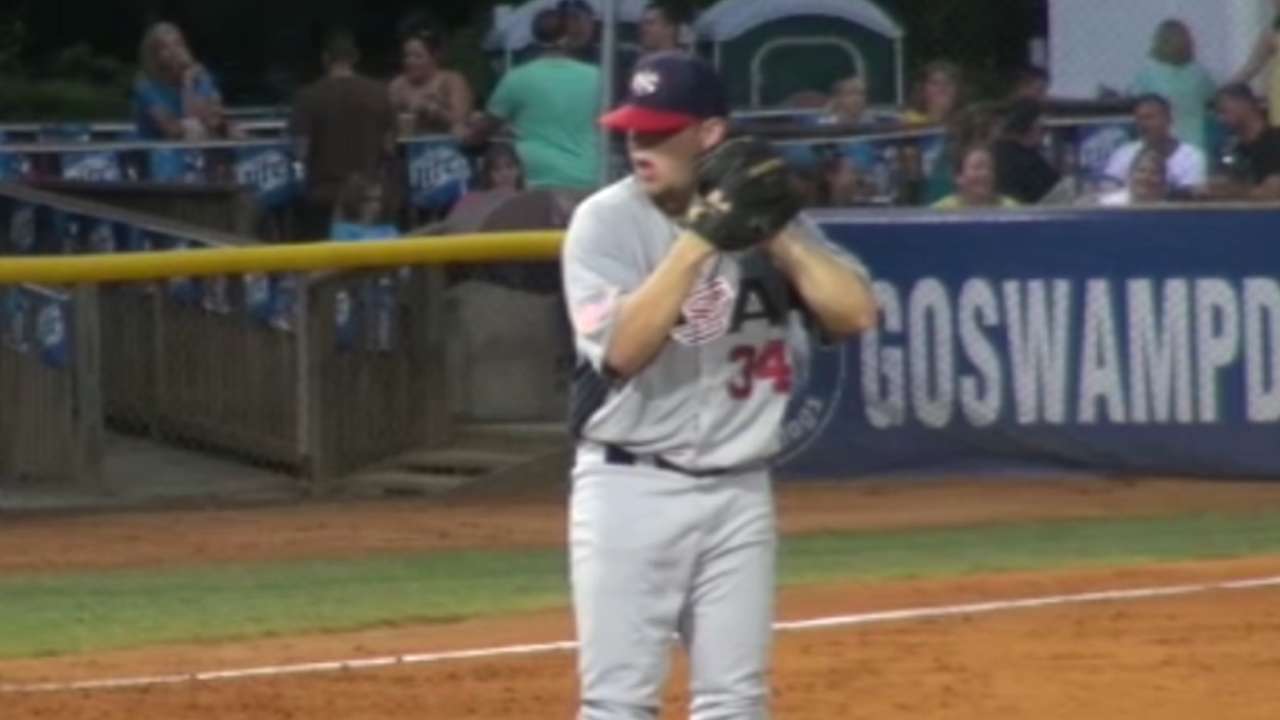 LAKE BUENA VISTA, Fla. -- Two years after seeing his final season at Texas A&M cut short by Tommy John surgery, Braves lefty reliever A.J. Minter has come to his first big league Spring Training and quickly made an impression on manager Brian Snitker.
"When you watch him throw a side, it's like he's in the eighth inning with the bases loaded," Snitker said. "He's intense. You can't help but like what he shows you on the side. Talking to guys who had him last year, he's pretty good."
Minter breezed through the three Minor League levels last year and has a legitimate possibility to rise to the Major League level at some point this year. It would be optimistic to project him to begin the upcoming season in Atlanta's bullpen, but there's at least a possibility he will impress the Braves enough during Spring Training to at least make it difficult for them to send him back to the Minors.
"It's crazy," said Minter, who was taken with the 75th overall selection in the 2015 MLB Draft. "This is what you dream for your whole life. So it's definitely exciting to see it all work out, but I still have a long way to go. I'm excited."
Minter produced a 1.30 ERA and limited opponents to a .149 batting average as he totaled 34 2/3 innings while pitching for Class A Rome, Class A Advanced Carolina and Double-A Mississippi last year. Because he was just a year removed from Tommy John, the Braves moderated his workload by allowing him to have at least two days of rest between every appearance.
"You have to put trust in your front office guys and what they have planned for you," Minter said. "I was definitely happy with the way they handled it. For me personally, yeah, I want to go out there and pitch more and compete more. But at the same time, it's a process and it's a slow process. It's something you don't want to rush at all."
Minter registered 47 strikeouts and issued 11 walks as he faced a total of 134 batters. He surrendered five hits over the 16 scoreless innings totaled at the Class A levels and then allowed just one run over the first 15 innings he worked for Mississippi. Four of the five runs he surrendered over the entirety of the season were tallied against him during an Aug. 24 outing against Biloxi.
"I wasn't sure how it was going to go, but the way the year played out, I couldn't ask for a better year," Minter said. "It was definitely exciting and reassuring that a lot of hard work played out."
Mark Bowman has covered the Braves for MLB.com since 2001. This story was not subject to the approval of Major League Baseball or its clubs.