MLB.com Columnist
Richard Justice
Greatest of his generation? Kershaw keeps rolling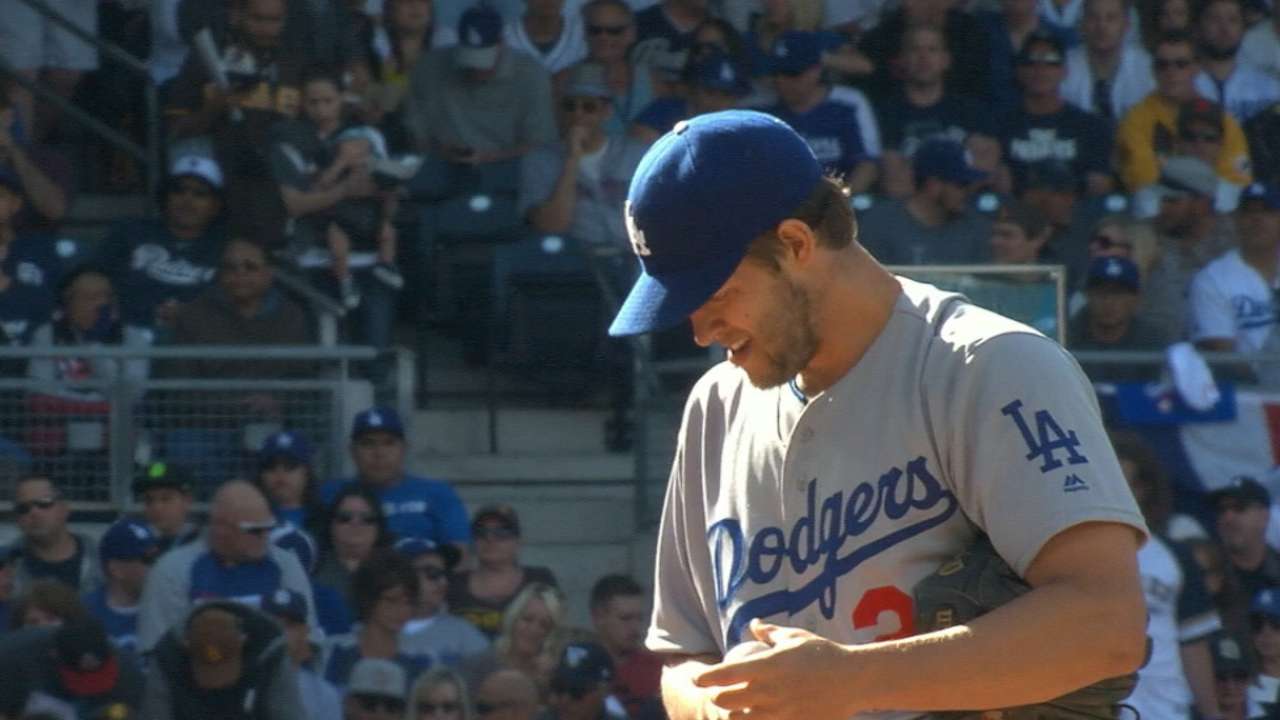 PHOENIX -- This is what we're seeing each time Dodgers left-hander Clayton Kershaw takes the mound this season: One of the best ever.
After just nine seasons, that's where Kershaw's career seems to be headed. Here's the coolest part of this. In the same way fans of an earlier generation told you what it was like to watch Sandy Koufax and Bob Gibson, you can say you saw Kershaw.
Even right here in the middle of his career, we can get our minds around this guy's greatness and attempt to project how good he might end up being. That means we should have plenty of time to enjoy Kershaw's magic and to see how far he's going to go. If his next nine seasons are as good as his first nine, he'll be in the conversation with Tom Seaver, Greg Maddux, etc.
Dodgers manager Dave Roberts announced on Saturday that Kershaw will be his Opening Day starter on April 3 against the Padres at Dodger Stadium. This wasn't the toughest decision Roberts will have this season.
Kershaw's seventh straight Opening Day assignment tie him with Don Drysdale and Don Sutton for the most Opening Day starts in Los Angeles Dodgers history. But Kershaw is still just 28 years old (for another month) and beginning his 10th Major League season.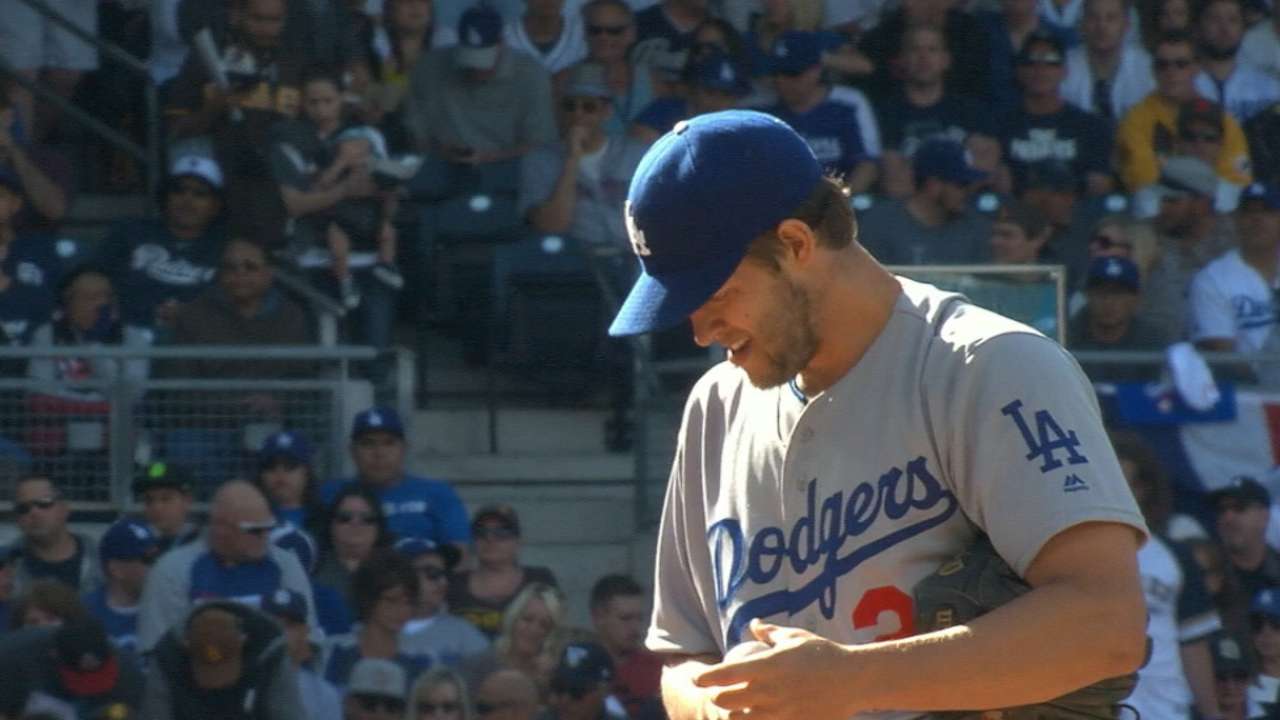 Kershaw's 52.7 Wins Above Replacement is already an eyelash behind Koufax (53.2) and Whitey Ford (53.9), and he could pass Jim Palmer (68.1) and Tom Glavine (74) in the next two seasons.
Even if you don't buy WAR as the final word on a player's career, it's one way to carve out some context. Koufax is the gold standard to Dodgers fans. His similarities to Kershaw are notable.
In Koufax's last five seasons -- his five best -- he was 111-34 (.766 winning percentage) with a 1.95 ERA and a 0.926 WHIP. Kershaw's last six have been comparable: 100-37 (.730), 2.06 ERA, 0.908 WHIP.
Workload is the big difference: Koufax averaged 275 innings in those five seasons. Kershaw has averaged 206 innings in his last five full seasons -- he spent two months on the disabled list last season.
Let's pause for a breath. To compare anyone to Koufax is to offer the highest praise. Almost all the great players of that era speak of him with a special reverence.
Koufax won the National League Cy Young Award three times in his last four seasons (1963-66) before retiring at 30. Kershaw has three NL Cy Young Awards and was on his way to a fourth last season when he went on the DL on July 1.
At the time, Kershaw had the NL's lowest ERA (1.79) and WHIP (.725). He had also pitched the most innings and was second to eventual winner Max Scherzer in strikeouts (148-145). Kershaw returned on Sept. 9, posting a 1.29 ERA in five starts.
In terms of stuff, no one is better: Kershaw's four-seam fastball, which he throws around 50 percent of the time, averages 93 mph. His second-most-used pitch is a slider that's one of the hardest in the game at 88 mph. Finally, there's the pitch Kershaw threw only 16 percent of the time last season -- his curveball.
Vin Scully nicknamed Kershaw's curveball "Public Enemy No. 1." It's a huge, slow 12-to-6 thing that has limited opposing hitters to a .126 batting average for his career.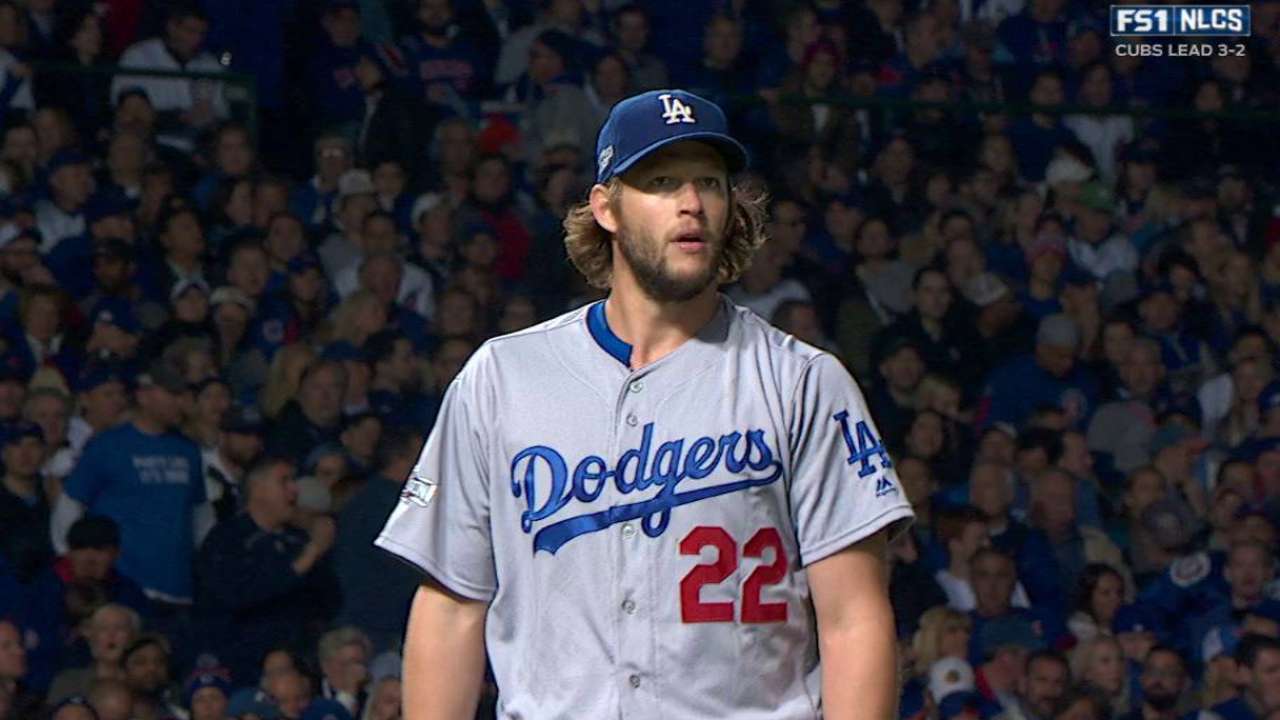 To have three above-average pitches and combine them with smarts, work ethic and competitive fire is a recipe for greatness.
Three years ago when the Dodgers signed Kershaw to a seven-year, $215 million extension -- the most ever for a pitcher -- they knew him better than anyone. They appreciated not just his greatness on the mound, but that he was a conscientious teammate and a role model in just about every way the word can be defined.
The Dodgers are in a good place right now, having won the NL West four years in a row, and they are favored to make it five. They've led the NL in attendance every one of those seasons, averaging close to 46,000 per game.
What they haven't done is go to the World Series since 1988, and that goal (again) is where this season begins. That's about the only unchecked box on Kershaw's resume. Which says plenty in itself.
Richard Justice is a columnist for MLB.com. You can follow him on Twitter @richardjustice. This story was not subject to the approval of Major League Baseball or its clubs.