Coghlan anticipating 'new chapter' as Phillie
Following World Series win with Cubs, outfielder looking for more playing time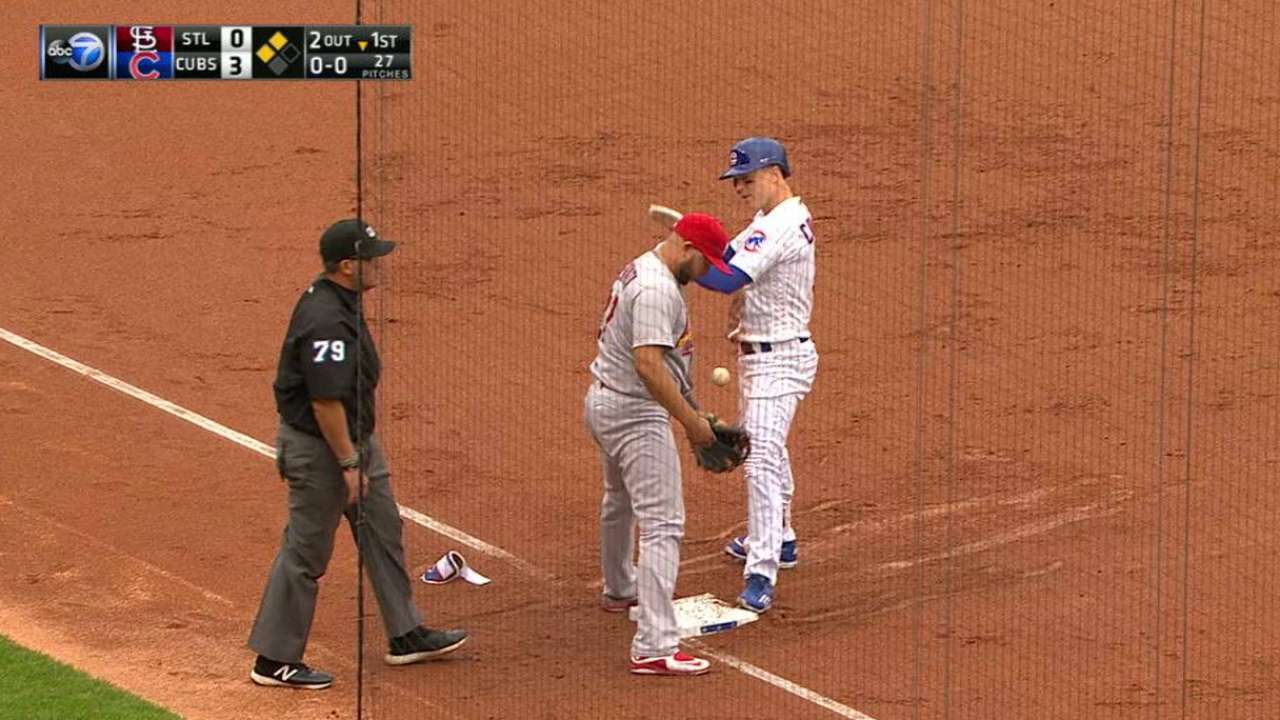 CLEARWATER, Fla. -- How does Chris Coghlan follow one of the greatest seasons in baseball history and possibly the greatest World Series ever? He starts from scratch, and he signs a Minor League contract with the Phillies.
"I want to be part of something bigger than me," Coghlan said Saturday morning in front of his locker at Spectrum Field.
Let him explain. Coghlan, 31, helped the Cubs win their first World Series in 108 years, as they overcame a 3-1 series deficit to win a thrilling Game 7 in 10 innings in Cleveland. It was an unforgettably emotional moment for millions of lifelong Cubs fans who had suffered through more than a century's worth of disappointments.
• Spring Training: Info | Tickets | Schedule | Gear
"I don't have a good enough vocabulary to describe it, but to do something first in a game that has been around more than 100 years is really hard," Coghlan said. "So you've got to imagine, you're one of 25 that ever walked the planet that can say they won a World Series. I mean, it's the pinnacle. You have a fellowship and a bond that nobody can separate you from."
But Coghlan knew it would be his last time in a Cubs uniform. The Cubs are loaded with young outfielders, so he knew he would not be back.
Coghlan signed with the Phillies earlier this month. An opportunity to get playing time obviously played a critical role in his decision to sign with Philadelphia.
Odubel Herrera, Michael Saunders and Howie Kendrick are expected to be the team's Opening Day outfielders, and Aaron Altherr is a smart bet to make the team, too. But Coghlan can earn a spot on the 25-man roster as the team's fifth outfielder with a strong spring.
Coghlan, who bats left-handed, hit a combined .247 with 31 home runs, 112 RBIs, a .332 on-base percentage and a .748 OPS the previous three seasons with the Cubs and A's, which included a rough first two-plus months this past year in Oakland (.487 OPS in 172 plate appearances). He posted a .338 on-base percentage and a .779 OPS in 1,051 plate appearances against righties.
"I'm happy to have him here as well as some of those other veteran guys," Phillies manager Pete Mackanin said.
Coghlan said he saw some similarities between the Phillies and where the Cubs were just a few years ago. Coghlan joined the Cubs in 2014, when they went 73-89. They went 97-65 to a earn a National League Wild Card spot in '15 before finishing 103-58 on their way to the World Series in 2016. The Phillies, however, finished 71-91. They hope to improve this year with postseason contention not far beyond that.
"I love the idea of what's building, and being a part of that in Chicago was really neat because you're building something bigger than you," Coghlan said. "And you can see it. You've got a lot of young guys you're building with. I was there when we lost [89] games in '14, and the next year we won 97 and were the second Wild Card. Nobody said it could be done, but you could see it. There was a belief.
"The point is that there's a lot of gratification and cool moments because we built something. It wasn't like you were there for a year and won it. That's cool anyway, but when you feel like you're building and you kind of go through the bad and see the good and you're building relationships with guys and you're building a family and you see the organization building toward a winner, and when they implement a couple pieces at the Trade Deadline and now you've got a powerhouse, that's why it was a huge draw to me. Because doing that in Chicago was special. It makes it more special because it's not just about you."
Coghlan's new teammates have asked him about his time with the Cubs and the World Series. He said he will receive his World Series championship ring sometime in April, although if he makes the Phillies' roster he could receive the ring in person when the Phillies visit the Cubs at Wrigley Field on May 1.
"I want to honor that," he said of his time with the Cubs, "but this is also a new chapter for me. I'm not a Cub anymore. I'm a Phillie."
Todd Zolecki has covered the Phillies since 2003, and for MLB.com since 2009. Follow him on Twitter and listen to his podcast. This story was not subject to the approval of Major League Baseball or its clubs.