Healthy offseason propels Harrison into spring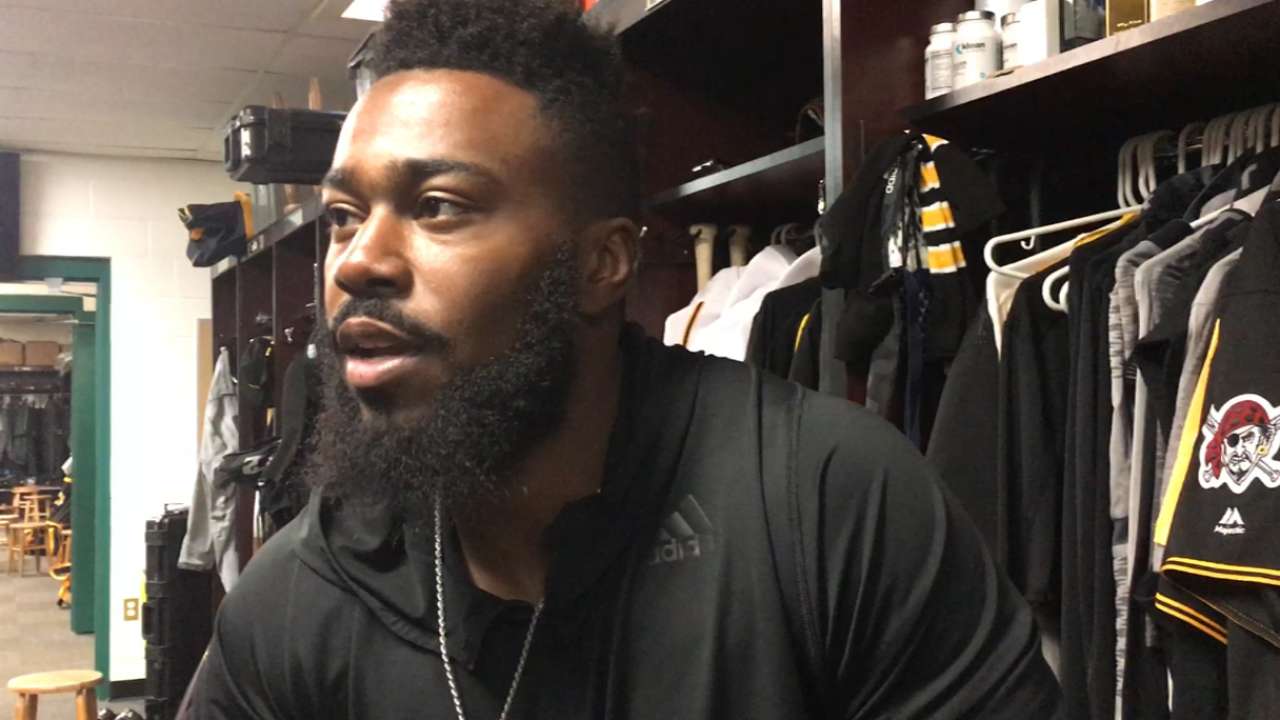 BRADENTON, Fla. -- Josh Harrison could tell when he swung a bat, picked up a dumbbell or playfully tossed his 3-year-old daughter, Mia, in the air.
The lingering soreness in Harrison's left hand, the result of a torn ulnar collateral ligament in his thumb, was no longer an issue. Unlike last winter, he said, he enjoyed a healthy offseason.
Harrison had surgery to repair his thumb in July 2015, and he returned at less than 100 percent. The following offseason, his training was designed to avoid putting too much weight on his thumb joint. Even during the first half of '16, especially in cold weather, Harrison's thumb became stiff and often stung.
• Spring Training: Info | Tickets | Schedule | Gear
"To be honest, I didn't really feel it come back until right before I got hurt," Harrison said.
That also was right when Harrison got hot at the plate. He hit .266 with a .671 OPS through the end of July then batted .326/.349/.418 in his final 34 games before being diagnosed with a season-ending right groin strain.
That injury healed as expected, and Harrison began working out in November. By December, his offseason routine was in full swing. This time, it felt right. Even when temperatures dipped into the 20s in Harrison's native Cincinnati, his thumb was fine. It looked as much during live batting practice Saturday morning, when Harrison crushed a deep ball against Ivan Nova and another off Felipe Rivero.
"The most important thing for me was a healthy offseason. It's been a while for me," Harrison said. "This offseason was completely different than last year. I was able to lift. Once my groin was back to 100 percent, I was able to have a normal offseason, which felt like it was forever for me."
The thumb injury cost Harrison time in the weight room and forced him to change his swing, particularly his grip of the bat. He spent this past offseason retraining his hands, correcting bad habits he had learned over the previous year.
A healthy hand made the rest of his life easier, too.
"I could just have a normal offseason to play with my wife and daughter and throw her in the air. 'King Daddy' is what [Mia] calls me. Princess Mia, she didn't care," Harrison said, smiling. "I didn't have to be like, 'Hold on, daddy's thumb.'"
Defensively, Harrison settled in and thrived at second base in 2016, his first full year in the Majors playing only one position. But he is prepared to move around the field again, like he did in his All-Star 2014 campaign, and it sounds as if the Pirates would consider a super-utility type of role if there's an injury elsewhere, specifically at third base or in the outfield.
"How do we best serve him, and how does he best serve the club?" manager Clint Hurdle said. "That's a conversation we're going to have. I understand knowing, and I understand comfort. If situations change, I do think there's a buy-in that's real with him. I do think his versatility can help him in some certain areas as well."
Added Harrison: "I'm not going to completely throw everything out. … For the time being, I'm going to focus on second, but if asked to do something else, I'm always ready."
Adam Berry has covered the Pirates for MLB.com since 2015. Follow him on Twitter and Facebook, read his blog and listen to his podcast. This story was not subject to the approval of Major League Baseball or its clubs.