Trout lands atop Top 100 Right Now list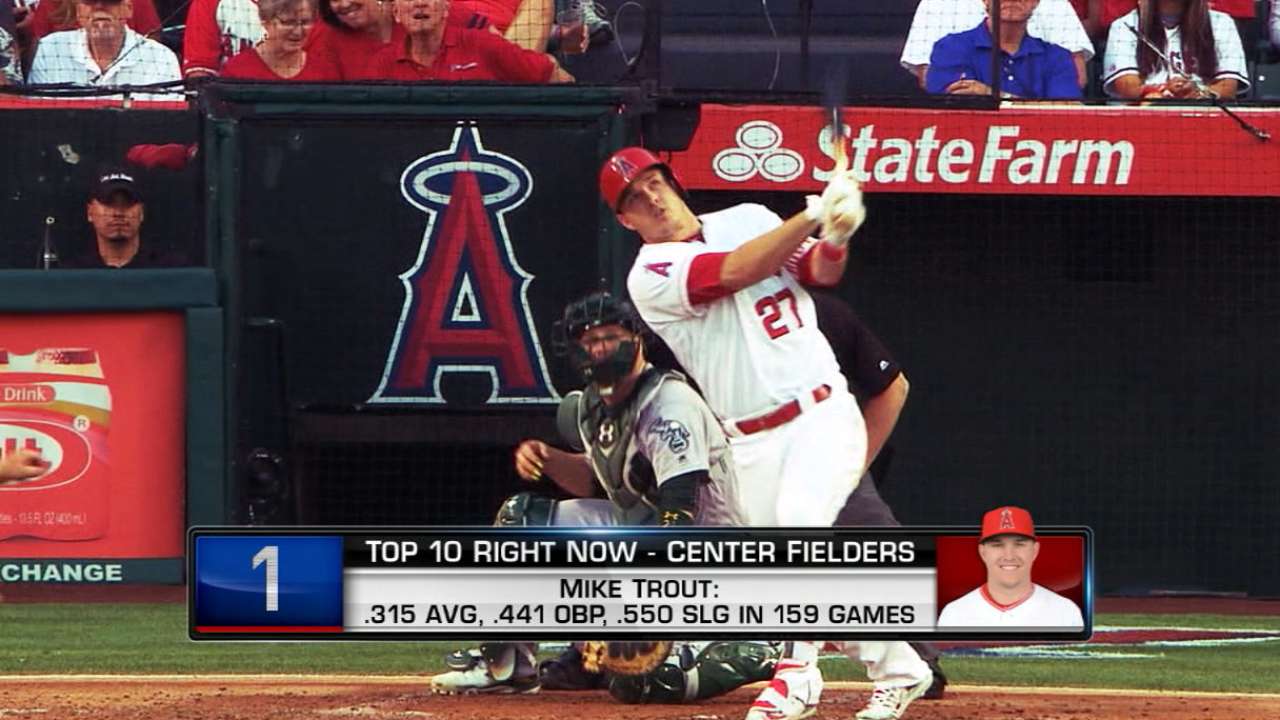 MLB Network's countdown of the best 100 Major Leaguers culminated with Friday's unveiling of the final 20 names atop the list, a collection of baseball's brightest stars.
The first five episodes of Top 100 Right Now, which began Wednesday, saw MLB Network's Greg Amsinger, Ron Darling and Bill Ripken ranking players based on performance over the past several seasons with an emphasis on 2016 and projected 2017 performance.
The No. 1 player likely comes at no surprise to baseball fans, as Mike Trout tops the list for a fourth time and a second consecutive year.
Trout earned his second American League Most Valuable Player Award last season, batting .315/.441/.550 with 29 home runs and 100 RBIs. He led all big leaguers in on-base percentage (.441), walks (116) and runs scored (123).
He's joined at the top by fellow Southern California star Clayton Kershaw, who ranked second. The Dodgers ace was at his usual best when healthy last season, going 12-4 with a 1.69 ERA and a 15.64 strikeout-to-walk ratio.
Former MVPs Josh Donaldson (No. 3) and Kris Bryant (4) and two-time AL batting champion Jose Altuve (5) rounded out the top five.
Notably, half the list includes players age 26 or younger, pointing to a promising future with a wealth of young talent around the league. Those 10 players include both well-established names like Trout and Bryce Harper (9) and rising stars such as the Dodgers' Corey Seager (11). Seager, the NL's Rookie of the Year, made the most significant climb up the rankings from No. 99 in 2016.
But these up-and-comers couldn't push out veteran mainstays like Miguel Cabrera (No. 6) or Buster Posey, however. They join marquee names Freddie Freeman (18), Anthony Rizzo (16), Robinson Cano (15), Max Scherzer (14), Paul Goldschmidt (13), Joey Votto (10), Kershaw and Donaldson as players fans have come to expect among baseball's greatest.
Below is the list of the final 20 players revealed on Friday's show:
20. Carlos Correa
19. Francisco Lindor
18. Freeman
17. Posey
16. Rizzo
15. Cano
14. Scherzer
13. Goldschmidt
12. Nolan Arenado
11. Seager
10. Votto
9. Harper
8. Mookie Betts
7. Manny Machado
6. Cabrera
5. Altuve
4. Bryant
3. Donaldson
2. Kershaw
1. Trout
Chad Thornburg is a reporter for MLB.com. This story was not subject to the approval of Major League Baseball or its clubs.