Smith reports to camp slimmer, feeling energized
Prospect, who could be Mets' 1B of future, spent offseason getting healthy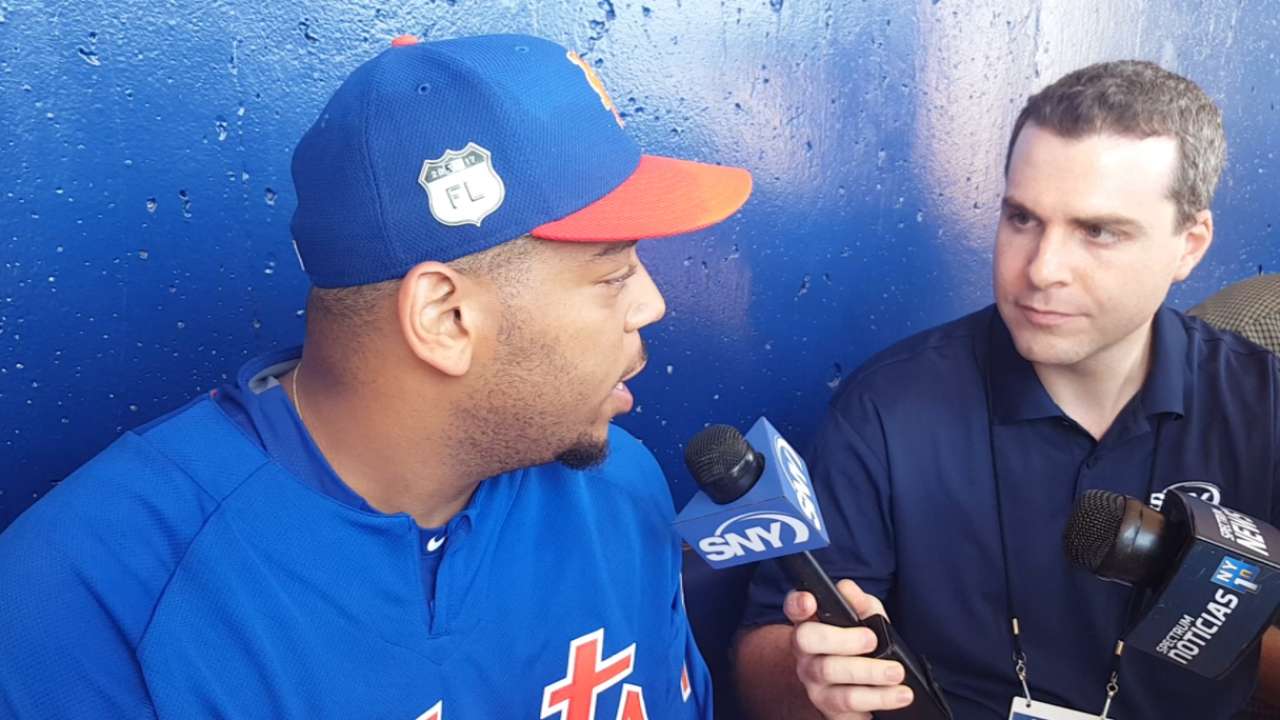 PORT ST. LUCIE, Fla. -- Mexican food was Dominic Smith's vice. When Smith wanted to indulge, he would head to the nearest local spot in Southern California for a carne asada wet burrito, smothered in cheese.
That habit disappeared this winter, when the Mets' second-ranked prospect reported to Mike Barwis' team-sponsored fitness facility in Michigan for an offseason full of workouts. He traded in burritos and hamburgers for smoothies and leafy greens. By the time Smith reported to Mets camp, he had shed 24 pounds, dropping down from his high point of around 258.
"There were a lot of weekends where I wanted to sneak out and get a burger or two," Smith said. "But I really just told myself: 'Work hard. Fast food's not good for you.' Now if I eat a burger or something, I feel really sluggish. That healthy food does so much for your body, gives you energy -- and I just feel great."
Color Terry Collins impressed. The Mets manager took notice of Smith's slimmed-down figure immediately, knowing how much it figures to help him on defense. Though Smith broke out with a .302 average and 14 home runs last season at Double-A Binghamton, the Mets feel he still has room for growth if he wants to replace Lucas Duda as their starting first baseman, once Duda's contract expires in 2018.
To that end, Smith figures to spend most of his summer at Triple-A Las Vegas, working on maintaining his power gains despite the loss in bulk.
"I just wanted to get into a comfortable weight where I felt more athletic, and just more versatile as a player," Smith said.
Mets No. 2 prospect Dominic Smith lost 24 pounds this winter working out and eating healthier, laying off fast food. He discusses here: pic.twitter.com/n0cx6moaNT

— Anthony DiComo (@AnthonyDiComo) February 17, 2017
Wright to throw: Third baseman David Wright, who has not thrown a baseball since undergoing neck surgery last summer, is tentatively scheduled to play catch Sunday at the Mets' Port St. Lucie complex. While the Mets have Wright penciled in as their Opening Day third baseman, he must prove his health before he is able to take that job.
Wheeler on track: Zack Wheeler, who refrained from throwing earlier this week due to right elbow tenderness, still hopes to return to a mound this weekend. There is no rush for Wheeler, considering the Mets do not plan on using any of their top starters in Grapefruit League games until March 4.
Down under: Among those catching the eyes of Mets coaches early in camp has been right-handed reliever Ben Rowen, who spent last season in the Blue Jays and Brewers organizations. Rowen pitches with a submarine style, making him particularly effective against right-handed hitters.
Anthony DiComo has covered the Mets for MLB.com since 2008. Follow him on Twitter @AnthonyDiComo and Facebook, and listen to his podcast. This story was not subject to the approval of Major League Baseball or its clubs.