Cubs notes: Russell recalls whirlwind year
Contreras, Lester building rapport; Maddon praises Rondon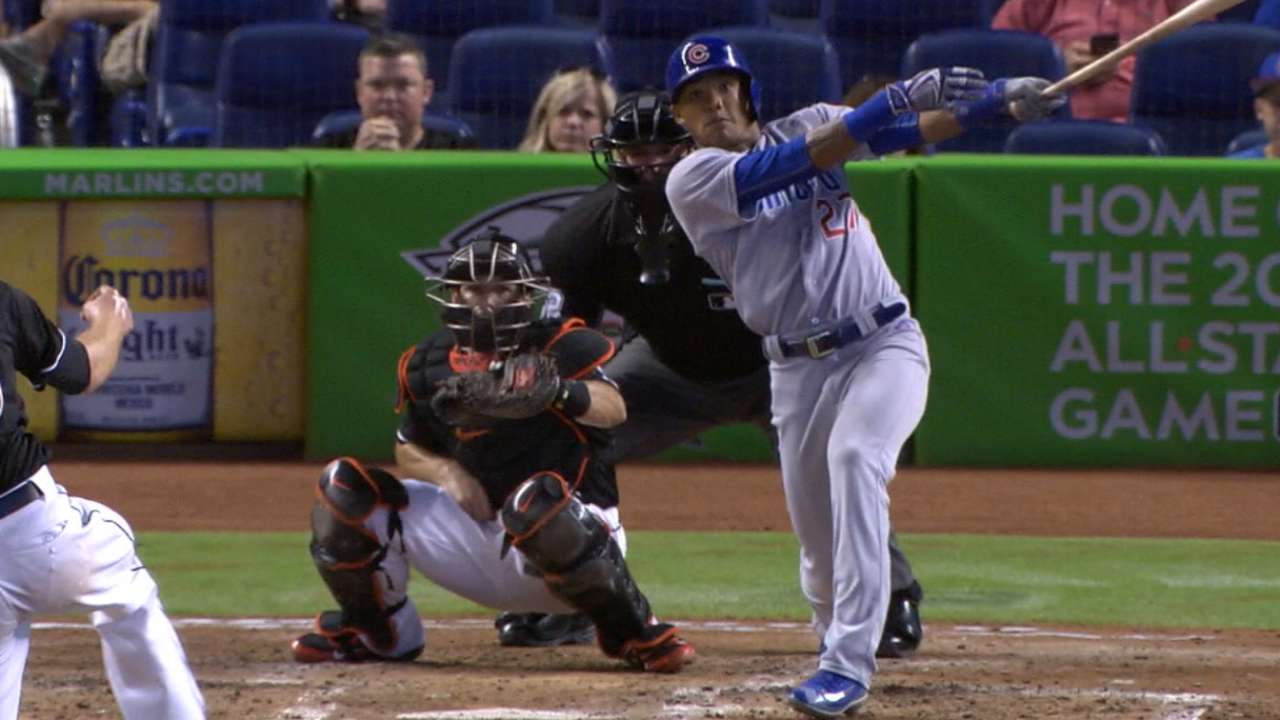 MESA, Ariz. -- Being named to an All-Star team, winning 103 regular-season games and then capturing a World Series (including a historic six RBIs in Game 6), then being feted in a parade in downtown Chicago, going to Disney World -- all of that finally caught up to the Cubs' Addison Russell in late November.
"I went into my mom's room and laid down on her bed, and that's when all the memories of the past year, all the way from Spring Training to the middle of the season, [being an] All-Star, the World Series run, it all hit me at once, and it was overbearing kind of, and I started crying," Russell said Friday. "I was like, 'Mom, we got one finally.' She said, 'Yeah, you've been dreaming about this your entire life.' That's when it sunk in. It was just a magical moment."
It was a positive moment, Russell said. His dog was licking his face, his family was there to support him, and he just had a delayed reaction to everything that had happened.
"I couldn't really talk," he said. "It was a surreal moment right there. It really sunk in when the tears were coming down my face. I think that was one of the happier moments in my life."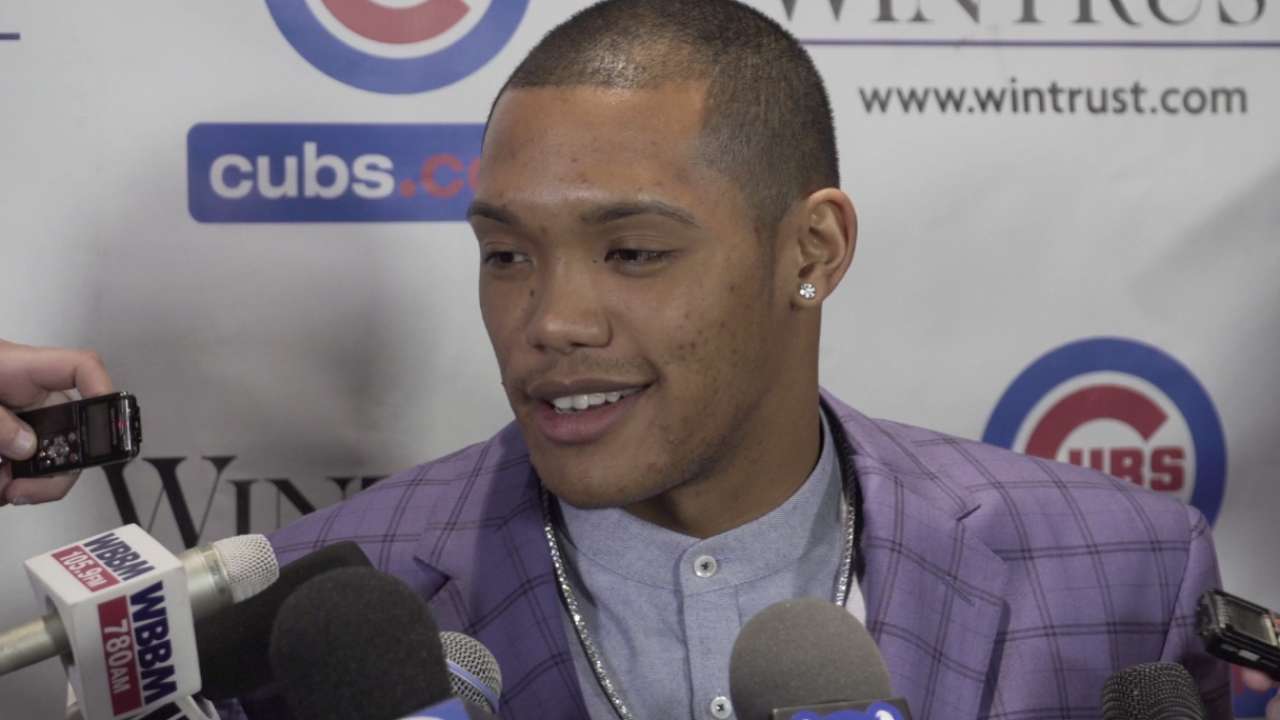 Russell, who turned 23 last month, is still getting used to having people approach him in airports and other public spaces for autographs or selfies. He was presented the key to the city of Pensacola, Fla., and saluted at Pace (Fla.) High School in November. The Santa Rosa (Fla.) Board of County Commissioners declared Jan. 16 as "Addison Russell Day."
Even cooler was a chance to customize his cleats and glove for the upcoming season.
"As a young guy, that's huge," Russell said. "That's all you want to do is find your individualism."
Now, it's back to work, as he joined the Cubs' other position players in camp on Friday. The first full-squad workout will be Saturday.
"Winning last year was great, but it's in the past," Russell said. "I think a lot of guys here are still hungry. We have a lot of new players who are hungry for their first one or to get the opportunity. I think that's the reason they're here, they want to hop on board and help us out. Let's get the job done."
Extra bases
• Willson Contreras caught Jon Lester on Friday for the second straight bullpen session. Lester needs a new backstop now that David Ross has retired.
"Rossy and I didn't jump in and all of a sudden, it clicked," Lester said Friday. "It took a few starts to hammer some things out and for him to get used to what I like to do and vice versa.
"I think that all it comes down to is pitching, time on the mound. Willson is a smart kid, and he wants to get better and he's eager to please. I think he has all the attributes to be a really good catcher for a long time. I don't think there will be much of a learning curve."
• Lester: Cubs are 'naive enough' to repeat
The two will have a game plan but then may need to make adjustments, and that's where experience becomes important.
"Me and Rossy didn't reinvent the wheel with anything special," Lester said. "It's a matter of having a game plan, and if it isn't going well and you aren't able to execute that, the ability to go to Plan B is where I feel like Rossy and I clicked. I saw Willy do that last year a lot with everybody else.
"I don't think there will be any problems. He's very talented and very willing to learn and eager to please. That's the biggest thing -- he wants to go out there and make you happy when he's behind the plate."
• Hector Rondon has lost the closer's job twice the past two years. Last July, the Cubs acquired Aroldis Chapman and this offseason, they traded for Wade Davis. Manager Joe Maddon said he assured Rondon that he's valuable to the Cubs and that Davis can't close every game.
"He understands," Maddon said of Rondon. "The big thing with him is health and keeping him healthy and well. The part about the bullpen ... is that it's deep. Because of that, you like to believe you're not going to overwork anybody."
Could Rondon be a closer again?
"Possibly," Maddon said. "He's been it, he's definitely capable of that. He's got closer mentality, he's got closer stuff. Of course he can."
• Davis played for Maddon in Tampa Bay, so when the Cubs manager met with the pitchers and catchers, it was deja vu for the right-hander.
"I felt right at home listening to his opening speech," Davis said.
Carrie Muskat has covered the Cubs since 1987, and for MLB.com since 2001. She writes a blog, Muskat Ramblings. You can follow her on Twitter @CarrieMuskat and listen to her podcast. This story was not subject to the approval of Major League Baseball or its clubs.