Braves expecting to be competitive this season
Players, manager believe rebuilding process is behind them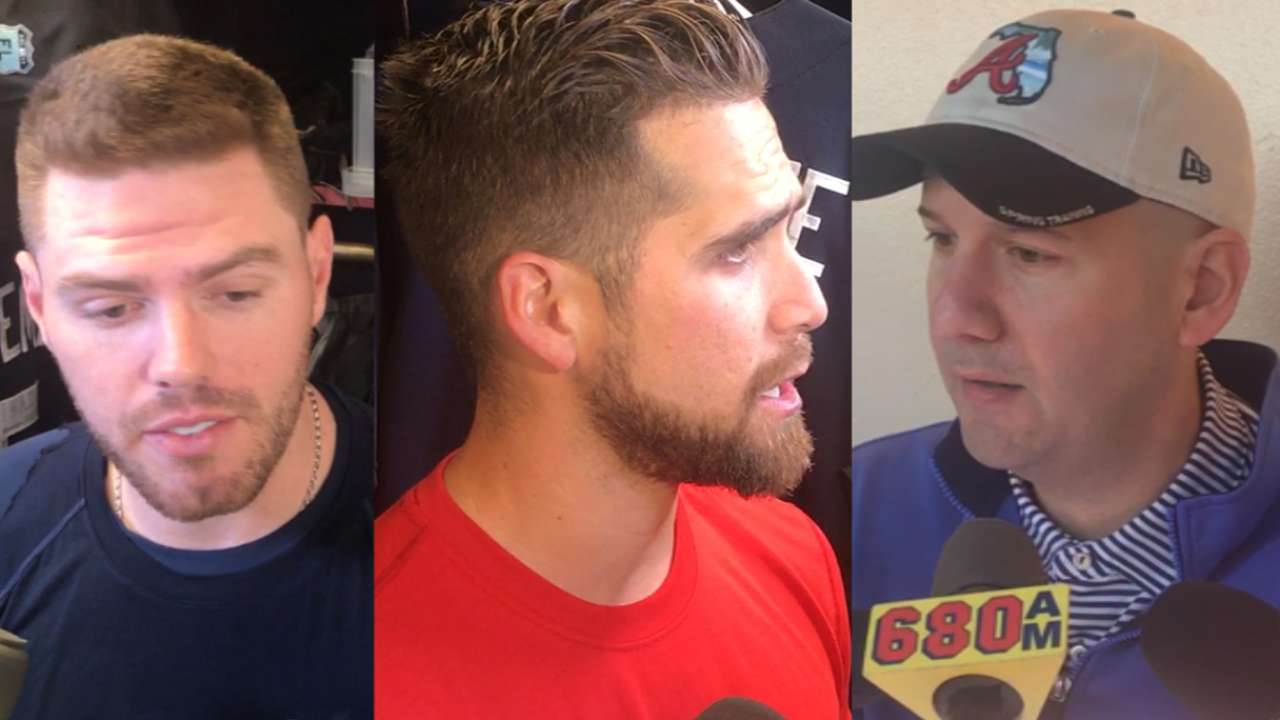 LAKE BUENA VISTA, Fla. -- As many of the Braves players have arrived at Spring Training expressing confidence in the club's potential for the upcoming season, they have made it clear they no longer feel restricted by the effects of a rebuilding process.
"I don't look at this as a rebuild," Braves left fielder Matt Kemp said. "I look at this as a team that can compete and go out there and play with any team out there. Hopefully, this is not a rebuild. I want to win baseball games. I feel like we have a team that can go out there and win, especially with these veteran guys that they are bringing in. I don't think that's a rebuild stage."
• Phillips excited to play for hometown Braves
When Braves manager Brian Snitker speaks to his players before this year's first full-squad workout on Saturday afternoon, he will express a similar sentiment while attempting to combat any of the lingering negativity that might have been created as the team has suffered three straight losing seasons, two of which were a product of a massive rebuild.
"I'm going to tell you how I feel, and that's exactly how I feel," Snitker said. "We have a good team. We finished strong last year, and we should feel like we can compete this year. I can't wait to get the games going."
• Spring: Tickets | Ballpark | 40-man roster | NRIs
Throughout last season's first four months, it appeared the Braves might at least be a couple years away from being able to distance themselves from the most painful portion of their rebuild. But their timetable seemed to be accelerated by the August additions of Kemp and Dansby Swanson to a lineup that now has the potential to be formidable.
It remains to be seen whether the Braves are capable of achieving their goal to become competitive again this year, a little more than two years after beginning a massive rebuilding process. But they have at least reached a point where their players seem to genuinely believe they are capable of providing a stiff challenge to the Mets and Nationals in the National League East race.
"I think the optimism in this camp right now is off the charts," Braves first baseman Freddie Freeman said. "A lot of people aren't picking us, but I think we'll be right there in September, playing meaningful baseball."
Mark Bowman has covered the Braves for MLB.com since 2001. This story was not subject to the approval of Major League Baseball or its clubs.