Goldschmidt eager to play for Team USA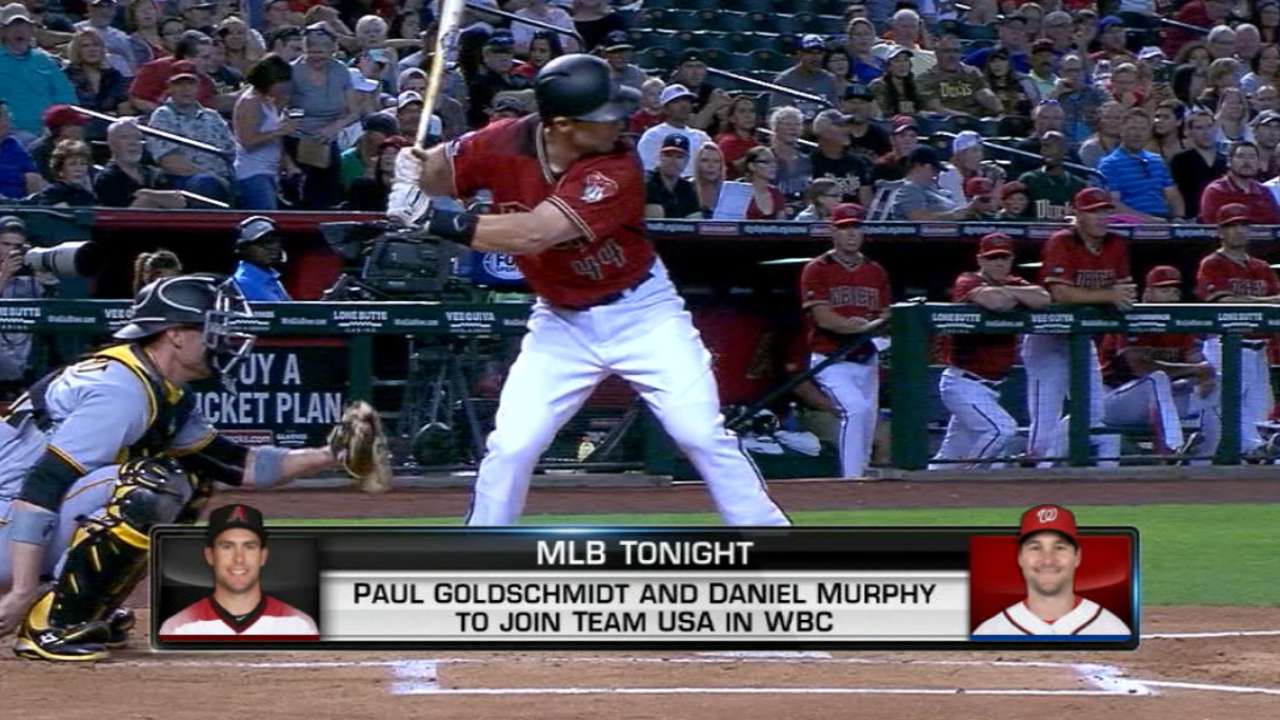 SCOTTSDALE, Ariz. -- Before agreeing to play for Team USA in the World Baseball Classic, D-backs first baseman Paul Goldschmidt did his homework by calling players who had done so in the past to see if it impacted their preparation for the regular season.
"A lot of them said you're even more ready because you've played in some more high-stakes games rather than just Spring Training games and the competition is higher," Goldschmidt said. "Every review I got was positive."
Goldschmidt will leave D-backs camp March 6 to take part in Team USA's first workout on March 7.
"I was really excited when they asked me if I would participate," Goldschmidt said. "It was something I wanted to do, but didn't know if I'd have the opportunity. It's fun to get to go out there and represent your country and the Diamondbacks and go compete against the best players in the world. It will be a very competitive tournament."
The World Baseball Classic runs from March 6-22. In the U.S., games will air live exclusively in English on MLB Network and on an authenticated basis via MLBNetwork.com/watch, while ESPN Deportes and WatchESPN will provide the exclusive Spanish-language coverage. MLB.TV Premium subscribers in the U.S. will have access to watch every tournament game live on any of the streaming service's 400-plus supported devices. Internationally, the tournament will be distributed across all forms of television, internet, mobile and radio in territories excluding the U.S., Puerto Rico and Japan.
Get tickets for games at Marlins Park, Tokyo Dome, Gocheok Sky Dome in Seoul, Estadio Charros de Jalisco in Mexico, Petco Park, as well as the Championship Round at Dodger Stadium, while complete coverage -- including schedules, video, stats and gear -- is available at WorldBaseballClassic.com.
Steve Gilbert has covered the D-backs for MLB.com since 2001. Follow him on Twitter @SteveGilbertMLB. This story was not subject to the approval of Major League Baseball or its clubs.