Players pumped for Glove Day at Cards camp
Getting new glove an exciting time for youngsters and veterans alike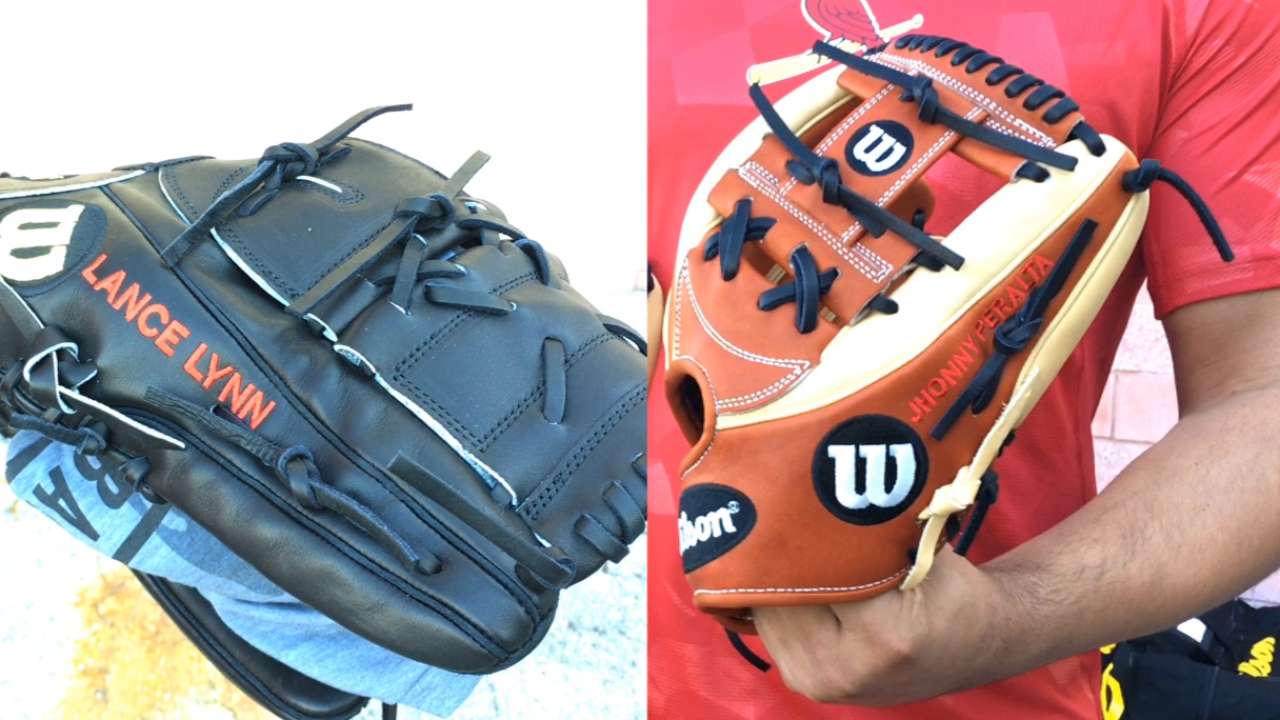 JUPITER, Fla. -- Several players described the moment akin to Christmas morning as they dug into the duffle bags lined up behind the Cardinals' clubhouse to grab new gear Friday morning.
Wilson sent sports marketing director Scott Paulson and Shigeaki Aso, the company's glove guru, to Cardinals camp to distribute gloves to its players. Those who received their new gloves Friday included Jedd Gyorko, Jhonny Peralta, Kevin Siegrist, Lance Lynn, Mike Leake, John Gant, Edmundo Sosa and Todd Cunningham.
"I made it custom to how I like it, and I've gotten the same glove pretty much every year," Gyorko said after picking his up. "I already know what to expect from it. The guys do a great job. I appreciate the work. Now it just takes time to break it in to how I like it."
• Spring Training: Info | Tickets | Schedule | Gear
Breaking it in, he explained, involves enough pounding to leave his hand temporarily raw. Other players have utilized different methods to get their glove loose. Lynn used to put his under a mattress. Others zap it in the microwave (something Aso doesn't recommend).
Wilson presents two gloves -- sometimes three if the player is going to play multiple positions -- to each of its players. Guys on the 40-man roster can customize one of their gloves, Paulson explained. If a player was on a Major League roster the year before, he has the option of customizing both.
Siegrist, for instance, created one light brown glove with red stitching, as well as a black and red one; both have his name scripted on them. Gyorko's gloves feature his uniform number. Peralta sticks with the generic A2K model, which is a mélange of tan, dark brown and black leather this season.
"As big as possible, so I can fit my hand into it," Lynn said when asked about his criteria for picking a glove.
To accommodate, Wilson gives Lynn an outfield model glove with a pitcher's web. Gyorko said that a glove's length is most important to him.
As for Peralta, this is the first time since 2010 that he has been presented with a third baseman's glove in Spring Training. He also ordered one to use when he plays shortstop.
"It's fun," he said of getting the new equipment. "They do it every year, so I'm happy to come here for Spring Training and grab a glove."
Jenifer Langosch has covered the Cardinals for MLB.com since 2012, and previously covered the Pirates from 2007-11. Read her blog, follow her on Twitter, like her Facebook page and listen to her podcast. This story was not subject to the approval of Major League Baseball or its clubs.