Betances, Yanks await results of arb hearing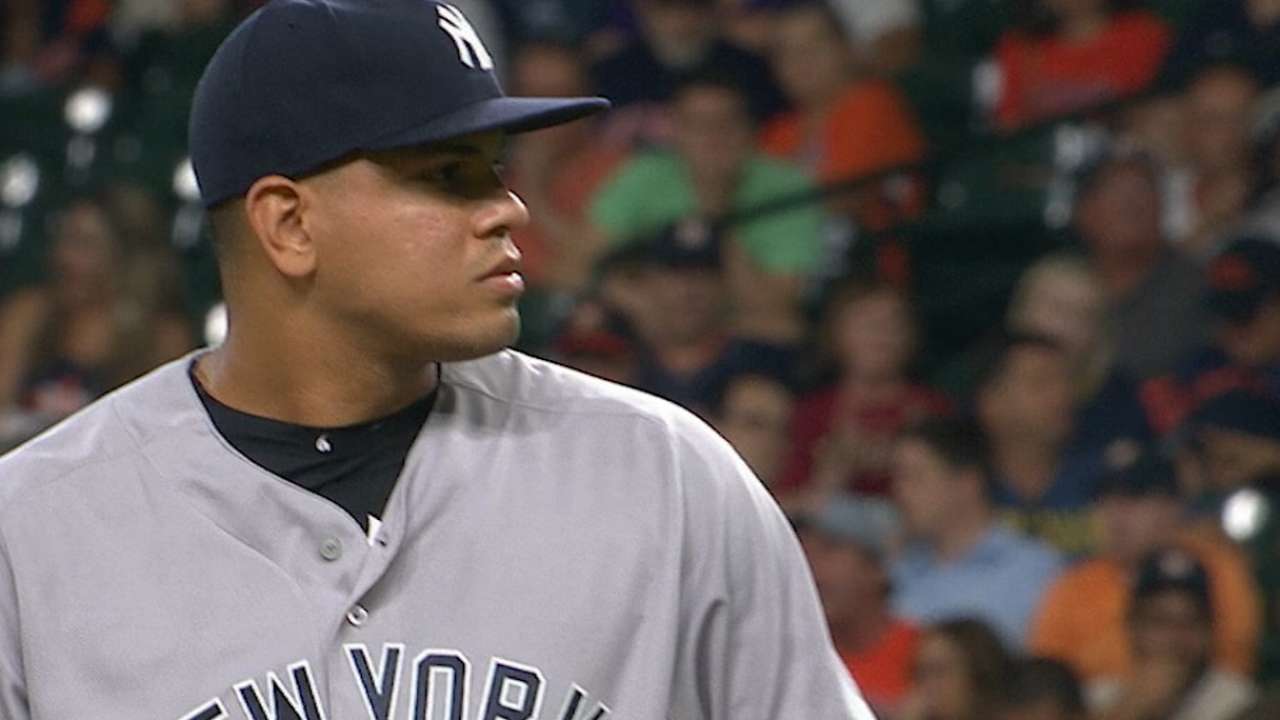 TAMPA, Fla. -- Dellin Betances and the Yankees were unable to make up a $2 million difference of opinion over the offseason, so the right-handed reliever's 2017 salary will be determined in an arbitration hearing on Friday in St. Petersburg, Fla.
Eligible for arbitration for the first time, Betances requested $5 million, with the Yankees countering at $3 million. A decision by arbitrators Steven Wolf, Dan Brent and Sylvia Skratek is expected to be announced on Saturday.
"It's been a number of years since we've been through this, but the process is what the process is," Yankees managing general partner Hal Steinbrenner said this week. "It's nothing personal. We love Dellin; he knows that. He's great for the organization, he came up through the ranks. It's just a procedural thing."
Steinbrenner said the two sides "were just too far apart" in negotiations. Betances was granted an excused absence from the Yankees' first three workouts of the spring while his case is argued, and the 28-year-old right-hander is expected to be in uniform on Saturday.
An All-Star in each of the past three seasons, Betances will turn 29 next month and had his contract renewed at the league minimum of $507,500 last year.
He was 3-6 with 12 saves in 17 opportunities, a 3.08 ERA and 126 strikeouts in 73 appearances. He led all Major League relievers in strikeouts for the third consecutive year and has committed to pitch for the Dominican Republic in the upcoming World Baseball Classic.
Yankees manager Joe Girardi said this week that while arbitration hearings can be frustrating for both sides, he expects that Betances will be able to put Friday's hearing behind him and focus on getting ready for the season.
"There's so many good things in this game, from a financial point," Girardi said. "This is the part that sometimes gets a little ugly. It's just something that you have to deal with. Hopefully it's a one-time thing that we go through this."
This marks the Yankees' first trip to the arbitration table since 2008, when they defeated right-hander Chien-Ming Wang, who was awarded a raise from $489,500 to the team's $4 million offer instead of his $4.6 million request.
Prior to that, New York had not gone to arbitration since 2000, when it defeated Mariano Rivera.
Bryan Hoch has covered the Yankees for MLB.com since 2007. Follow him on Twitter @bryanhoch and on Facebook. This story was not subject to the approval of Major League Baseball or its clubs.