Versatile Miller getting chance to man keystone
Rays manager Cash says infielder 'up for the challenge'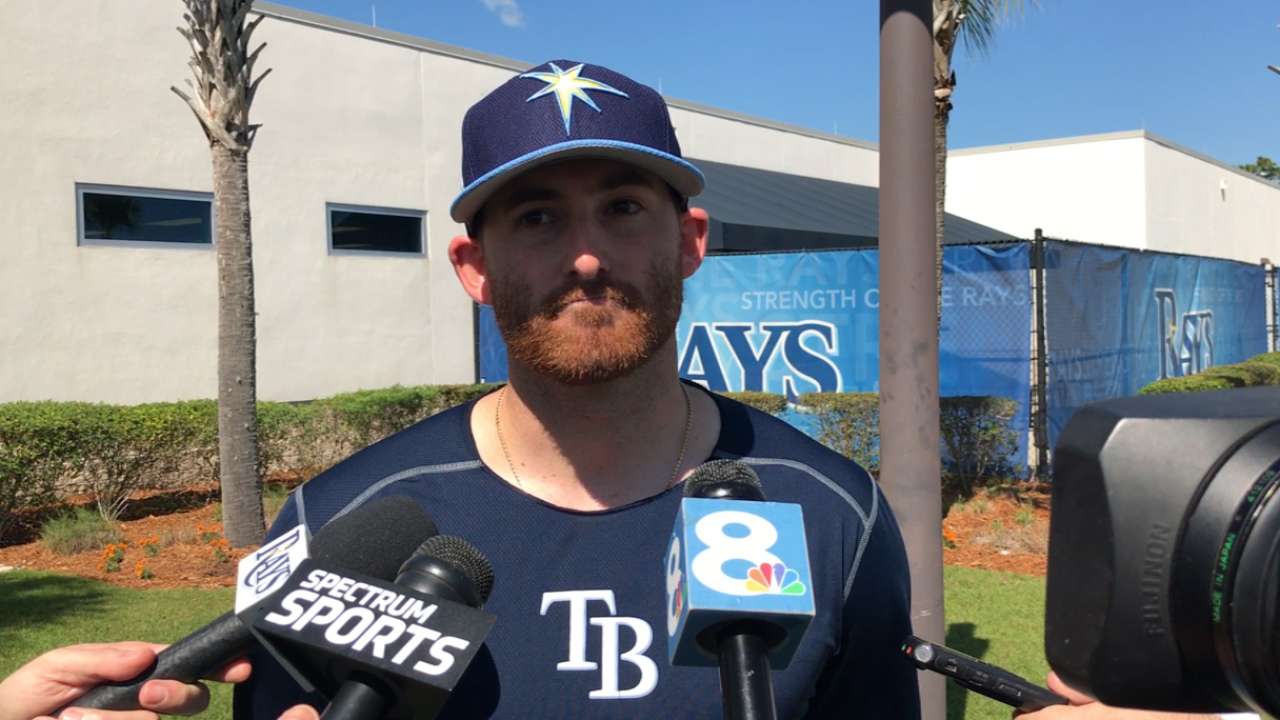 PORT CHARLOTTE, Fla. -- Brad Miller will get to show off his versatility by getting a lot of work at second base this spring, manager Kevin Cash told reporters Friday.
"It's as simple as that," Cash said. "He's up for the challenge. We had a conversation before he got here. We had a conversation yesterday. Brad Miller is bought in and is all about the team, he'll do whatever. But we think, for our team, this spring, we need to get him as acclimated as possible at second base."
• Weeks offers young Rays veteran leadership | Hunter signs Minors deal with Rays
Miller, 27, was the Rays shortstop through midseason in 2016 but finished the season at first base. With the re-signing of first baseman Logan Morrison, who also bats left-handed, having Miller play second appeared like a no-brainer for the Rays.
"He's still going to go play short, because we know that versatility will help us," Cash said. "But he is all about playing second base and being a good one."
Miller has played 37 games at second base in the Major Leagues, including 18 starts, prompting Cash to note that having Miller work at second is "more re-acclimated."
"His first day [of the spring], he came straight in, and without anybody telling him, he went straight to second base to take ground balls," Cash said. "Then he went to short. Then he came back to second. That shows me that he gets it. He's about us winning. He knows that he can impact us the most by being as good as he can at second base and still being capable of playing the other positions."
• Spring: Tickets | Ballpark | 40-man roster | NRIs
And ... a reporter asked Cash, "And you'd like another 30 home runs out of him?"
"That will be fine," Cash said.
Worth noting
• Jose De Leon, who had mid-back tightness, threw off a mound on Friday, impressing Cash in the process.
"To me he looks like a starting pitcher," Cash said. "Big, strong legs, and kind of looser upper body. But watching him pitch, he's got a clean delivery and a little finish at the end. I don't know if that helps him or not. But he threw the ball really well."
• Erasmo Ramirez, who tweaked his left hamstring, will likely throw off the mound on Saturday. But Cash isn't that concerned about getting Ramirez a lot of work.
"I can't stress enough, I don't care if Erasmo doesn't get off the mound for two weeks as far as I'm concerned," said Cash, who has acknowledged that he doesn't want to over-use Ramirez this season.
• Everybody is now in camp, prompting Cash to note that he looks forward to having full-team workouts.
"It seems like you get more accomplished when everybody is on the field," Cash said. "The first four or five days are solely for the pitchers, getting their arms going. Getting a little jump on it. The catchers a little bit. But to have everybody out there, you see a lot cleaner fundamentals when the pitcher is throwing to a shortstop rather than [video coordinator Chris Fernandez] Chico."
• New acquisition Tommy Hunter and Cash were teammates in 2011 at Round Rock. ... Of the 65 players in camp, 31 are with the Rays for the first time. ... Mallex Smith, who was traded from the Braves to the Mariners, to the Rays all in the same day: "I'm still getting fan mail from the Seattle Mariner fans about all the work I put in over there."
Bill Chastain has covered the Rays for MLB.com since 2005. This story was not subject to the approval of Major League Baseball or its clubs.