Top 100 Right Now: Nos. 60-21 revealed
MLB Network counts down best players in baseball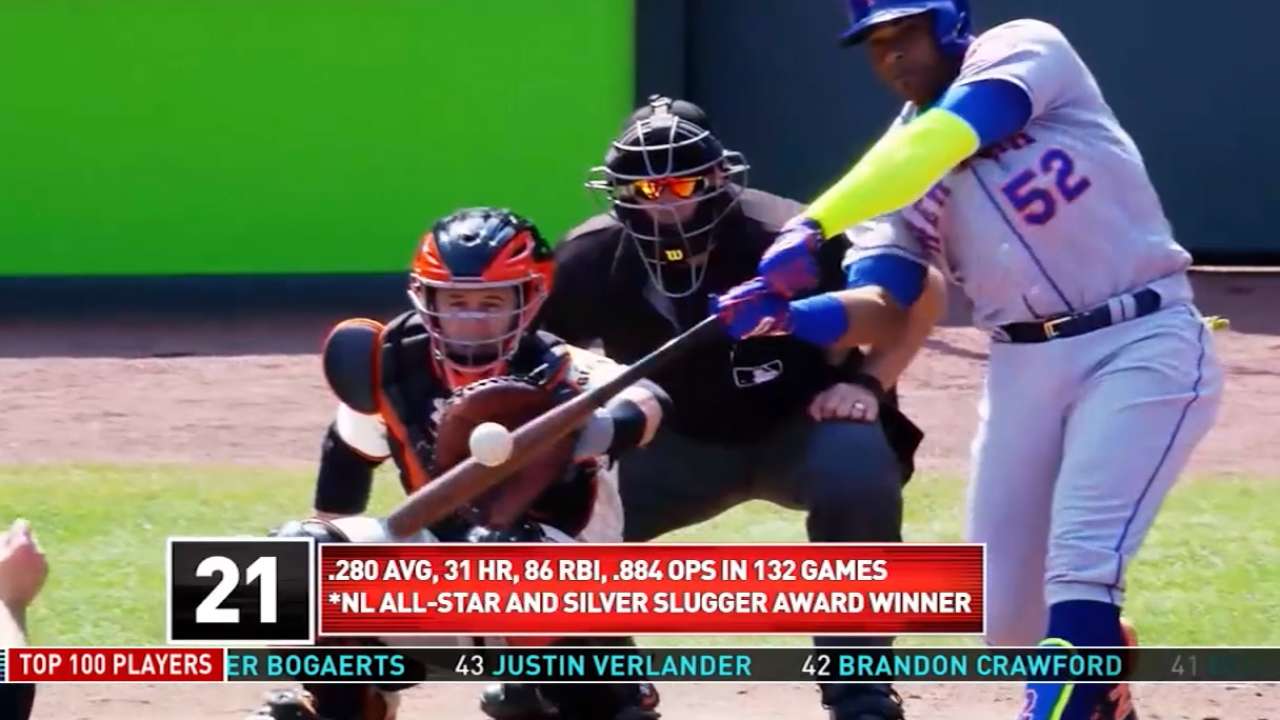 This week, MLB Network has been counting down the best players in the Major Leagues.
In episodes of "Top 100 Right Now," which began Wednesday with Nos. 100-61, Greg Amsinger, Ron Darling and Bill Ripken have counted down the top players based on performance over the past several seasons with an emphasis on 2016 and projected '17 performance.
Network analysts pulled the curtain on another portion of the rankings Thursday night, unveiling Nos. 60-21, beginning with Carlos Gonzalez and ending with Yoenis Cespedes.
The reigning-champion Chicago Cubs contributed three more players to the list, as pitchers Jake Arrieta, Jon Lester and Kyle Hendricks clocked in at Nos. 28, 29 and 59, respectively. They joined teammates Addison Russell (87), Wade Davis (85), Kyle Schwarber (72) and Ben Zobrist (69), and it's likely Chicago has a few more on the way with Anthony Rizzo and Kris Bryant still unaccounted for.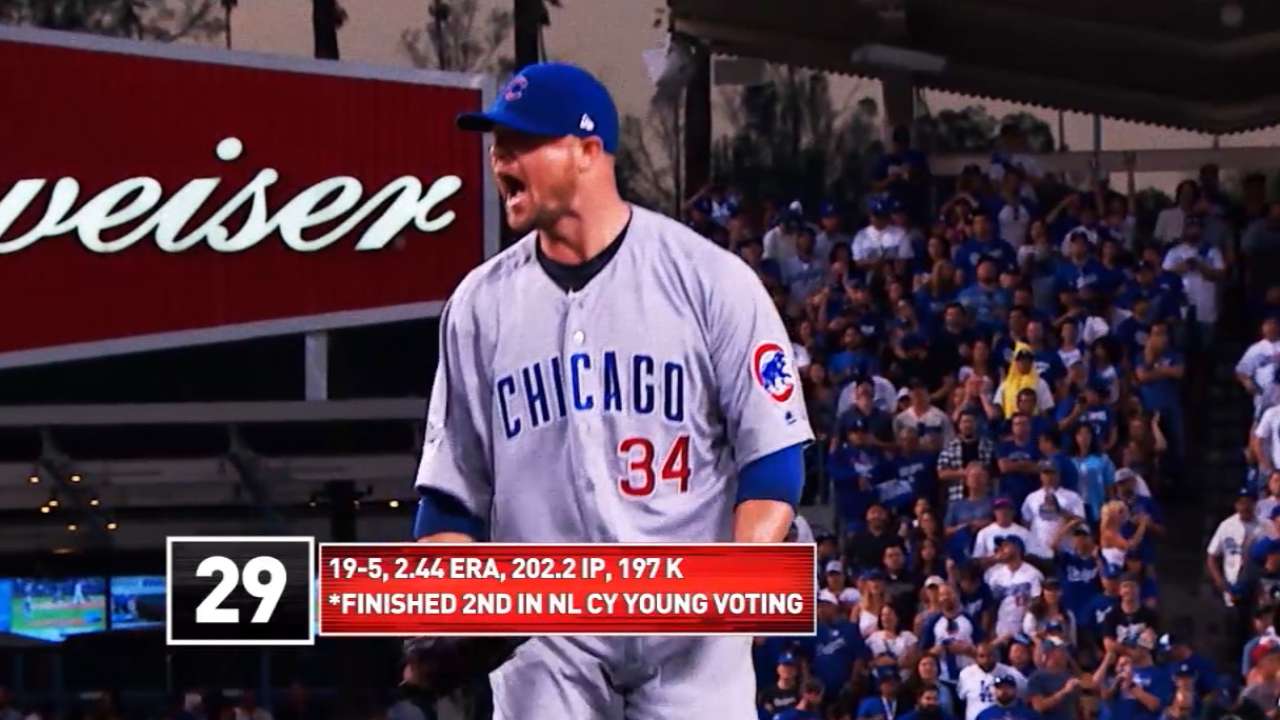 Of note were a number of considerable risers from last year's rankings, including the Nationals' Daniel Murphy, who followed up his stellar '15 postseason with a run at the National League MVP Award in '16. Andrew Miller (97 to 38), Kyle Seager (99 to 37) and Ryan Braun (86 to 32) also enjoyed similar climbs.
After going unranked in '16, Justin Verlander (43) returns to the Top 100. He finished as last season's runner-up in the American League Cy Young Award voting after his successful comeback campaign. Others who resurfaced after a year's absence were Lester and Christian Yelich (40).
Among those making their first appearance in the top 100 were Noah Syndergaard (24), Trea Turner (45), Hendricks, Zach Britton (39), Charlie Blackmon (36) and Brian Dozier (35).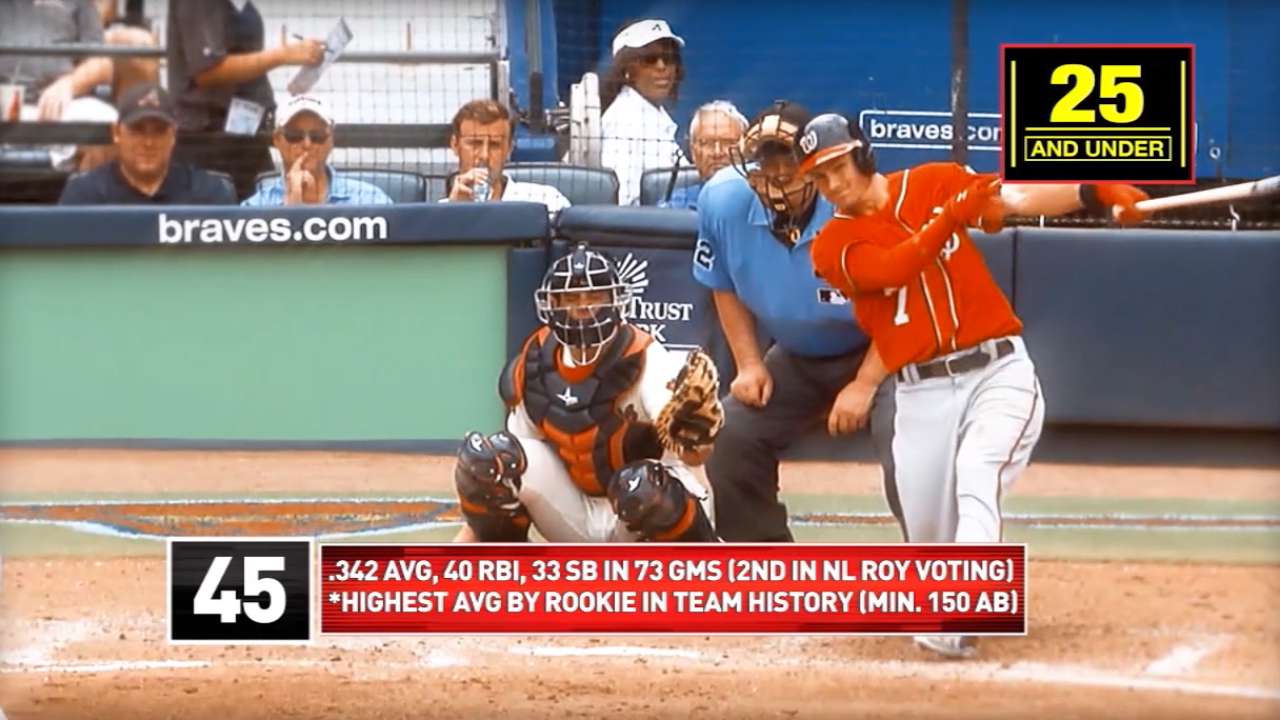 The countdown concludes Friday evening when the final 20 are revealed on MLB Network from 9-10 p.m. ET.
Below is the complete list revealed on Thursday's show:
60. Carlos Gonzalez
59. Kyle Hendricks
58. Matt Carpenter
57. Evan Longoria
56. Justin Turner
55. Dustin Pedroia
54. Andrew McCutchen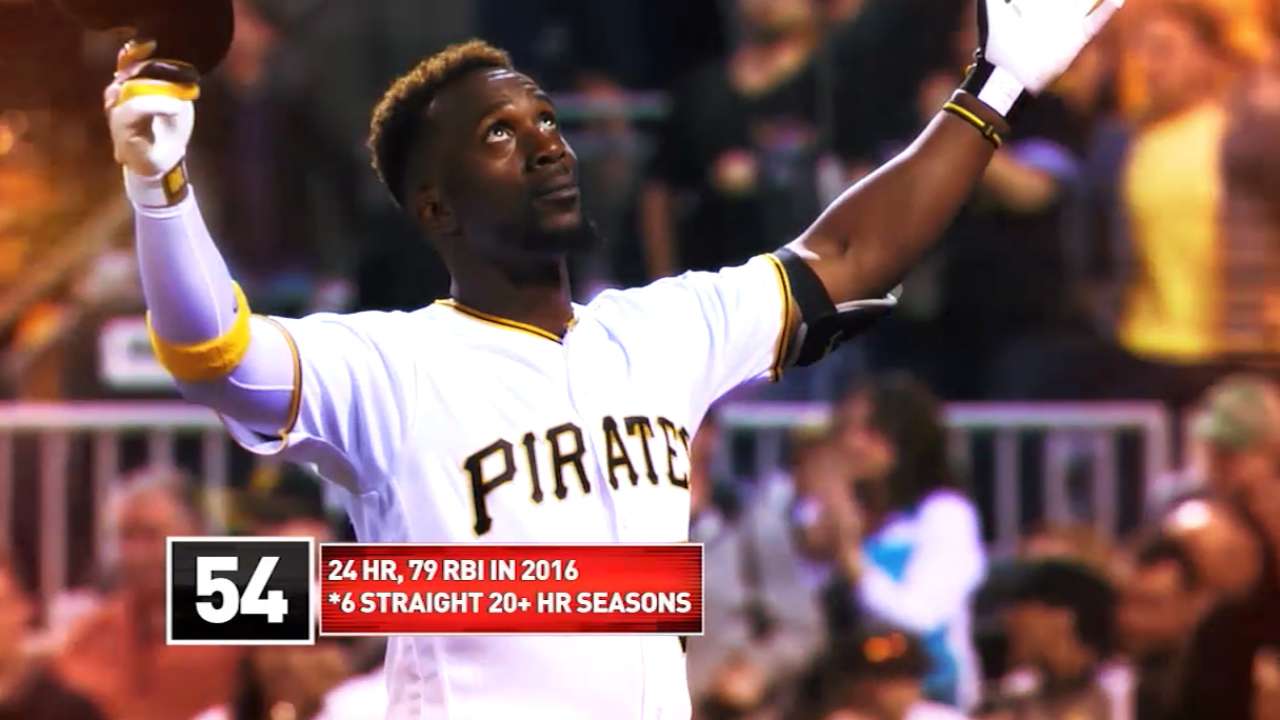 53. Jonathan Lucroy
52. Aroldis Chapman
51. J.D. Martinez
50. David Price
49. Ian Kinsler
48. Jacob deGrom
47. Johnny Cueto
46. A.J. Pollock
45. Trea Turner
44. Xander Bogaerts
43. Justin Verlander
42. Brandon Crawford
41. George Springer
40. Christian Yelich
39. Zach Britton
38. Andrew Miller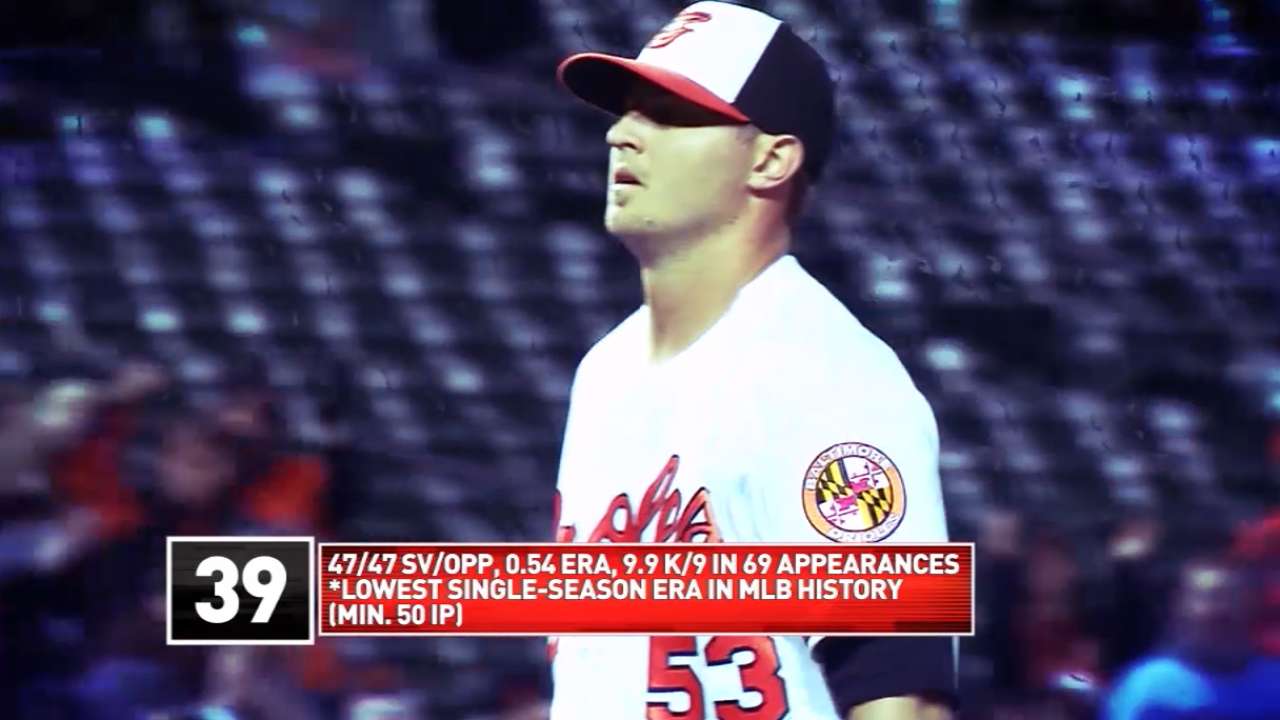 37. Kyle Seager
36. Charlie Blackmon
35. Brian Dozier
34. Nelson Cruz
33. Starling Marte
32. Ryan Braun
31. Daniel Murphy
30. Chris Sale
29. Jon Lester
28. Jake Arrieta
27. Adrian Beltre
26. Edwin Encarnacion
25. Corey Kluber
24. Noah Syndergaard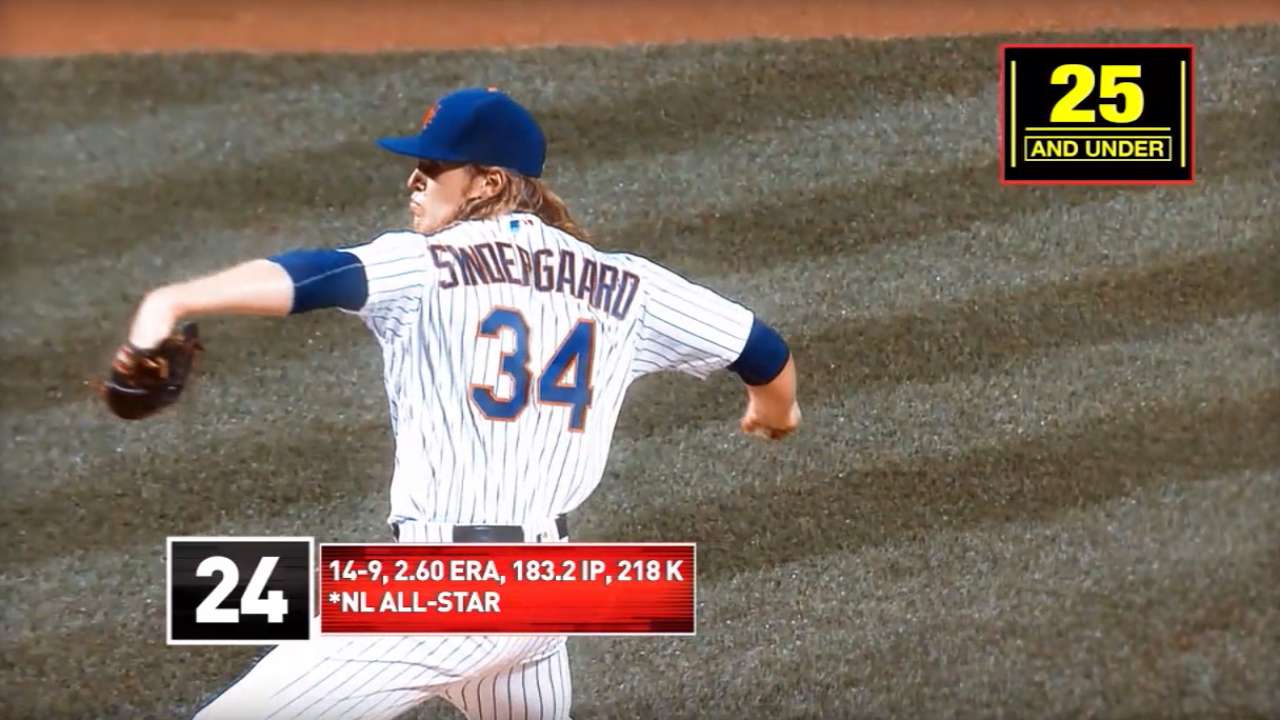 23. Madison Bumgarner
22. Giancarlo Stanton
21. Yoenis Cespedes
Chad Thornburg is a reporter for MLB.com. This story was not subject to the approval of Major League Baseball or its clubs.