How to draft Springer, other mid-tier fantasy outfielders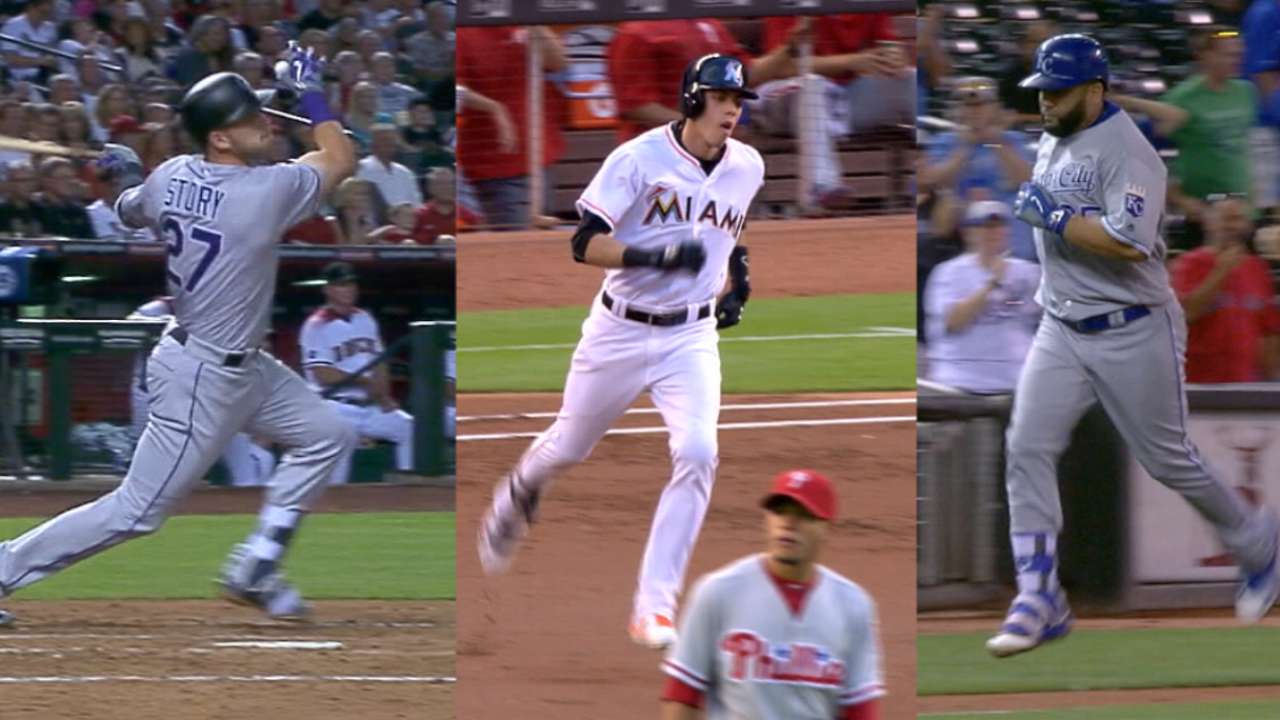 The following is a transcript of a segment from this week's Fantasy411 podcast -- hosted by MLB.com lead fantasy writer Fred Zinkie and national editor Matthew Leach. To hear the rest of Zinkie and Leach's outfielder discussion, subscribe to the Fantasy411 podcast by clicking here.
On this week's pod, Fred and Matthew break down the fantasy outfielder landscape heading into draft season. We'll pick up the discussion with Leach weighing Tier 2 outfielder George Springer against several Tier 3 options.
Tier 3
Leach: I'm not really crazy about George Springer. I understand what he could be. If he's still on the board, I'd almost want to look at the other Tier 3 guys. Ones like Yoenis Cespedes, Nelson Cruz, J.D. Martinez, Ian Desmond, Christian Yelich, Gregory Polanco and Ryan Braun. Yelich is a guy who when coming up didn't look like a star. He hit 21 home runs last year, his walk total was up. We know he's capable of more steals than he had last year. He's someone I have my eye on even though he isn't flashy.

Zinkie: He's still hitting a ton of balls on the ground, though. When he is hitting it in the air, though, he's hitting it just about as hard as anyone in the league. It's easy to see more than 25 home runs from him and hitting above .300. This is a guy coming up who was said to hit for average. He's got a sweet stroke. He is one of those guys who could go from about .300 to .320.
• Fantasy411 pod: Subscribe now, celebrate in September

Zinkie: I like Desmond, but I'm still a little worried about his skill set. While he's in Colorado, it doesn't seem best to take him in round five or six. Who knows what they are going to do with him? That could have an effect on his offense. They have a lot of other players, and he could be in the No. 7 spot.

Tier 4

Leach: Every single guy on our list was a first-round pick at some point, outside of Billy Hamilton. The questions with all of these guys is, how much of their former greatness can they regain and how likely are they to do it? I think Giancarlo Stanton can do it. He's young, has the tools. He's the guy who can get closest to what he once was. I don't know if he is the most likely.

Zinkie: I like A.J. Pollock. I'm intrigued because we haven't really seen him do anything bad. It's just been a matter of injuries. It's not like he's ever struggled. It's a nice hitting park in Arizona, too.

The fourth tier is a little bit of a make-or-break tier.

Tier 5

Leach: It's all about what you need. You get to the solid all-around guys or your low-average sluggers.

Zinkie: You have to look in several directions. What do I need and then who do you feel really good about? I took Andrew Benintendi in the earlier draft because I like him hitting in the No. 2 spot. By the time I took him, though, all of the other guys were gone.
To get the help you need to win your league in 2017, subscribe to the Fantasy411 podcast by clicking here.