History shopper: World Baseball Classic gear is here
Bid on memorabilia from past events, and show your national pride for WBC 17
It was March 19, 2013, the championship game of the last World Baseball Classic, and Puerto Rico chose to intentionally walk eventual tournament Most Valuable Player Robinson Cano to get to Edwin Encarnacion in the bottom of the first inning.
The strategy backfired as Encarnacion doubled to the wall at AT&T Park, driving in the only two runs the Dominican Republic needed in a 3-0 clinching victory that was available on TV to 440 million households worldwide in 200 countries and territories.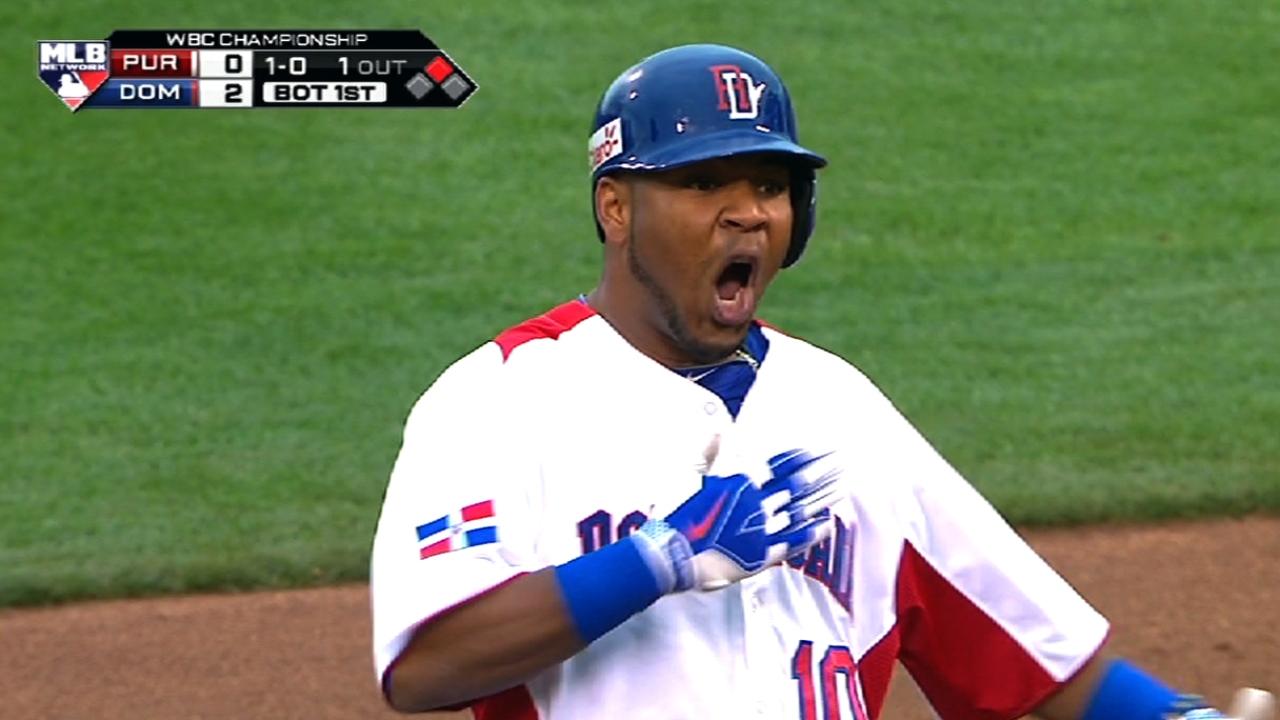 "We want to enjoy every single moment, because we don't know if this group will be together again," Dominican manager Tony Pena said that night.
The fourth installment of the World Baseball Classic will begin on March 6, and you can still enjoy moments from those past tournaments while you get fired up for the newest 16-team thrill ride. That very same baseball Encarnacion hit to decide the 2013 title is among more than 200 game-used items available to buy at the World Baseball Classic Auction, and official gear for 2017 participating teams is available at the all-new World Baseball Classic Shop.
Past or present, there's something in both places for everyone around the world.
Want to display some star power? Eric Hosmer, Felix Hernandez, Yadier Molina, Kenta Maeda, David Wright, Xander Bogaerts, Carlos Beltran, Kenley Jansen, Masahiro Tanaka, Andrelton Simmons, Alex Rios, Matt Kemp, David Ortiz, Jake Peavy, Yasmany Tomas, Ruben Tejada, Andruw Jones, Jorge Cantu, Jimmy Rollins, Carlos Lee, Jeff Francis, Vinny Castilla, Shane Victorino, Drew Butera, Heath Bell, Jeremy Guthrie, Miguel Tejada, Brian Roberts, Armando Galarraga, Jonathan Schoop, Daisuke Matsuzaka, Yulieski Gurriel, Roy Oswalt, Edinson Volquez and Carlos Delgado are just some of the players whose game-used items can be yours right now.
Cubs fans eager to see 2016 postseason stud Javier Baez back in action can get ready by ordering his Puerto Rico name and number T-shirt. Buster Posey, Francisco Lindor, Carlos Correa, Adrian Gonzalez, Hosmer and Molina also have those tees available right now.
Will this be the year that Team USA finally reaches the championship game? You can wear what Giancarlo Stanton and his teammates will be wearing by ordering the white or gray authentic jersey, as well as the New Era 59FIFTY fitted cap.
Ivan Rodriguez memorabilia is hot now that the 14-time All-Star catcher is set to be inducted in the National Baseball Hall of Fame on July 30, and here's a game-used Pudge item that no one else will have. It is a baseball he fouled off on a 1-1 pitch from The Netherlands reliever David Bergman in the bottom of the third inning while representing his native Puerto Rico in the 2009 World Baseball Classic on March 11, 2009 -- as Puerto Rico won that Pool D first-round finale.
A Wright three-run double would make for great game-used memorabilia anytime during his career. The fact that it was done while representing Team USA against Puerto Rico in the Round 2 of 2013 makes it even more special. Feel free to display it in the official World Baseball Classic Cube, or fill it with a new game ball.
For those who love rivalries, you can find two game-used balls from the last World Baseball Classic that are relevant beyond international competition. There's one that Japanese right-hander Tanaka threw past Bogaerts of The Netherlands (think Yankees-Red Sox), and one that Venezuelan righty Carlos Zambrano used to plunk Molina (think Cubs-Cardinals).
A Shairon Martis game-used locker room nameplate. It's from the 2013 event, but it's a cool collectible given that Martis, the former Nationals and Twins right-hander from Curacao, threw the only WBC no-hitter while representing The Netherlands back in the inaugural 2006 event against Panama.
Now is also a good time to order the 2017 World Baseball Classic official program. The stage is set for the fourth go-round, with 63 Major League Baseball All-Stars about to get caught up in national pride. Read up on the schedule, relive some history, and go to the WBC Shop and order your team's gear. It's time once again, like Pena said, to enjoy every single moment.
"Playing baseball, you hear the national anthem every game and it becomes routine," Team USA third baseman Nolan Arenado said. "But I'm guessing that when you put that USA uniform on and hear the national anthem, it might mean a little bit more."
Mark Newman is enterprise editor of MLB.com and a baseball writer since 1990. Read and join other baseball fans on his MLB.com community blog. This story was not subject to the approval of Major League Baseball or its clubs.