Jimenez knows his time with Tigers will come
Prospect impresses during first bullpen session of camp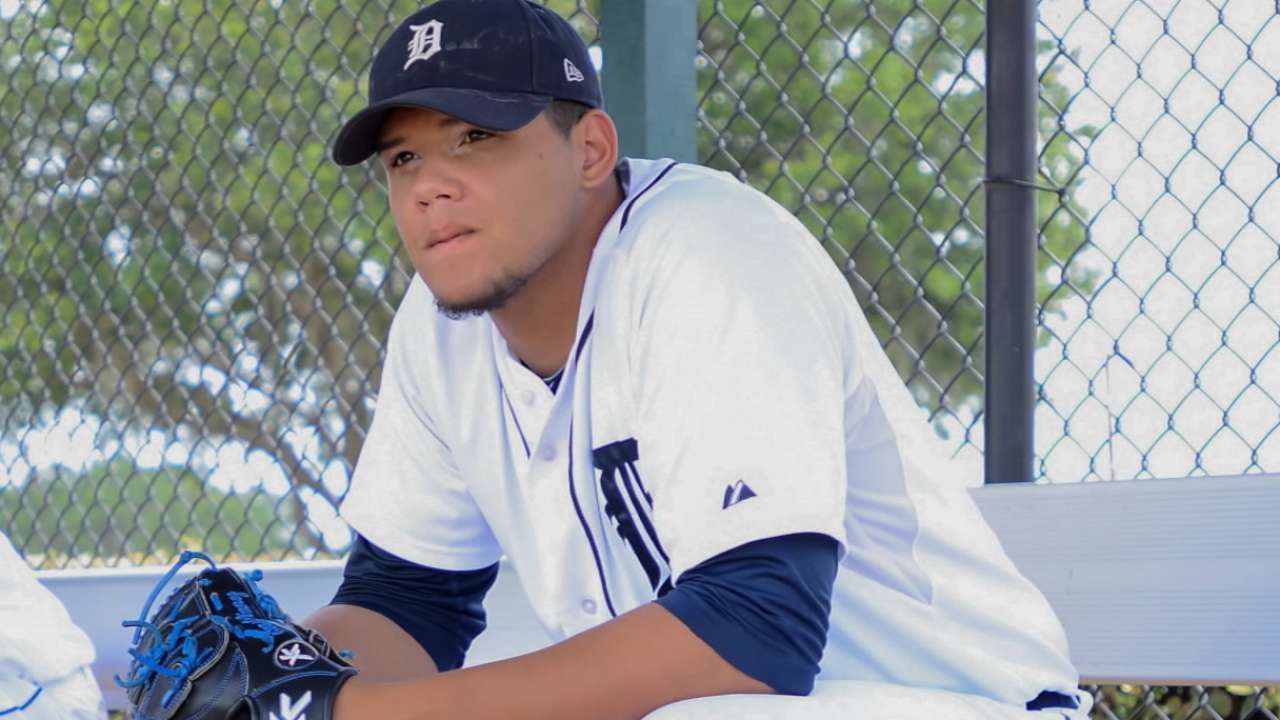 LAKELAND, Fla. -- Joe Jimenez is direct.
As the Tigers relief prospect took one of the bullpen mounds at Tigertown for his first official bullpen session of this Spring Training, he wasn't trying to win a job in mid-February. But he wasn't taking it easy, firing fastballs to catcher James McCann. Even at less than game speed, he was popping the mitt.
• Spring: Tickets | Ballpark | 40-man roster | NRIs
What impressed McCann more was that he was hitting the mitt on target.
"A lot of young guys come out and they want to make such an impression, they start working really fast and they start to lose their command and lose their ultimate goal in throwing a bullpen," McCann said. "He didn't do that. He had a very good pace, made adjustments from pitch to pitch. Obviously he's got a fastball that wows people with the velocity, but he's got a really good changeup."
When Jimenez talked after the session, he was similarly direct. He admits he hoped that his swift rise from Class A Advanced Lakeland to Double-A Erie to Triple-A Toledo last year would lead to a September callup to Detroit. But he understood why it didn't.
"Last year I was expecting that," he said, "because I was doing really good in Double-A and Triple-A. I really was expecting that, but they talked to me."
Lloyd McClendon, then the manager in Toledo before taking the Tigers' hitting coach job, sat him down with the news and told him to relax and work on his secondary pitches, including a slight change to the grip on his slider.
"I know they trust me," Jimenez said. "I know they want me in Detroit sometime, so I'm just going to work for it. And when it comes, it comes."
Though last season didn't end up with him wearing a Tigers uniform, it set Jimenez up to wear the uniform of his native Puerto Rico this spring. He's expected to set up for Mariners closer Edwin Diaz in the World Baseball Classic, giving the team a potentially dominant late-inning duo.
Jimenez plans to compete there like he wants to compete here. Instead of trying to win a job, he'll be trying to win a championship.
"It's kind of the same thing," he said. "The only thing is you represent your country. I'm getting more excited about it. I was dreaming about that before I was a professional."
The event interrupts his camp, but it also gives Jimenez a chance to face a higher level of competition. Even if it limits his work in Lakeland, it could help his path to the Majors, either out of camp or during the season.
"If it happens after spring, it would be perfect," he said. "But if not, I will do everything I can to help the team in Detroit to win a World Series this year."
Jason Beck has covered the Tigers for MLB.com since 2002. Read Beck's Blog, follow him on Twitter @beckjason and listen to his podcast. This story was not subject to the approval of Major League Baseball or its clubs.